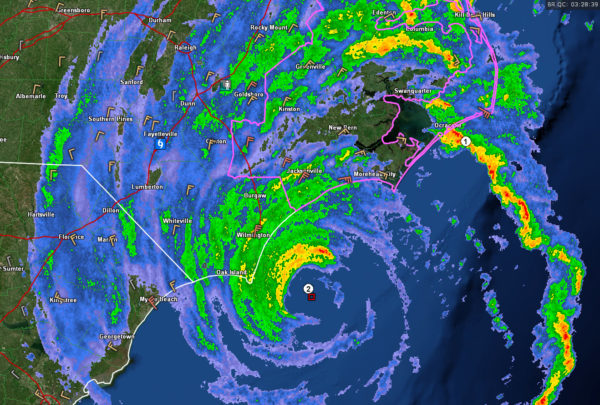 The center of Hurricane Dorian is a little less than 50 miles southeast of Wilmington, North Carolina tonight.
Top winds are around 100 mph. The central pressure is 958 millibars.
Here are coastal observations at 10 p.m. CDT:
……COASTAL NC AND SC COUNTIES……
CITY SKY/WX TMP DP RH WIND PRES REMARKS
WILMINGTON HVY RAIN N/A N/A N/A N33G41 29.17F
N MYRTLE BEACH RAIN N/A N/A N/A NW22G41 29.35R
MYRTLE BEACH LGT RAIN 73 71 93 NW30G40 29.42R
……INLAND NC AND SC COUNTIES…….
CITY SKY/WX TMP DP RH WIND PRES REMARKS
LUMBERTON NOT AVBL
ELIZABETHTOWN NOT AVBL
WHITEVILLE LGT RAIN 74 73 95 N10G26 29.40S
FLORENCE LGT RAIN 74 71 91 NW18G28 29.64R
DARLINGTON NOT AVBL
KINGSTREE LGT RAIN 72 72 100 W20G29 29.65R
HARTSVILLE CLOUDY 73 72 94 N13G23 29.72S
BENNETTSVILLE NOT AVBL
CONWAY LGT RAIN 70 70 100 N12G30 29.49R
GEORGETOWN DRIZZLE 72 70 94 NW20G30 N/A
MARION HVY RAIN 70 70 100 N23G31 29.57R
………………..REST OF NORTH CAROLINA………………….
………EASTERN NC………
CITY SKY/WX TMP DP RH WIND PRES REMARKS
CAPE HATTERAS LGT RAIN 78 76 93 SE22G32 29.61F FOG
JACKSONVILLE RAIN 76 74 93 N24G33 29.39F
MOREHEAD CITY HVY RAIN 79 75 87 E18G32 29.39F FOG
KENANSVILLE HVY RAIN 73 N/A N/A N28G39 29.47F FOG
NEW BERN CLOUDY 76 75 97 NE18G25 29.47F
ELIZABETH CITY FAIR 78 74 87 NE24G35 29.73F
In any case, it will bring lots of flooding rains, widespread 4-7 foot surge, damaging winds, and a few tornadoes to eastern North Carolina overnight.
There is a tornado warning right now in the Edenton area. A tornado watch is in effect for eastern North Carolina until 7 a.m. EDT.
Over 187,000 people are without power in South Carolina tonight, where weather conditions are improving.
Bill Murray is the President of The Weather Factory. He is the site's official weather historian and a weekend forecaster. He also anchors the site's severe weather coverage. Bill Murray is the proud holder of National Weather Association Digital Seal #0001
@wxhistorian