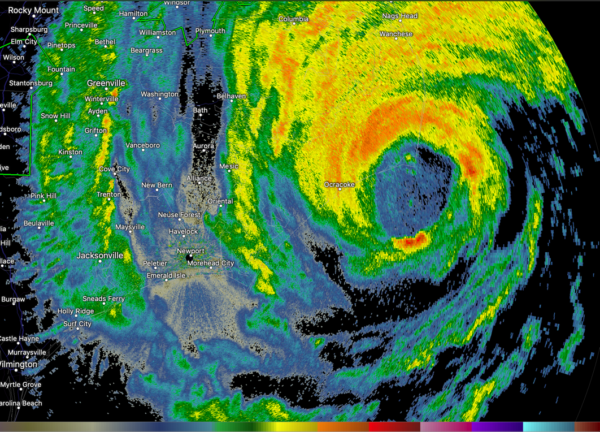 The eye of Hurricane Dorian is passing just south of Ocracoke, North Carolina at this hour. Ocracoke is in the eyewall.
The eye of Dorian will likely cross directly over Cape Hatteras. This may be the only U.S. landfall for the storm.
The storm will accelerate northeast and transition to a powerful extratropical low. It will brush New England and then hit Nova Scotia hard.
I haven't seen reports of hurricane-force sustained winds, just gusts. But there has been widespread flooding and power outages.
Winds are gusting to 70 mph at Hatteras. We may see our first sustained winds of hurricane force.
……COASTAL NC AND SC COUNTIES……
CITY SKY/WX TMP DP RH WIND PRES REMARKS
WILMINGTON CLOUDY N/A N/A N/A W25G37 29.53R
N MYRTLE BEACH FAIR 74 68 81 NW10G20 29.70R
MYRTLE BEACH FAIR 74 68 81 NW17G26 29.73R
……INLAND NC AND SC COUNTIES…….
CITY SKY/WX TMP DP RH WIND PRES REMARKS
LUMBERTON NOT AVBL
ELIZABETHTOWN NOT AVBL
WHITEVILLE FAIR 73 67 83 W7G17 29.67R
FLORENCE FAIR 75 66 73 NW12 29.76R
DARLINGTON FAIR 73 68 84 NW9 29.77R
KINGSTREE FAIR 72 70 94 W5 29.78R
HARTSVILLE FAIR 75 66 73 VRB6 29.79R
BENNETTSVILLE NOT AVBL
CONWAY FAIR 72 68 88 W3 29.74R
GEORGETOWN FAIR 72 68 88 W9 N/A
MARION FAIR 72 66 83 NW12G18 29.74R
………………..REST OF NORTH CAROLINA………………….
………EASTERN NC………
CITY SKY/WX TMP DP RH WIND PRES REMARKS
CAPE HATTERAS HVY RAIN 78 78 100 E46G70 28.78F VSB 3/4
JACKSONVILLE LGT RAIN 72 69 90 NW17G32 29.45R
MOREHEAD CITY NOT AVBL
KENANSVILLE LGT RAIN 72 70 94 NW20G28 29.54R
NEW BERN NOT AVBL
ELIZABETH CITY HVY RAIN 70 66 87 N39G56 29.42F FOG

Bill Murray is the President of The Weather Factory. He is the site's official weather historian and a weekend forecaster. He also anchors the site's severe weather coverage. Bill Murray is the proud holder of National Weather Association Digital Seal #0001
@wxhistorian