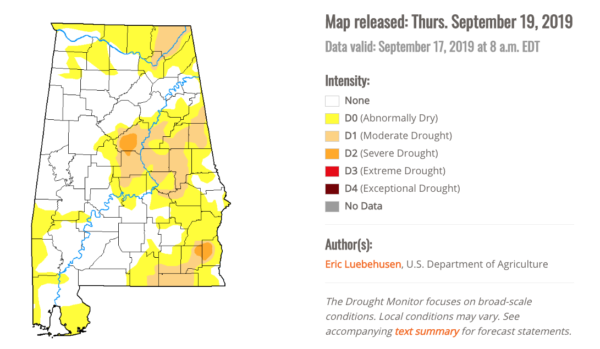 SYNOPSIS
The latest U.S. Drought Monitor indicates that severe drought conditions are persisting across portions of western and central Shelby County. Moderate drought conditions have expanded now encompassing portions of Shelby, Talladega, Clay, Randolph, Cleburne, Chilton, Coosa, Tallapoosa, Elmore, Montgomery and Macon counties. Abnormally dry conditions remain roughly along and east of a line from Piedmont to Odenville to Birmingham to Vance to Centreville to Suttle to Gordonville to Pine Level to Clio. Generally to the west of this line near normal conditions prevail.
Rainfall totals during the past two weeks have been variable, with amounts generally averaging between two and five inches with localized higher amounts. However…Some isolated areas only received around an inch or so during this period. In general, this rainfall has helped to alleviate the dry conditions to some degree across Central Alabama. Some precipitation amounts (inches) for Central Alabama from January 1st through September 18th…
Birmingham … 37.06
Montgomery … 33.81
Anniston … 39.59
Tuscaloosa … 40.10
Calera … 33.87
Troy … 31.05
Normal precipitation expected (inches) and departure from normal (inches) January 1st through September 18th…
Birmingham … 39.41 … -2.35
Montgomery … 39.18 … -5.37
Anniston … 36.69 … +2.90
Tuscaloosa … 38.00 … +2.10
Calera … 40.44 … -6.57
Troy … 40.53 … -9.48
AGRICULTURAL IMPACTS
Information from the United States Department of Agriculture (USDA) indicates that rainfall is needed across much of the area. Pastures, soybeans, grasses, and hayfields were drying up and the combination of heat and dry conditions were delaying some planting for the cool season along with reduced field activity.
FIRE DANGER IMPACTS
The fire danger risk is high in a corridor from Lamar County southeast to Jefferson and Shelby counties and extended further southeast to include portions of Tallapoosa, Chambers, Lee, Elmore, Macon and Montgomery counties as indicated with Keetch-Byram Drought Indices (KDBI) currently from 500 to 700 over much of this area. Most remaining areas of Central Alabama generally have values of 500 or less. Values above 500 indicate a severe fire danger.
There are currently no burn bans issued by the Alabama Forestry Commission, however, a fire danger advisory has been issued for all 67 counties in the state. Non-agricultural burns are not allowed through the month of October for the following Central Alabama counties: Etowah, Jefferson, Montgomery, Russell, Shelby, and Talladega. The Alabama Forestry Commission "urges everyone to delay outdoor burning until conditions improve if possible". Please take all necessary safety precautions when burning.
PRECIPITATION AND TEMPERATURE OUTLOOK
Mostly dry conditions are expected to persist through the next ten days with above-normal temperatures forecast across the entire forecast area. Very low rain chances, if any, are in the forecast for Central Alabama over the next seven days. The 7-day precipitation outlook has all but our far western and northern counties remaining dry.
The two-week outlook…From September 26th through October 2nd…Calls for a continuation of above-normal temperatures and below-normal precipitation throughout Central Alabama.
The longer-range outlook for the remainder of September through November continues to project above normal temperatures and equal chances of below-normal, normal or above-normal precipitation across Central Alabama.
The latest seasonal drought outlook through December indicates that drought conditions are expected to persist and potentially further expand in scope across much of Eastern Alabama and into portions of Central Alabama.
Category: Alabama's Weather, ALL POSTS
Scott Martin is an operational meteorologist, professional graphic artist, musician, husband, and father. Not only is Scott a member of the National Weather Association, but he is also the Central Alabama Chapter of the NWA president. Scott is also the co-founder of Racecast Weather, which provides forecasts for many racing series across the USA. He also supplies forecasts for the BassMaster Elite Series events including the BassMaster Classic.