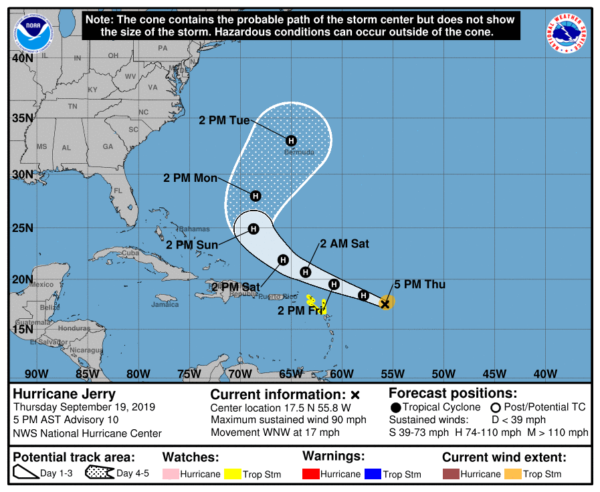 SUMMARY & FORECAST DISCUSSION AS OF 4:00 PM CT
LOCATION…17.5N 55.8W
ABOUT 395 MI…640 KM E OF THE LEEWARD ISLANDS
MAXIMUM SUSTAINED WINDS…90 MPH…150 KM/H
PRESENT MOVEMENT…WNW OR 295 DEGREES AT 17 MPH…28 KM/H
MINIMUM CENTRAL PRESSURE…979 MB…28.91 INCHES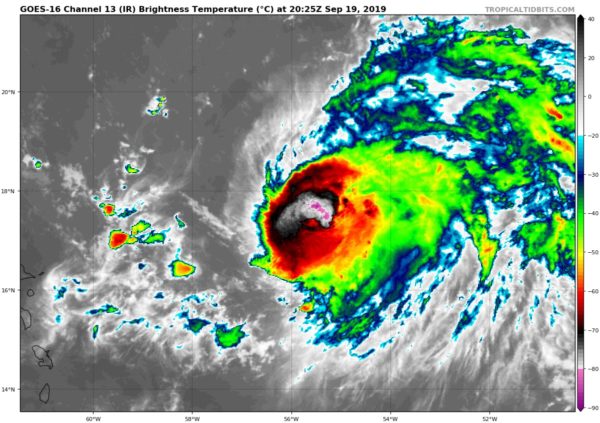 Jerry is a compact hurricane on satellite imagery with the central dense overcast becoming more symmetric during the past few hours. Before the Air Force plane departed, the crew recorded 700-MB flight-level winds of 97 kt and SFMR winds of about 70 kt, suggesting maximum winds of about 75 kt. Since that time, an eye feature has been noted on the last-light visible images, indicating that the earlier intensification has probably continued. Thus, the initial wind speed is set to 80 kt, and the next aircraft is scheduled to investigate Jerry around 0000 UTC to obtain a better estimate.
The hurricane still has some time to strengthen before northwesterly shear increases by tomorrow morning. The shear increase will also probably allow some environmental dry air to be entrained into the central core and help weaken the cyclone. Thus weakening is anticipated by late tomorrow continuing into Saturday. Some re-strengthening is possible early next week as Jerry could find a lower shear region due to a mid-latitude trough interaction. The new NHC wind speed prediction has not changed too much but is a little higher at longer range to reflect the above possibility.
The initial motion is still west-northwestward, or 295/15 kt. A large subtropical ridge to the northeast of Jerry should continue to steer the hurricane at about the same direction and speed during the next day or two. The models have generally trended a bit to the north on this cycle at short range, and the official forecast follows suit. Thereafter, Jerry is forecast to move around the then-weakening ridge, turning to the northwest on Saturday, north-northwest on Sunday, and then northward and north-northeastward by Monday/Tuesday. The guidance has moved to the northeast at longer range on this cycle, possibly due to a stronger mid-latitude trough helping to weaken the ridge. The NHC forecast is adjusted to the northeast on this advisory, although is still on the western side of the guidance envelope.
Key Messages: Although the core of Jerry is expected to move north of the northern Leeward Islands, life-threatening flash floods are possible, along with tropical-storm-force winds in some areas.
Scott Martin is a meteorologist, graphic artist, musician, husband, and a father. Scott is a member of the National Weather Association and the Central Alabama Chapter of the National Weather Association. Scott is also the co-founder of Racecast Weather, which provides accurate forecasts for many racing series across the USA.