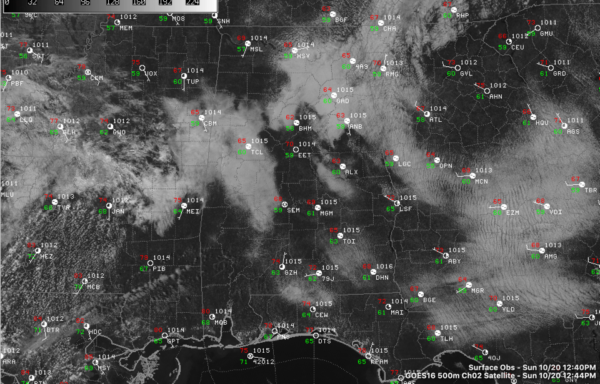 Low clouds and fog have held tough across Alabama this morning. The sun is breaking through in some places, but many are still socked in.
This has held back the temperature rise. Once the clouds give way, we are still expecting the mercury to rise into the upper 70s to near 80 degrees this afternoon.
Dewpoints will slowly start to rise later today as our winds become more southerly ahead of the next storm system that will affect us. A large elongated surface low is getting its act together in the lee of the Rocky Mountains early this afternoon. Its power will become consolidated over the Upper Midwest, over Iowa tonight. By morning, it will feel humid again across Central Alabama and dewpoints will peak in the mid and upper 60s around noon Monday. Long-time readers will know that is plenty sufficient for strong storms here in this part of the world.
While the low-level moisture should be good, and wind shear looks to be plentiful, we actually will be low on instability it appears, despite tempura in the upper 70s to near 80F. Two other factors will be inhibiting a significant severe weather outbreak as well: the presence of an upper-level disturbance moving along the Gulf Coast with a complex of storms that could cut off the richer moisture, and the presence of morning clouds and showers again hampering daytime heating. The distance between us and the main surface low is another limiting factor,
But there will be a strong pre-frontal trough moving in from the west during the afternoon and this will trigger a line of storms by early afternoon over eastern Arkansas, western Tennessee, northeastern Louisiana, and northern Mississippi. These storms will become severe and will reach Alabama between noon and 3 p.m. They will then push across the state, reaching the I-59 corridor by late afternoon or early evening. The good news is that they should be weakening as they progress.
Still, much of the state is in a marginal risk (level 1/5) for damaging winds and isolated tornadoes on Monday. The main threat now has been moved up to between noon and midnight.
Let's scope out the timing:
Late tonight, thunderstorms will form over eastern Oklahoma and western Arkansas where the SPC has an enhanced risk (3/5) overnight. An increasing low-level jet raises the specter of tornadoes in this region. The convective mode may be a squall line though, which could make it more of a damaging wind threat.
By late morning on Monday, a line of thunderstorms will be near Memphis. It should be weakening by that time but will refire by mid-afternoon. Meanwhile, showers and storms over southeastern Louisiana, associated with the upper-level disturbance, will be pushing northeastward.
By mid-afternoon, showers and storms will be into Northwest Alabama, affecting places like Hamilton.
By early evening, showers and storms should be impacting places like Vernon, Fayette, and Jasper.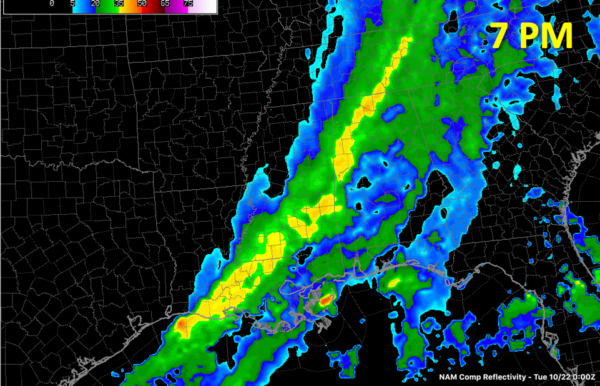 They will pull into the I-59 Corridor including Birmingham and Tuscaloosa, around 10 p.m.
The timing is basec on the 12km NAM. The actual timing may vary.
It is too early to get a specific handle on how significant the severe weather threat is, but it is clear that there is a threat of damaging winds and isolated tornadoes.
Rainfall amounts will be helpful to an extent. Here is the WPC forecast through Tuesday.
Category: Alabama's Weather, ALL POSTS, Severe Weather
Bill Murray is the President of The Weather Factory. He is the site's official weather historian and a weekend forecaster. He also anchors the site's severe weather coverage. Bill Murray is the proud holder of National Weather Association Digital Seal #0001
@wxhistorian