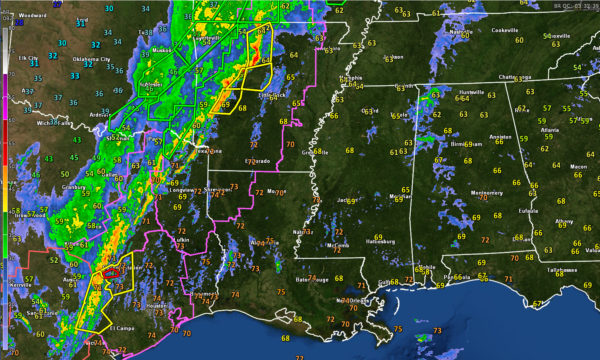 Severe weather continues tonight in areas to the west of Alabama. IIn our state right now, showers are moving up the western side of the state in the warm advection pattern ahead of our storm system. There is no lightning and there is no severe weather threat overnight in Alabama.
Tornado damage has been reported tonight in Logan County in western Arkansas. A "Large and extremely dangerous" tornado was headed straight for the town of Clarksville, Arkansas earlier this evening, but it, fortunately, cycled before hitting the town. That same storm is still triggering tornado warnings at this time. It will eventually move toward Moutain Home in northern Arkansas.
Tornado watches cover areas from southern Missouri through much of Arkansas into northwestern Louisiana, northeastern Texas and southeastern Oklahoma.
A severe thunderstorm watch covers the Hil Country of Texas around Austin and San Antonio. There have been several reports of large hail and a few reports of damaging winds.
Flooding has plagued parts of southwestern Missouri, with several highways closed due to flooding.
The line of storms now extends from east of Austin in Texas to east of Paris, TX to near Russellville and Harrison in Arkansas. The line is blanketed with severe thunderstorm warnings in Arkansas.
A powerful upper-level trough is becoming negatively tilted tonight over the Central and Southern Plains. When a trough becomes negatively tilted, it brings colder air aloft, making the airmass increasingly unstable. They also cause an increase in upper-level diffluence and wind shear, both factors that intensify thunderstorms.
The surface low is on the Oklahoma/Arkansas border tonight. It will move to near Memphis by morning. The squall line will be approaching the Mississippi River by sunrise. An extremely powerful low-level jet screaming at 8-90 knots will be transporting warm, moist air northeastward ahead of the squall line and fueling it. 60F dew points will be puled into southern Kentucky, with 65F dew points as far north as Oxford, Mississippi. INstability values will be in the 500-1,000 joules/kg range ahead of the line, generally south of US-82 and I-20. The strong low-level wind field will produce storm-relative helicity values of 350-550 m2/s2, which will create tremendous spin in the low levels of the atmosphere.
So the squall line will have the capability of producing damaging winds of 60 mph or greater as well as tornadoes.
it is becoming increasingly windy tonight, with wind gusts already reaching 20 mph across Central Alabama. Those winds will continue to increase, average 10-20 by morning, with increasing gusts of 30-45 mph. Winds could gust to 50 mph along higher ridges. These winds, even outside thunderstorms, will break tree limbs and topple trees given the wet soils we have right now. Power outages will be possible.
DAMAGING WIND THREAT
The storms will generally maintain their strength overnight and enter into Alabama between 10 a.m. – 12 noon. Areas east of the line will warm into the lower 70s with dewpoints in the middle 60s south of I-20. This will produce instability values approaching 1,000 joules/kg ahead of the line. Bulk shear will be 50-60 knots, helping to keep the storms organized, and those low-level helicity values of 350-550 m2/s2 will continue the tornado threat. Just above the surface, winds will be 60-70 knots, making it easy for damaging winds to reach the surface.
TORNADO THREAT
Significant tornado values off the 3km NAM are predicted to be as high as 2 as far north as Marion, Winston, Walker, and Jefferson Counties. By mid-afternoon, the higher STP values will be further south, from parts of Coosa, Tallapoosa, and Chambers Counties southward. So, the greatest threat of tornadoes will be primarily south of US-78/I-20.
ENHANCED SEVERE WEATHER THREAT
The entire state virtually has an enhanced (3 out of 5) risk of severe weather on Saturday with a damaging wind and tornado threat.
TORNADO WATCHES
Tornado watches will be likely by mid-morning over areas west of I-65 and east of I-65 by noon.
RAINFALL
The rapid movement of the system will preclude major flood issues. 1-2 inches of rain will fall across the area between now and tomorrow evening. It would take 6 inches or so or rain to cause major problems.
TIMING
The storms should reach Jasper/Tuscaloosa between 1-3 p.m. and Birmingham/Selma about an hour later, between 2-4 p.m. It will then reach Gadsden and Anniston between 3-5 p.m. It will be out of Central Alabama by 7-8 p.m.
Category: Alabama's Weather, ALL POSTS, Severe Weather
Bill Murray is the President of The Weather Factory. He is the site's official weather historian and a weekend forecaster. He also anchors the site's severe weather coverage. Bill Murray is the proud holder of National Weather Association Digital Seal #0001
@wxhistorian