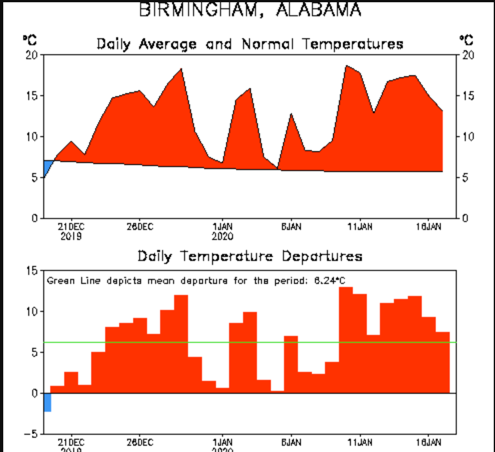 Temperatures over the past 30 days have been running well above normal. In fact, each of the last 28 days have been above normal. The result hs been that temperatures over the period have averaged some 3.3F above normal. If you have been outside at all this morning, you realize that trend has changed.
MUCH COLDER: The rain has exited southeastern sections of the area this morning behind a cold front. Much colder air is spreading into the area on brisk northwesterly winds that are averaging 10-15 mph and gusting to 25 mph at times. Readings in the 30s have overspread much of the northern half of Alabama and those readings will have a hard time recovering back into the 40s today despite rapidly clearing skies. By tomorrow morning, lows along the Tennessee River will be near 20F, with readings between 21-25F down to the I-20 Corridor and into the upper 20s as far as Montgomery. Monday temperatures will struggle to get out of the 30s north of I-20, with lower and middle 40s across the remainder of Central Alabama. Monday night temperatures will even a few degrees colder, in the teens over North Alabama and lower 20s as far south as Shelby County. Middle 20s will prevail south to Montgomery.
DRY UNTIL LATE IN THE WEEK: This morning, a big trough is deepening across the eastern half of the United States. It will continue to be reinforced over the next 48 hours before ridging begins to develop temporarily over the state. Tuesday highs will be in the 40s over all of North and Central Alabama. 50s will return to much of Central Alabama on Wednesday, with 40s hanging tough over northern parts of the state.
RAIN RETURNS THURSDAY NIGHT INTO FRIDAY: By Thursday evening, another approaching trough will spin up low pressure over eastern Kansas and Missouri. Rain will be working across the Arklatex and heading toward Alabama. It should arrive in the state Thursday night. Friday will be wet across the area. Rainfall amounts should average between 1.5-2 inches before the rain ends Saturday. It doesn't look like we will see thunderstorms, just another cold, soaking rain.
VOODOO TERRITORY: It looks like we will see an extended period of dry weather until the end of the month. Rain will return again by Thursday evening the 30th.
BEACH FORECAST: The beautiful beaches of Alabama and Northwest Florida will experience cool conditions through midweek, with 60s returning for Thursday, Friday, and Saturday. There is a high risk of rip currents through tonight. Water temperatures are running around 64F.
WEATHERBRAINS: This week, the gang will be talking with Jillian Rodrique, the emergency manager for Douglas County, Kansas, which saw a major tornado last spring.
ON THIS DATE INI 1977: The virtually unthinkable happened. It snowed in Miami. Actual snowflakes flying in the air at Miami Beach and as far south as the northern Florida Keys for the first time in recorded history. Homestead FL recorded a trace of snow It would be one of the worst freezes this century in the Sunshine State.
Category: Alabama's Weather, ALL POSTS
Bill Murray is the President of The Weather Factory. He is the site's official weather historian and a weekend forecaster. He also anchors the site's severe weather coverage. Bill Murray is the proud holder of National Weather Association Digital Seal #0001
@wxhistorian