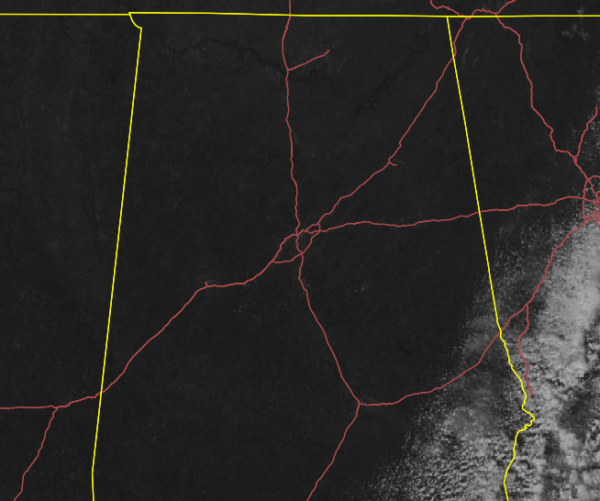 CONDITIONS AT 12:45 PM
Other than a few lingering clouds over the southeastern parts of the area, Central Alabama is basking in full sunshine at the midday hour. Unfortunately, the sun is not helping us feel any warmer and the winds are not helping us either. At the 12:00 pm Roundup, temperatures remain in the 40s across the area… ranging from 41 degrees at Bessemer, Birmingham, and Gadsden, to 49 degrees at Montgomery. The only reporting station still in the 30s is Haleyville at 37 degrees. Wind speeds were averaging around 10-20 MPH out of the north.
SUNNY & COOL TODAY; CLEAR & COLD TONIGHT
After what few clouds we had left over this morning, those will be gone and we'll be left with maximum sunshine for the afternoon and into the early evening hours. Even with the sun, we will remain very cool today and the breeze will not help us feel any warmer at all. Highs will be in the mid-40s in the northwest to the lower 50s in the southeast. All of us will drop well below the freezing point tonight underneath clear skies. Lows will be in the mid to upper 20s.
BRILLIANT BUT COOL WEATHER FOR SATURDAY
Near maximum sunshine can be expected across Central Alabama for your Saturday, but temperatures will remain cool. Afternoon highs will be in the mid to upper 50s across the area from northwest to southeast. A few clouds will start to roll in during the late-night and overnight hours, but we'll remain dry. Lows will be in the upper 20s to the mid-30s.
WE STAY DRY ON SUNDAY, BUT CLOUDS RETURN
Sunday will start off with partly to mostly cloudy skies, with those increasing throughout the day. Unfortunately, rain will become likely during the late-night and overnight hours, especially for locations north and west of I-85. Highs will be in the mid-50s to the lower 60s.
2020 SEVERE WEATHER AWARENESS WEEK – 2/16-2/21
As you know, Alabama is no stranger to severe weather, especially tornadoes. They can happen at any time of the year and at any time, day or night. We are approaching our primary severe weather season for Alabama (March, April, and May). Our 2020 Severe Weather Awareness Week starts on Sunday, February 16th and goes through Friday, February 21st. We will have posts on the blog throughout the week discussing severe weather hazards and safety. Governor Ivey has also declared this weekend (Friday, February 21st through Sunday, February 23rd) as the 2020 Severe Weather Preparedness Sales Tax Holiday. For more information on the tax holiday, please CLICK HERE to visit the Alabama Sales Tax Holiday section of NWS Birmingham's Severe Weather Awareness Week page.
NWS BIRMINGHAM SKYWARN STORM SPOTTER TRAINING
The National Weather Service office in Birmingham will be offering several online Basic Spotter Courses and a single Advanced Spotter Course over the next few months. These online courses are FREE and are open to anyone who would like to learn more about what it takes to be a spotter and what to look for. More information can be found on the NWS Birmingham's website, just CLICK HERE to visit the site.
BEACH FORECAST
Get the latest weather and rip current forecasts for the beaches from Bay St. Louis, MS, to Panama City Beach, FL, on our Beach Forecast Center page. There, you can select the forecast of the region that you are interested in.
ADVERTISE WITH THE BLOG!
We had another fantastic year in 2019 with just over 17 million page views! That brings our total for the last 2 years close to 37 million page views! Don't miss out! We can customize a creative, flexible, and affordable package that will suit your organization's needs. Contact Bill Murray at (205) 687-0782.
E-FORECAST
Get the Alabama Wx Weather Blog's Seven-Day Forecast delivered directly to your inbox by email twice daily. It is the most detailed weather forecast available in Central Alabama. Subscribe here… It's free!
CONNECT WITH THE BLOG ON SOCIAL MEDIA
You can find the AlabamaWx Weather Blog on the major social media networks:
Facebook
Twitter
Instagram
WEATHERBRAINS
Don't forget you can listen to our weekly 90 minute netcast anytime on the web at WeatherBrains.com or on Apple Podcasts, Stitcher, or Spotify. This is the show all about weather featuring many familiar voices, including the meteorologists at ABC 33/40.
Category: Alabama's Weather, ALL POSTS
Scott Martin is a meteorologist, graphic artist, musician, husband, and a father. Scott is a member of the National Weather Association and the Central Alabama Chapter of the National Weather Association. Scott is also the co-founder of Racecast Weather, which provides accurate forecasts for many racing series across the USA.