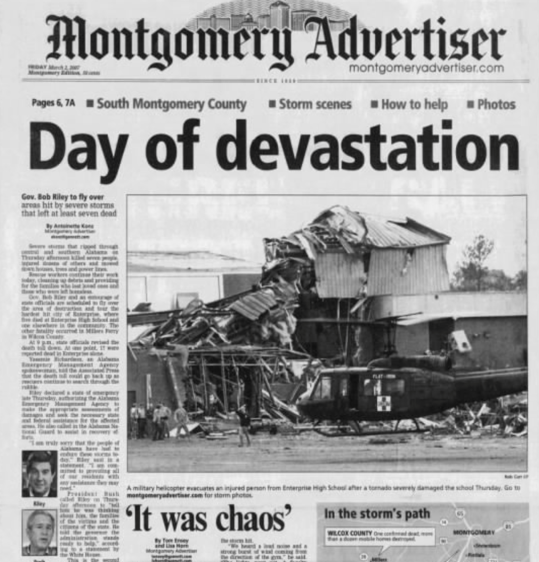 March roared in like a lion across the Deep South as a powerful storm system triggered an outbreak of tornadoes from Missouri and Illinois into Mississippi, Alabama, Georgia, and northern Florida. A total of twenty people died in the storms.
By far, the worst damage and majority of fatalities came from South Alabama and Southwest Georgia. An EF4 tornado struck a high school in Enterprise around 1:10 p.m. Eight students and another man died in the tragedy. The fatalities occurred when a concrete wall collapsed on a group of students huddled in a hallway at the school. A controversy arose as national media outlets questioned whether school administrators should have dismissed school early, but nearly all local residents supported the decision to keep students at school.
A high-risk outlook was issued early that morning and a PDS (Particularly Dangerous Situation) tornado watch was issued hours in advance. The National Weather Service Tallahassee issued a tornado warning a full eight minutes before the tornado struck the school.
Another devastating tornado struck the Millers Ferry area in Wilcox County, Alabama, killing one man. That tornado also ranked as an EF4.
Just before 9:30 p.m., another tornado caused significant damage in Americus, Georgia. A hospital in Americus was heavily damaged. A deadly tornado put an exclamation point on the day when it struck a mobile home community just north of Baker in Baker County, Georgia. Six people died in this twister, that occurred just before midnight.
The outbreak continued into the early morning hours of the 2nd in Georgia, South Carolina, and Florida. Five of the tornadoes were rated as EF-3.
In Alabama, other tornadoes touched down near Adamsville, in northern Tuscaloosa County near Samantha, in Arley in Winston County and in Fayette County. Twisters were also reported near Alabaster and in Lowndes and Montgomery Counties.
Category: ALL POSTS, Met 101/Weather History
Bill Murray is the President of The Weather Factory. He is the site's official weather historian and a weekend forecaster. He also anchors the site's severe weather coverage. Bill Murray is the proud holder of National Weather Association Digital Seal #0001
@wxhistorian