Areas of rain are impacting portions of North/Central Alabama as we approach the midday hours, and these will continue through the afternoon hours. Storms will not be as numerous today compared to the previous days as the upper-trough has lifted out of the area.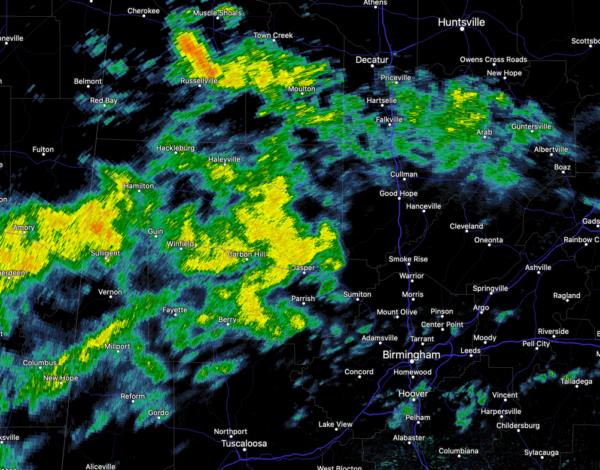 However, there remains plenty of warm, moist air in place, which will still allow for continued showers and scattered storms this afternoon…more typical of what we see in late June in Alabama, around 40%.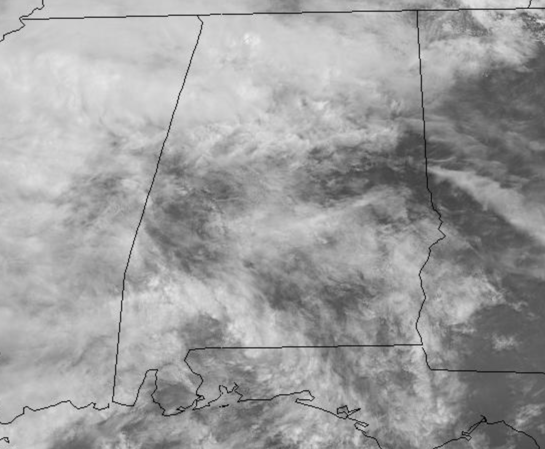 We are seeing more clouds than sun today, and temperatures should be heading into 80s by the end of the day in most location across North/Central Alabama.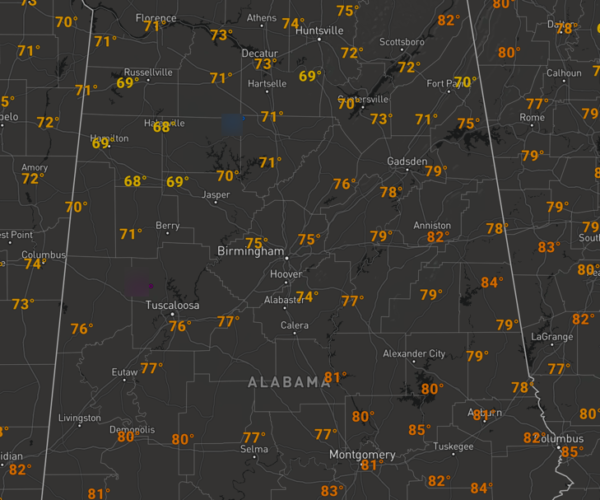 Showers today could linger into the evening hours, but should dissipate by midnight. The sky should remain mainly clouds with lows ranging from the upper 60s to low 70s.
STORMS AT TIMES THIS WEEKEND: For tomorrow and Sunday, we are forecasting partly sunny days with highs generally in the upper 80s across North/Central Alabama. It will remain very warm and muggy, which will provide instability, so both days will feature the risk of random, scattered, mainly afternoon and evening showers and storms. For the most part, there is no way of knowing in advance exactly when and where these will develop. Again, if you have something planned outside you simply have to watch radar trends. Odds of any one spot getting wet this weekend look to be in the 40-50% range.
We will mention tomorrow that an upper-level feature will work across the state tomorrow and with the colder air aloft associated with it, we could deal with some robust storms tomorrow afternoon, and in fact the SPC has most of Alabama in a "marginal risk" (level 1/5) of severe thunderstorms tomorrow; as some storms could produce strong winds and small hail, again similar to what we have dealt with this week.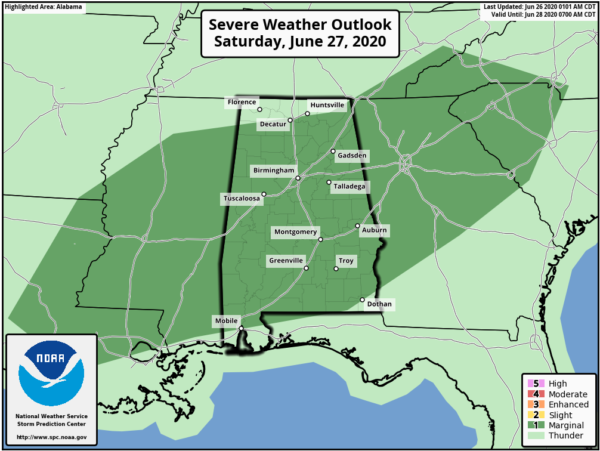 IN THE TROPICS: All is quiet across the Atlantic basin and tropical cyclone development is not expected through the weekend.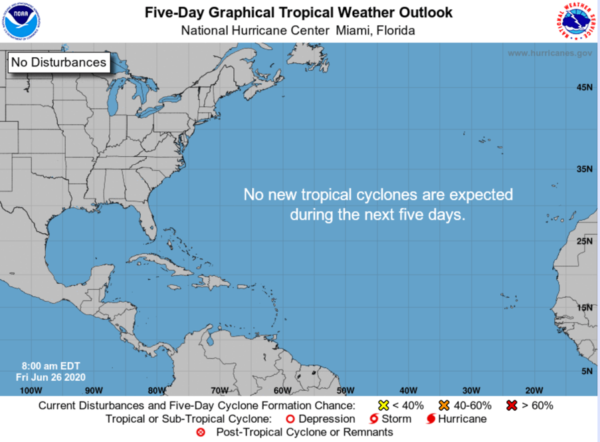 AFRICAN DUST: Dusty skies, the SAL (Saharan Air Layer) covers Alabama today. The dust, with origins from the African continent, is mostly several thousand feet off the ground, and will give the sky a hazy appearance. There can be some reduction in air quality, but it will not impact most people. We had some glorious sunsets last night over North and East Alabama, and expect the same this evening due to the scattering of the sunlight.
BEACH FORECAST CENTER: Get the latest weather and rip current forecasts for the beaches from Fort Morgan to Panama City on our Beach Forecast Center page. There, you can select the forecast of the region that you are interested in visiting.
WORLD TEMPERATURE EXTREMES: Over the last 24 hours, the highest observation outside the U.S. was 118.9F at Omidieh, Iran. The lowest observation was -89.3F at Concordia, Antarctica.
CONTIGUOUS TEMPERATURE EXTREMES: Over the last 24 hours, the highest observation was 117F Death Valley, CA. The lowest observation was 31F at Angle Fire, NM.
Category: Alabama's Weather, ALL POSTS
Montgomery Television Meteorologist and long time Contributor on AlabamaWX. Stormchaser. I did not choose Weather, it chose Me. College Football Fanatic.
@Ryan_Stinnet