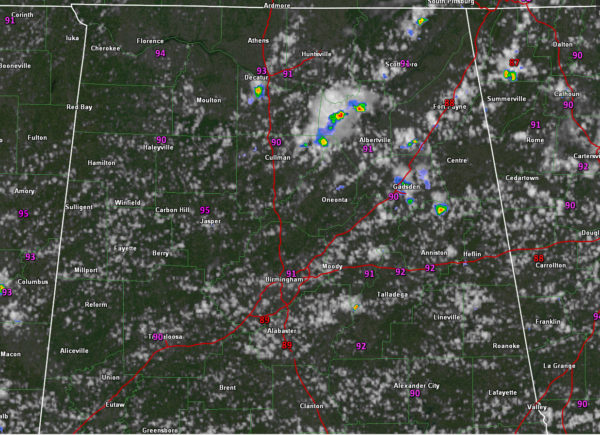 A typical summertime Sunday is in progress across North and Central Alabama this afternoon.
Temperatures are already in the 90s at most locations, heading for highs in the middle and upper 90s. Heat index values are generally in the mid and upper 90s, although a few spots are in the 100-105F range, including Montgomery, Prattville, Evergreen, and Pell City.
Showers and storms are breaking out from Morgan and Cullman Counties southeastward thorough Marshall, Blount, Etowah, Cherokee, Calhoun, and Cleburne Counties. Another was developing in northern Talladega County. Lots of lightning developing on both sides of sand Mountain in Northeast Alabama. Movement is slowly to the southeast. There is plenty of instability of course, and low-level lapse rates are strong, but mid-level lapse rates are not as good. There is no shear, so the storms will be of the garden variety summer pule type. That doesn't mean that they can't be strong though, with gusty winds and dangerous lightning.
Additional storms are forming over South Central Alabama along a northward moving warm front. Others are near I-10 in the Florida Panhandle, along the seabreeze front. Some of this activity may work up into Central Alabama later.
Tomorrow will be very hot, with highs in the mid and upper 90s. Heat index values will be very close to advisory levels, and if we don't get storms earlier in the day, those advisories might be necessary. Tuesday will feature fewer storms during the day, but a chance for evening and overnight storms. It appears that rain chances will go up dramatically by Wednesday into the rest of the week and weekend, and even into the following week.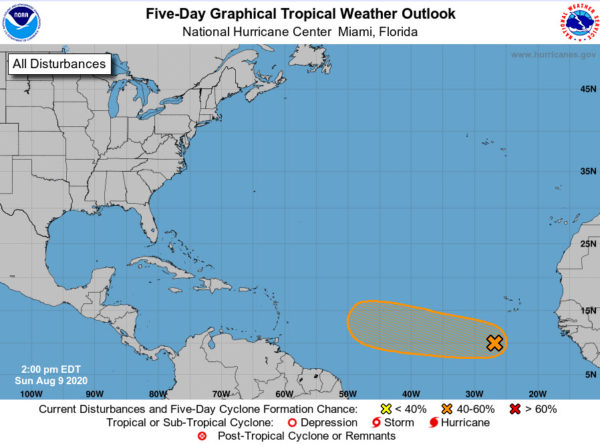 Just a note that Invest 95L is a tropical wave over the far eastern Atlantic that shows signs of organization. The latest Tropical Weather Outlook form the NHC shows a 50% chance of that system become a tropical cyclone over the next five days. It could become Tropical Storm Josephine.
Category: Alabama's Weather, ALL POSTS
Bill Murray is the President of The Weather Factory. He is the site's official weather historian and a weekend forecaster. He also anchors the site's severe weather coverage. Bill Murray is the proud holder of National Weather Association Digital Seal #0001
@wxhistorian