The NHC has just upgraded the tropical depression that has just emerged into the southeastern Gulf of Mexico into a tropical storm and it has officially been named Sally.
The official NHC forecast carries it initially across the coast in St. Bernard Parish Tuesday morning and then slowly moves it inland near the Mississippi/Louisiana border Tuesday evening as a category one hurricane. It then curves it north and northeast through Mississippi, perhaps eventually bringing the weakening system into Alabama, which could turn it into a heavy rainmaker.
I think the morning run of the GFS is out to lunch with a much weaker system that barely gets to 50-60 mph and takes a more westerly track into SOutheast Louisiana south of New Orleans early Tuesday morning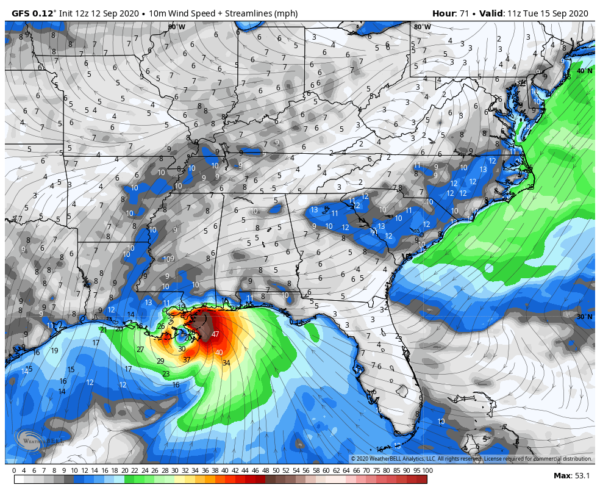 The deterministic European is not much better. It moves a weak tropical to near the mouth of the Mississippi River Monday evening.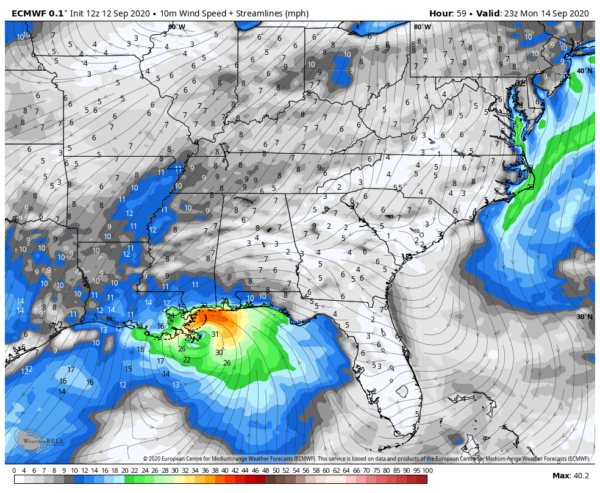 The Canadian is even more out to lunch.
I think the hurricane models are going to do a much better job with this one. Here is the HMON at landfall Tuesday evening about 7 p.m. as an 85 mph hurricane in Baldwin County, Alabama. It strengthens it up to around 100 mph around midnight Monday night before weakening it a bit as it approaches the coast. The more northward turn is not out of the question, and the weakening before landfall is possible as well, as the storm should be encountering increasing shear as it approaches land. Plus its forward speed will be slowing, which could lead to loss of intensity through land interaction as well.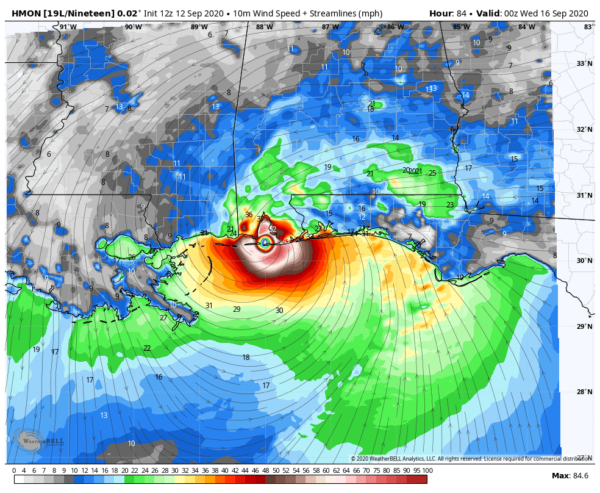 The HWRF is much stronger and paints a frightening scenario. It shows a much faster and stronger hurricane intensifying rapidly starting Sunday night before becoming a category 3 storm with top winds of 120-125 mph Monday afternoon while it is approaching the coast near the Mississippi/Louisiana border, close to the forecast track, just faster by about 12 hours. It brings it inland over St. Bernard Parish as a 953 mb/130-135 mph hurricane and takes it very near the City of New Orleans during the early morning hours Tuesday. This would not be a good scenario. Preparations would have to begin early Sunday for such a scenario.
The folks at the NHC are the pros and here is their official forecast of where the strongest winds will be. See the legend to see the threshold,s bu the darkest blue reflects wind of 81-91 mph.
Let's step through the official forecast, with the extent of tropical storm force winds (>39 mph) shown in yellow. The aqua color denotes strong tropical storm force or .
First at 6 p.m. Sunday, the 55-60 mph tropical storm is about 279 miles southeast of New Orleans. The winds field shows strongest winds well offshore.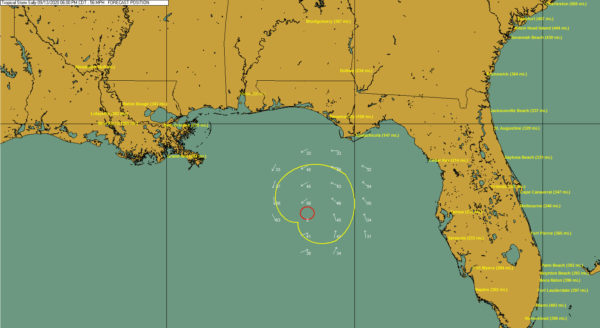 At 6 a.m. Monday, the NHC forecast has a 68 mph strong tropical storm beginning to pass less than 120 miles south of the Alabama coast and about 180 miles southeast of New Orleans.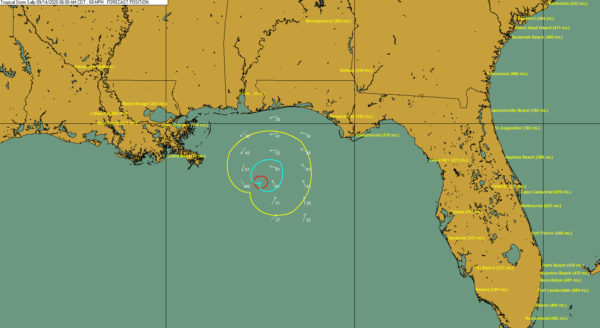 By 7 p.m., it's a hurricane, just 105 miles from New Orleans.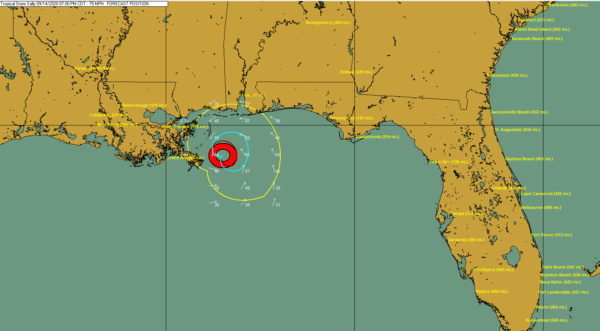 And by 7 a.m. it is about to make landfall in St. Bernard Parish near New Orleans as an 81 mph hurricane.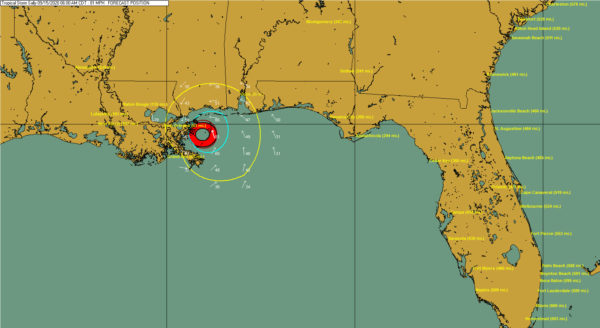 Then it makes final landfall near the Mississippi/Lousiana border Tuesday evening with top winds near 80 mph.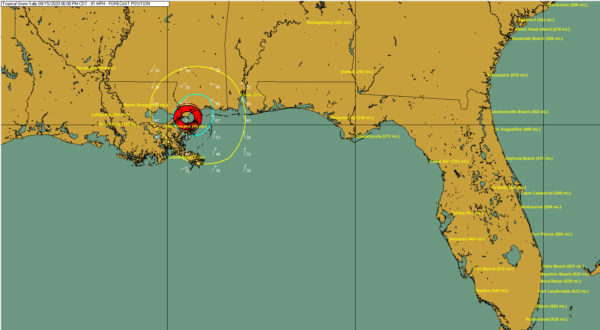 Here is the forecast error cone at this point. The center will end up in this cone 67 percent of the time. So as you can see, it could end up in the western Florida Panhandle or it could be more to the west along the Central Louisiana coast.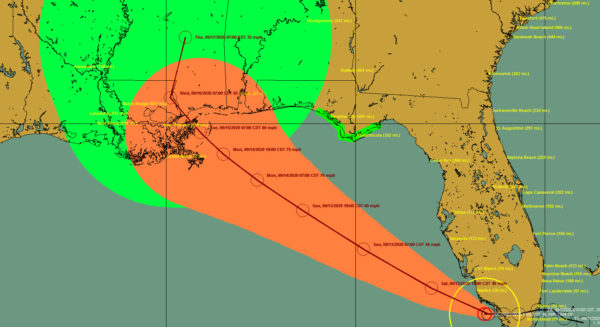 New forecast package in two hours. We will break it down when it arrives and look at specific impacts for the Alabama and Northwest Florida coasts, as well as the Mississippi Coast, New Orleans, and us here in North and Central Alabama.
Bill Murray is the President of The Weather Factory. He is the site's official weather historian and a weekend forecaster. He also anchors the site's severe weather coverage. Bill Murray is the proud holder of National Weather Association Digital Seal #0001
@wxhistorian