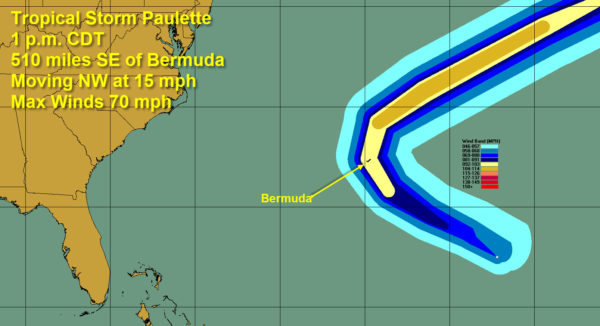 Bermuda is expected to receive a major impact from Tropical Storm Paulette.
The storm is now a strong tropical storm but is expected to become a hurricane tonight and should have winds around 100 mph when it reaches Bermuda.
Northeasterly tropical storm force winds should start affecting the island on Sunday around 5 PM CDT with strong tropical storm-force winds arriving around midnight and northeasterly hurricane-force winds arriving near 3 AM CDT. The highest wind speeds from Paulette should occur near 8 AM CDT Monday when top sustained winds could reach 99 MPH with gusts near 120 MPH.
Based on the current forecast, there is a good chance that Bermuda will experience the eyewall of the storm, with the passage of the eye on Monday around 6 AM CDT. This could result in higher wind speeds than expected.
Sustained winds will drop below tropical storm-force after 7 PM CDT and generally be from the West during this period of decreasing winds. Expect gusts above tropical storm force level for several more hours thereafter.
Wind damage from Tropical Storm Paulette could be significant. A few homes will be shifted off of their foundation, and large sections of roofs will be removed. It will also likely include the collapse of chimneys, garage doors, and the loss of porches and/or carports.
There will be a significant storm surge on the island. Swells from Paulette are already affecting the islands of the Caribbean and will reach the East Coast of the U.S. over the next couple of days. Rainfall will be 3-6 inches on Bermuda.
Bill Murray is the President of The Weather Factory. He is the site's official weather historian and a weekend forecaster. He also anchors the site's severe weather coverage. Bill Murray is the proud holder of National Weather Association Digital Seal #0001
@wxhistorian