Lots to talk about in the tropics still, as the hyper-active North Atlantic Hurricane Season continues on a roll. We will get to that in a minute, first…
GOOD MORNING! Saturday's gloom was actually courtesy of Tropical Storm Beta in the western Gulf of Mexico. A broad southwesterly flow out aloft has been blowing lots of clouds across Alabama since Friday afternoon. A digging trough across the Ohio Valley and the eastern part of the country is filtering some drier air down into the northern half of the state, eroding the clouds a bit this morning. Areas north of Clanton will have a good supply of sunshine this morning, while areas to the south stay mostly cloudy much of the day. Those clouds should advance northward again during the afternoon and evening, with only the Tennessee Valley remaining under fair skies into the evening.
The only rain should be across far southwestern sections, down around Mobile, Chatom, and Jackson. It will be breezy today, with easterly winds averaging 15-20 mph with occasional higher gusts areawide today. You can thank the pressure gradient between Tropical Storm Beta and the huge high-pressure system over southern Quebec for the breezes. Highs today will be in the upper 70s across the I-20 Corridor and points north, with mostly lower and middle 70s South. Sort of an upside down Sunday. Lows tonight will be around 60F. Now let's check the tropics.
FIRST, HURRICANE TEDDY: One week ago, Bermuda was bracing for a direct hit from Hurricane Paulette. It appears that the beautiful island nation will be spared that outcome this week, but they still will experience tropical storm force winds. Tropical storm force winds out of the northeast should begin affecting the island tonight around 8 p.m. Atlantic Daylight Time. Peak winds should occur around sunrise when northerly winds could reach 50-55 mph with gusts to near 65 mph.
Tropical storm force winds won't abate until early evening, and those winds will be out of the west as the storm moves away. There will be some minor wind damage on the island. Beyond this, it looks like Teddy will continue moving quickly due north and will make landfall in eastern Nova Scotia and Newfoundland on Tuesday night. For Nova Scotia and Prince Edward Island in Atlantic Canada, it looks quite possible that Teddy could cause very strong winds on Tuesday afternoon, Tuesday night and Wednesday morning, especially across eastern Nova Scotia and across Prince Edward Island. Wind gusts to 60-90 mph are possible across parts of eastern Nova Scotia and Prince Edward Island.
In addition, very heavy rainfall looks very likely across much of Nova Scotia and Prince Edward Island beginning Tuesday morning and continuing until early Wednesday morning. In fact, some of this heavy rainfall may also impact eastern New Brunswick during Tuesday night.
TEDDY ALSO AFFECTING A WIDE AREA WITH HUGE SWELLS: Teddy is expected to continue to produce large swells, large surf and the threat for rip currents across the Leeward Islands, the Greater Antilles, the Bahamas, Bermuda, and much of the US East Coast today into the first half of next week. In fact, some minor coastal flooding is possible at the time of high tide this weekend into early next week across many beaches along the US East Coast.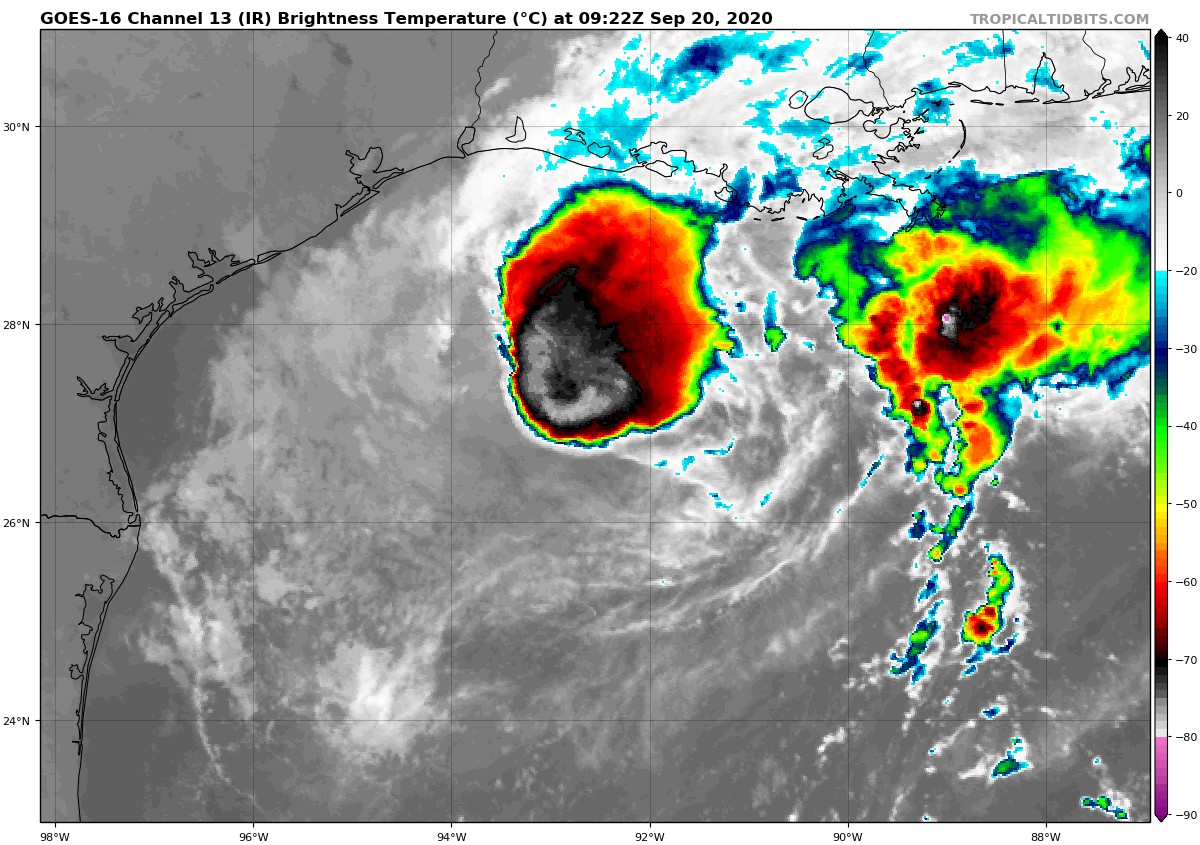 TROPICAL STORM BETA: Our tropical storm in the western Gulf if about 230 miles southeast of Houston this morning. Top winds are 60 mph. The system has a large wind field, partly because of that pressure gradient between it and the high to the northeast, with winds approaching tropical storm force along much of the Louisiana and Upper Texas coasts. The storm is moving west-northwest at about 3 mph. This motion is expected to continue at a slightly faster forward speed, likely reaching the Texas coast between Corpus Christi and Freeport, Texas Monday night. It will likely be a strong tropical storm at that time. Tropical Storm Warnings are in effect along the Texas coast, but the Hurricane Watch has been discontinued. The system has been undergoing southwesterly wind shear, and that may continue until landfall. And there is lots of dry air over the western Gulf that is waiting to be entrained into the system, which would keep it from strengthening despite the fact that it is over very warm water.
Some time Monday or Tuesday, the system will turn northeastward in response to an approaching upper-level trough. Does this turn happen after the system is well inland, as suggested by the European? Or does it bounce along the coast as predicted by the GFS? And then, does the ridge over the southeastern U.S. deflect it northward before it can affect our weather? The official NHC forecast has it over Central Louisiana by Thursday morning as a depression heading northeast and in northern Mississippi as a remnant low by Friday morning. We will assume that for our forecast.
ALABAMA'S WEATHER: The strong high pressure over the northeastern United States will ridge down the East Coast over the next 24 hours. This will push Beta into Texas and will keep its moisture at bay for us. Monday will get off to a refreshing start with lows in the 50s. It will be a mild day, with highs in the middle 70s. Tuesday looks like a carbon copy of Monday.
MIDWEEK AND BEYOND: As the ridge weakens, Beta will turn to the northeast, and a few showers will reach into Alabama Wednesday afternoon, with showers increasing Wednesday night into Thursday morning. It looks like rain will become likely Thursday night before it starts backing off on Friday.
WEEKEND OUTLOOK: Expect scattered showers on Saturday, but fair skies should return on Sunday as high pressure builds over the area.
TEMPERATURES: Highs will be in the 70s all week, with lows in the 50s. Weekend readings will return to the 80s as high pressure builds.
ELSEWHERE IN THE TROPICS: Tropical Storm Wilfred is about 1,200 miles east of the Lesser Antilles this morning. The storm is expected to dissipate over the next couple of days as it heads westward. The remnants of Hurricane Paulette are moving southward over warmer waters today and it could reacquire tropical or subtropical characteristics.
BEACHCAST: Scattered showers and storms will be the rule along the beautiful beaches of Alabama and Northwest Florida until Wednesday, then rain and storms will be on the increase. Of course, conditions will be slow to return to normal along the coasts of Alabama and the western Florida Panhandle after the hard hit by Hurricane Sally. There will be a high rip current risk by Monday into Midweek. Highs will be running in the mid and upper 70s.
Click here to see the Beach Forecast Center page.
WEATHERBRAINS: This week, the panel will entertain two experts on sprites. Check out the show at www.WeatherBrains.com. You can also subscribe on iTunes. You can watch the show live at live.bigbrainsmedia.com or on James' YouTube Channel You will be able to see the show on the James Spann 24×7 weather channel on cable or directly over the air on the dot 2 feed.
ON THIS DATE IN 2005: Hurricane Rita intensified rapidly as it passed through the Florida Straits about 50 miles south of Key West. A storm surge of up to five feet affected the Keys, overwashing US-1 in some locations. It was the beginning of an astounding intensification that saw the storm deepen from a Category Two to a Category Five storm in twenty-four hours. The central pressure in the storm would drop from 965 millibars to 897 millibars in twenty-four hours. Follow my weather history tweets on Twitter. I am @wxhistorian at Twitter.com.
Category: Alabama's Weather, ALL POSTS, Tropical
Bill Murray is the President of The Weather Factory. He is the site's official weather historian and a weekend forecaster. He also anchors the site's severe weather coverage. Bill Murray is the proud holder of National Weather Association Digital Seal #0001
@wxhistorian