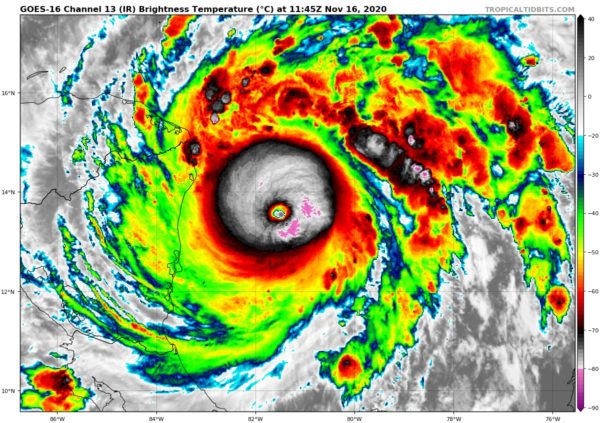 Hurricane Iota strengthened rapidly overnight and now has top winds of 125 mph and a central pressure of 925 millibars, making it a powerful category four hurricane.
Tropical storm force winds are likely already occurring on the northeastern coast of Nicaragua, where the center will make landfall late this evening.
Here is the opening paragraph of the 3 a.m. Tropical Cyclone Discussion:
Iota has explosively deepened 26 mb during the past 6 hours and has
rapidly intensified an incredible 35 kt during that same time. An
Air Force Reserve reconnaissance aircraft and aircrew that flew the
arduous, 10-hour round-trip mission into Iota reported a maximum
700-mb flight-level wind speed of 134 kt and peak SFMR surface winds
of 121 kt, which supports the initial intensity of 125 kt, making
Iota a strong Category 4 hurricane. Furthermore, the pressure fell
an amazing 10 mb from 945 mb down to 935 mb in a little over an hour
between those two fixes. The crew also encountered intense lightning
and hail in the southwestern quadrant, where recent remote data
indicate that frequent lightning is still occurring. The aircrew
reported that the eye was around 15 n mi wide, and the latest
GOES-16 hi-resolution infrared satellite imagery confirms that the
eye diameter, and that the eye has cleared out with continued
warming eye temperatures and cooling surrounding cloud tops.
And here is the text of the 6 a.m. advisory:
BULLETIN
Hurricane Iota Intermediate Advisory Number 12A
NWS National Hurricane Center Miami FL AL312020
700 AM EST Mon Nov 16 2020
…AIR FORCE HURRICANE HUNTERS ALMOST IN THE CORE OF IOTA…
…IOTA EXPECTED TO BRING CATASTROPHIC WINDS, LIFE-THREATENING
STORM SURGE, AND EXTREME RAINFALL IMPACTS TO CENTRAL AMERICA…
SUMMARY OF 700 AM EST…1200 UTC…INFORMATION
———————————————-
LOCATION…13.5N 81.6W
ABOUT 20 MI…35 KM NW OF ISLA DE PROVIDENCIA COLOMBIA
ABOUT 145 MI…235 KM SE OF CABO GRACIAS A DIOS ON NIC/HON BORDER
MAXIMUM SUSTAINED WINDS…155 MPH…245 KM/H
PRESENT MOVEMENT…W OR 275 DEGREES AT 10 MPH…17 KM/H
MINIMUM CENTRAL PRESSURE…925 MB…27.32 INCHES
WATCHES AND WARNINGS
——————–
CHANGES WITH THIS ADVISORY:
None.
SUMMARY OF WATCHES AND WARNINGS IN EFFECT:
A Hurricane Warning is in effect for…
* Providencia
* The coast of Nicaragua from the Honduras/Nicaragua border to
Sandy Bay Sirpi
* The coast of northeastern Honduras from Punta Patuca to the
Honduras/Nicaragua border
A Hurricane Watch is in effect for…
* San Andres
A Tropical Storm Warning is in effect for…
* San Andres
* The coast of Nicaragua from south of Sandy Bay Sirpi to Bluefields
* The northern coast of Honduras from west of Punta Patuca to Punta
Castilla
A Hurricane Warning means that hurricane conditions are expected
somewhere within the warning area. Preparations to protect life
and property should be rushed to completion in Nicaragua and
Honduras.
A Hurricane Watch means that hurricane conditions are possible
within the watch area.
A Tropical Storm Warning means that tropical storm conditions are
expected somewhere within the warning area within 36 hours.
Interests elsewhere in Nicaragua and Honduras should monitor the
progress of Iota.
For storm information specific to your area, please monitor
products issued by your national meteorological service.
DISCUSSION AND OUTLOOK
———————-
At 700 AM EST (1200 UTC), the center of Hurricane Iota was located
by NOAA satellite data near latitude 13.5 North, longitude 81.6
West. Iota is moving toward the west near 10 mph (17 km/h). A
westward to west-northwestward motion is forecast through landfall.
After landfall, a westward to west-southwestward motion is expected.
On the forecast track, the core of Iota will make landfall within
the hurricane warning area in northeastern Nicaragua and eastern
Honduras tonight, and will dissipate over central America by
midweek.
Data from NOAA satellites indicate that maximum sustained winds
have increased to near 155 mph (245 km/h) with higher gusts. Iota
is a category 4 hurricane on the Saffir-Simpson Hurricane Wind
Scale. Iota could be a catastrophic category 5 hurricane when it
approaches Central America tonight, and rapid weakening is expected
after landfall.
Hurricane-force winds extend outward up to 35 miles (55 km) from
the center and tropical-storm-force winds extend outward up to 150
miles (240 km).
The estimated minimum central pressure is 925 mb (27.32 inches).
HAZARDS AFFECTING LAND
———————-
Key messages for Hurricane Iota can be found in the Tropical Cyclone
Discussion under AWIPS header MIATCDAT1, WMO header WTNT41 KNHC
and on the web at www.hurricanes.gov/text/MIATCDAT1.shtml.
STORM SURGE: A life-threatening storm surge will raise water levels
by as much as 12 to 18 feet above normal tide levels in areas of
onshore winds along the coast of Nicaragua and Honduras. Near the
coast, the surge will be accompanied by large and destructive waves.
WIND: Catastrophic wind damage is expected where Iota's eyewall
moves onshore within the Hurricane Warning area in Nicaragua
and Honduras beginning late tonight with tropical storm conditions
expected by late morning. Hurricane conditions are likely occurring
on the island of Providencia, with tropical storm conditions
expected through the remainder of this morning and possibly into the
early afternoon. Tropical storm conditions are likely occurring on
the island of San Andres, with hurricane conditions possible there
later this morning. Tropical storm conditions are expected in the
Tropical Storm Warning area in Nicaragua by late afternoon and in
the warning area in Honduras by tonight.
RAINFALL: Iota is expected to produce the following rainfall
accumulations through Thursday:
Honduras, northern Nicaragua, Guatemala, southern Belize: 8 to 16
inches (200 to 400 mm). Isolated maximum totals of 20-30 inches (500
to 750 mm) will be possible, especially from northeast Nicaragua
into northern Honduras.
Costa Rica and Panama: 4 to 8 inches (100 to 200 mm), with isolated
maximum totals of 12 inches (300 mm).
This rainfall will lead to significant, life-threatening flash
flooding and river flooding, along with mudslides in areas of higher
terrain.
El Salvador and southern Nicaragua: 3 to 5 inches (75 to 125 mm),
with isolated maximum totals of 10 inches (250 mm).
SURF: Swells generated by Iota will affect much of the coast of
Central America, the Yucatan Peninsula, Jamaica, and Colombia during
the next couple of days. These swells are likely to cause
life-threatening surf and rip current conditions. Please consult
products from your local weather office.
NEXT ADVISORY
————-
Next complete advisory at 1000 AM EST.
$$
Forecaster Blake
Bill Murray is the President of The Weather Factory. He is the site's official weather historian and a weekend forecaster. He also anchors the site's severe weather coverage. Bill Murray is the proud holder of National Weather Association Digital Seal #0001
@wxhistorian