THE CENTRAL ALABAMA WEEKEND
Saturday will be an overall nice day with mostly sunny skies and temperatures making it up into the mild range. Afternoon highs will range from the lower 70s in the north to the mid-70s in the south and southeast.
A much different story for your Sunday as clouds will begin to build throughout the day as a front will begin to sweep through the area late in the day. A few showers may roll into Central Alabama during the evening and late night hours but those chances will be very small. Afternoon highs will be in the upper 60s to the mid-70s from north to south.
THE WORK WEEK AHEAD
High pressure quickly builds in behind the front on Monday and brings nice and much cooler weather to Central Alabama. Temperatures will range from the lower 60s in the northwest to the lower 70s in the southeast.
Another system will start to get its act together out to our west on Tuesday and will begin to head in our direction. We'll stay dry through nearly the entire day, but a stray shower may be possible around or just after midnight. Skies will start off the day mostly sunny, but clouds associated with the system will move in late. Highs will be in the mid-60s to the lower 70s from northwest to southeast.
Wednesday may be a day that we may have to watch as a warm front will be moving up through Central Alabama out ahead of an approaching cold front. At this point, there doesn't appear to be a severe weather threat as instability values do not look all that impressive at all. We will have a decent bit of shear in place, so it may not take that much instability to get something fired up. We'll keep you updated on this situation. For now, I'll go with scattered showers and thunderstorms possible throughout the day, with the potential of one or two strong storms. Afternoon highs will be in the mid-60s to the mid-70s across Central Alabama from northwest to southeast.
The cold front appears to wash out across the south-central parts of Central Alabama and that will keep a few showers in the forecast for the southern half of the area on Thursday. The northern half will have a little drier air with mostly sunny skies. Afternoon highs will be in the mid-60s to the lower 70s.
Moisture looks to make its way back up into the area for the latter half of Friday bringing a small chance of showers and maybe a thunderstorm to the area. Skies will be mostly cloudy and highs will be in the mid-60s to the lower 70s.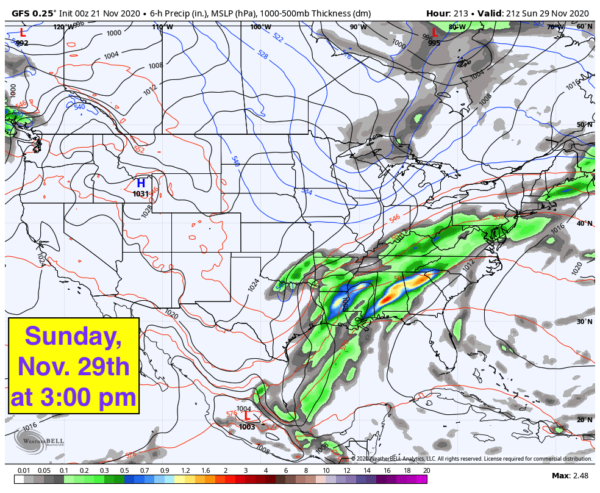 VOODOO LAND
This moisture will stick around through the weekend (Nov. 28-29) and will bring rain on both Saturday and Sunday. Rain on Sunday looks to be heavy at times with 24-hour rainfall totals projected by the GFS at 1-3 inches. That is after projected totals of 1/4 to just below 1 inch falls on Saturday. This may and probably will change as it is out there in Voodoo Land.
THE TROPICS
There is a small possibility that a non-tropical area of low pressure could form over the western Atlantic early next week. This system would only have a short
period of time to develop subtropical characteristics before it accelerates northeastward and merges with a cold front by the middle of next week. Formation chance through the next 120 hours is only 10%. The rest of the Atlantic Basin is rather quiet. Only nine more days remain in the Atlantic Hurricane Season for 2020, as it will come to an end on November 30th.
ON THIS DATE IN WEATHER HISTORY
• 1985: Hurricane Kate made landfall during the evening hours near Mexico Beach FL. Wind gusts to 100 mph were reported at Cape San Blas FL. It was the latest known hurricane to hit the U.S. so far north.
• 1992: A powerful storm system traversing central Texas set off severe thunderstorms which spawned 6 tornadoes within 70 minutes in the Houston Metropolitan area. At one time, there were 3 tornadoes on the ground at the same time in Harris County. The strongest tornado of this group (F4) tracked 20 miles through the eastern suburbs of Houston and destroyed over 200 homes and damaged over 1000. Beginning in the late evening and into early morning hours of the 22nd, 23 tornadoes struck Mississippi and Alabama. An F4 tornado killed 12 people on a 128-mile track through 7 counties in Mississippi.
BEACH FORECAST CENTER
Get the latest weather and rip current forecasts for the beaches from Dauphin Island, AL, to Panama City Beach, FL, on our Beach Forecast Center page. There, you can select the forecast of the region that you are interested in.
ADVERTISE ON THE BLOG!
We had another fantastic year in 2019 with just over 17 million page views! That brings our total for the last two years close to 37 million page views! At this point, we are already close to eclipsing the 2019 total. Don't miss out! We can customize a creative, flexible, and affordable package that will suit your organization's needs. Contact Bill Murray at (205) 687-0782.
E-FORECAST
Get the Alabama Wx Weather Blog's Seven-Day Forecast delivered directly to your inbox by email twice daily. It is the most detailed weather forecast available in Central Alabama. Subscribe here… It's free!
CONNECT WITH THE BLOG ON SOCIAL MEDIA
You can find the AlabamaWx Weather Blog on the major social media networks:
Facebook
Twitter
WEATHERBRAINS
There are several ways to watch or listen to the podcast that is all about the weather. Watch live starting at 8:00 pm CT on Monday nights at live.bigbrainsmedia.com, James Spann's YouTube Channel, or on one of ABC 3340's digital weather channels (17.2, 40.2, 68.3). Listen to the recorded audio podcast at WeatherBrains.com or on your favorite podcast platform (Apple Podcasts, Stitcher, Spotify, etc.), or watch the recorded video on James Spann's YouTube channel.
Category: Alabama's Weather, ALL POSTS, Severe Weather, Tropical, Weather Xtreme Videos
Scott Martin is an operational meteorologist, professional graphic artist, musician, husband, and father. Not only is Scott a member of the National Weather Association, but he is also the Central Alabama Chapter of the NWA president. Scott is also the co-founder of Racecast Weather, which provides forecasts for many racing series across the USA. He also supplies forecasts for the BassMaster Elite Series events including the BassMaster Classic.