After the frigid morning across the area, we are warming up, but still remain below average for this time of year with most locations in the upper 40s and lower 50s as we roll into and through the afternoon hours.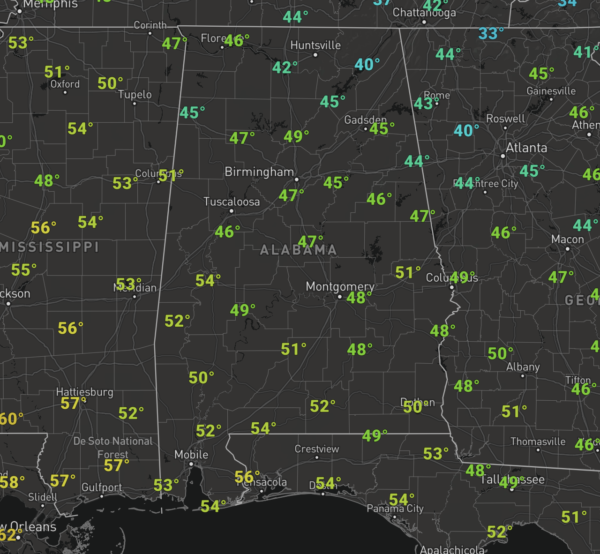 We are seeing sunshine in full supply for most of Alabama, but we do have some clouds in the sky over the Tennessee Valley of the state.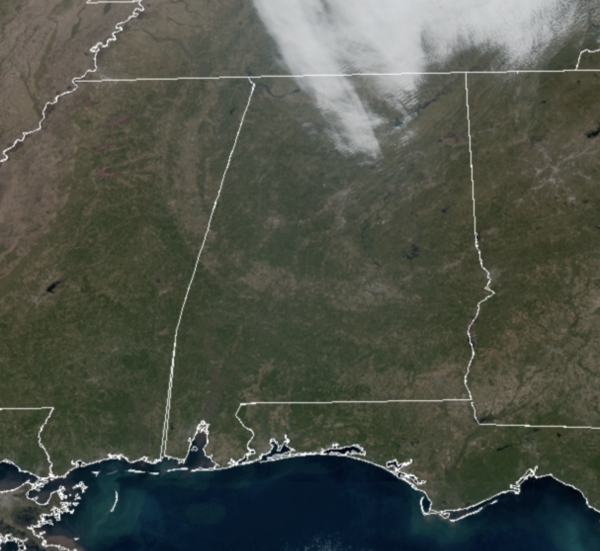 For the most part, the sky should remain mostly clear overnight and it will be another cold one with lows in the upper 20s and lower 30s.
ACROSS THE USA: Gusty winds and low relative humidity will bring Critical Fire Weather conditions for portions of southern California, with an Elevated Risk extending northward into parts of central California. Temperatures 20 to 40 degrees above average are expected through Wednesday for the northern and central Great Plains into portions of the Midwest.
WARMING TREND BEGINS: We stay cloud-free for the most part through the end of the week and temperatures start warming each afternoon. Highs return to the low 60s tomorrow, with mid and upper 60s Thursday and Friday and again, there will likely be some 70s on the maps across South Alabama these days. Late Friday, clouds will increase as moisture levels rise ahead of our next storm system arriving this weekend.
FOOTBALL WEATHER: Saturday, Alabama will take on Arkansas in Fayetteville (11:00a CT kickoff)… the weather looks dry but cold. The sky will be mostly cloudy with temperatures holding in the low to mid 40s during the game.
Then, Saturday evening, Auburn travels to Starkville to take on Mississippi State (6:30p CT kickoff). While rain is likely during the day in East Mississippi, there is a good chance the rain will be over by game time. Temperatures will fall from near 55 at kickoff, into the 40s by the second half.
BEACH FORECAST CENTER: Get the latest weather and rip current forecasts for the beaches from Fort Morgan to Panama City on our Beach Forecast Center page. There, you can select the forecast of the region that you are interested in visiting.
WORLD TEMPERATURE EXTREMES: Over the last 24 hours, the highest observation outside the U.S. was 107.8F at Morawa Airport, Australia. The lowest observation was -61.6F at Nera, Russia.
CONTIGUOUS TEMPERATURE EXTREMES: Over the last 24 hours, the highest observation was 83F at Death Valley, CA. The lowest observation was -27F at Peter Sinks, UT.
WEATHER ON THIS DATE IN 1988: Santa Ana winds buffeted southern California, with gusts to 92 mph reported at Laguna Peak. The high winds unroofed buildings, and downed trees and power lines, igniting five major fires, and numerous smaller ones. Damage was estimated at 15 to 20 million dollars.
Category: Alabama's Weather, ALL POSTS
Montgomery Television Meteorologist and long time Contributor on AlabamaWX. Stormchaser. I did not choose Weather, it chose Me. College Football Fanatic.
@Ryan_Stinnet