It was another frosty start to the day across North/Central Alabama, but we are going to be noticeably warmer this afternoon as temperatures should be about ten degrees warmer than yesterday.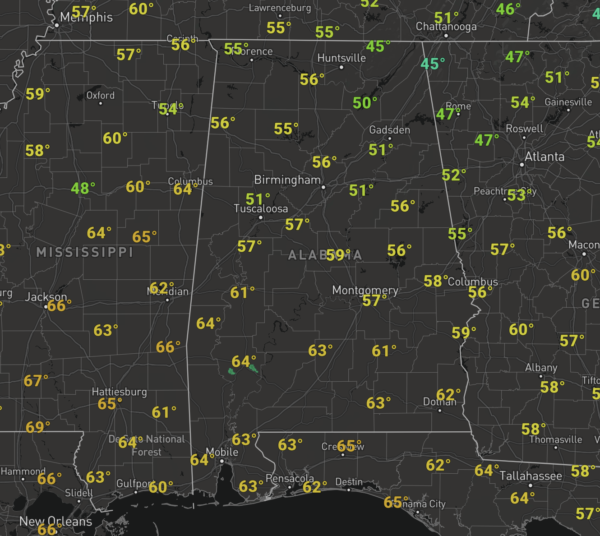 That means most locations will see highs on either side of 60° this afternoon. We are seeing a few clouds in the sky, but for the most part, it remains mainly sunny.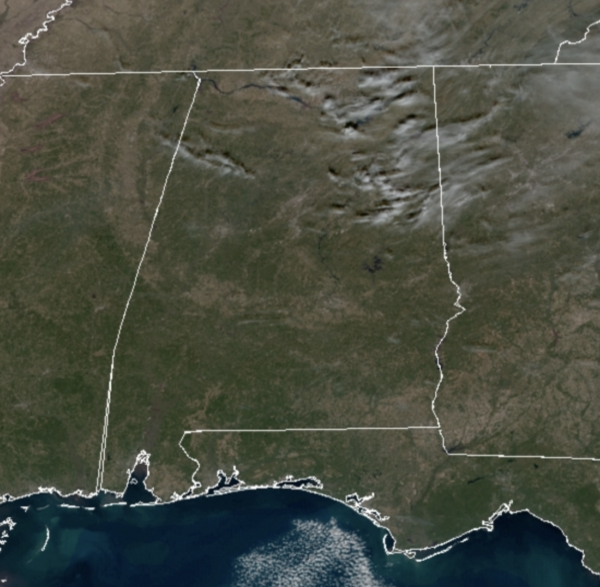 Tonight will be clear, but not as cold with upper 30s and lower 40s, and like we saw this morning, some areas of river fog are certainly possible.
TOMORROW/FRIDAY: The warming trend continues these two days as we stay generally cloud-free. Highs will be in the mid and upper 60s tomorrow and Friday with some 70s across South Alabama these days. Late Friday, clouds will increase as moisture levels rise ahead of our next storm system arriving this weekend.
WEEKEND WEATHER: A cold front will bring a band of showers and a few storms into Alabama Saturday, but this is not a severe weather threat due to limited amounts of instability, and the main dynamics remaining well to the north of Alabama. Saturday will be mainly cloudy day with occasional showers and storms, but it won't rain all day and we should see highs in the low 60s. Rain amounts Saturday should be around 1/2 inch range.
Now on Sunday, things get a bit more interesting and the forecast confidence is low for now due to the model differences. Again, the GFS is more progressive with the Saturday front and has it out of state rather quick on Sunday, as an upper-level wave moves across the state, which could squeeze out a few showers as more clouds linger. Highs should be in the 50s.
However, the European model shows a greater potential rain event for the state. The surface front stalls across Alabama, and a surface low develops in the northern Gulf in response to an approaching upper-level low. The surface low then rides up and along the front spreading widespread rain across the state late Sunday and Sunday night with the potential for a rain to transition to snow over parts of Tennessee, North Mississippi, North Alabama, and North Georgia late Sunday night and Monday, but this is the only model showing this scenario, so though that is not our forecast, it has been persistent and is worth mentioning for late Sunday.
Our forecast for Sunday as of now, will feature a mostly cloudy sky and cool temps with a high in the 50s, and we will mention that chance of light rain late in the day and Sunday night. But again, this is subject to change in the coming days.
FOOTBALL WEATHER: Saturday, Alabama will take on Arkansas in Fayetteville (11:00a CT kickoff)… the weather looks dry but cold. The sky will be mostly cloudy with temperatures holding in the low to mid 40s during the game.
Then, Saturday evening, Auburn travels to Starkville to take on Mississippi State (6:30p CT kickoff). The sky will be cloudy, and some light rain is possible during the game; temperatures will fall through the 50s.
BEACH FORECAST CENTER: Get the latest weather and rip current forecasts for the beaches from Fort Morgan to Panama City on our Beach Forecast Center page. There, you can select the forecast of the region that you are interested in visiting.
WORLD TEMPERATURE EXTREMES: Over the last 24 hours, the highest observation outside the U.S. was 106.5F at Julia Creek, Australia. The lowest observation was -62.0F at Verhojansk, Russia.
CONTIGUOUS TEMPERATURE EXTREMES: Over the last 24 hours, the highest observation was 89F at Camp Pendleton, CA. The lowest observation was -28F at Peter Sinks, UT.
WEATHER ON THIS DATE IN 1917: A severe winter storm struck the Ohio Valley and the Great Lakes Region. It produced 25 inches of snow and wind gusts to 78 mph at Buffalo NY. The storm produced 26 inches of snow at Vevay IN, with drifts fourteen feet high. By the 16th of the month people could walk across the frozen Ohio River from Vevay into Kentucky.
Category: Alabama's Weather, ALL POSTS
Mobile, Alabama Television Meteorologist and long time Contributor on AlabamaWX. Stormchaser. I did not choose Weather, it chose Me. College Football Fanatic.
@Ryan_Stinnet