First off, A VERY MERRY CHRISTMAS to everyone!!! Brrrrr, it was a frigid morning across Alabama with teens in the Tennessee Valley, low and mid 20s in Central Alabama, and even freezing temperatures down to the Gulf Coast, and wind chills in the teens were common this morning.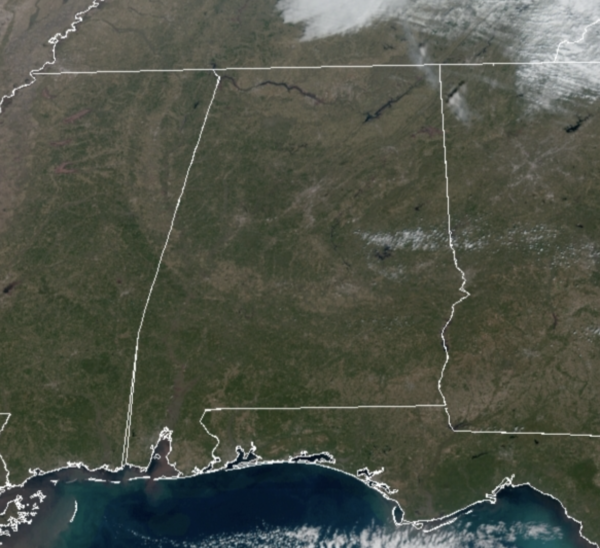 It is a gorgeous Christmas Day across Alabama with sunshine in full supply, but as soon as you step outside, you get slapped in the face by Mother Nature's Christmas cheer, as temperature are in the upper 20s and lower 30s at midday, and many locations will struggle to reach the mid and upper 30s this afternoon.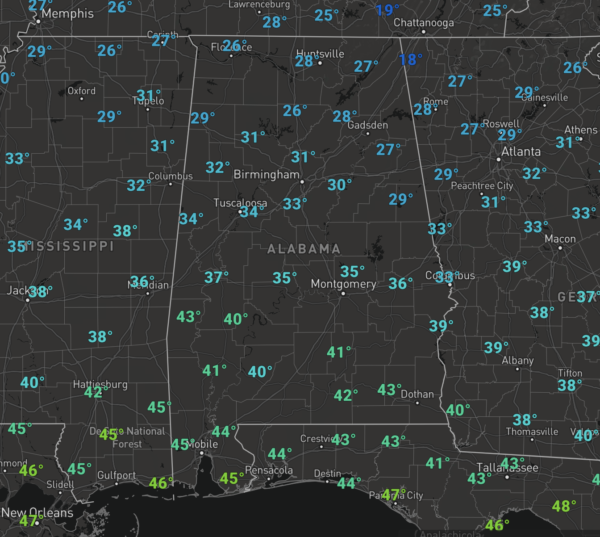 Also, winds remain brisk at times, so wind chills remain below freezing for most of today. Bundle up and enjoy the warmth of family indoors today. Again, if Birmingham fails to reach 40 degrees today, it would be only the 12th time this has happened on Christmas Day since 1900.
COLDER TONIGHT: The winds go calm tonight and with a clear sky, it will be a brutally cold night for Alabama with a hard freeze expected, as temperatures by tomorrow morning will range from 15-25 degrees across North/Central Alabama; definitely a night you may want to leave the faucets dripping.
WEEKEND WEATHER: After the very cold start to the day we begin a warming trend tomorrow under a mainly sunny sky, temperatures should return to near 50 degrees by the afternoon. Tomorrow night, it will be clear and cold with lows in the mid to upper 20s. Then for Sunday, temperatures continue to warm, and under a mainly sunny sky, we should see upper 50s and low 60s across the state.
BEACH FORECAST CENTER: Get the latest weather and rip current forecasts for the beaches from Fort Morgan to Panama City on our Beach Forecast Center page. There, you can select the forecast of the region that you are interested in visiting.
WORLD TEMPERATURE EXTREMES: Over the last 24 hours, the highest observation outside the U.S. was 110.7F at Morawa Airport, Australia. The lowest observation was -68.8F at Ojmjakon, Russia.
CONTIGUOUS TEMPERATURE EXTREMES: Over the last 24 hours, the highest observation was 84F at numerous locations across Florida. The lowest observation was -25F at Seagull Lake, MN.
WEATHER ON THIS DATE IN 1983: It was the coldest Christmas Day of modern record for the central and eastern U.S. More than 125 cities reported record low temperatures for the date, and thirty-four of those cities reported all-time records for the month of December. The temperature plunged to one degree below zero at Huntsville AL, and dipped to 14 degrees at Galveston TX. Snow covered the ground from the Pacific Northwest through much of the Great Plains Region to the Northern Appalachians.
Category: Alabama's Weather, ALL POSTS
Montgomery Television Meteorologist and long time Contributor on AlabamaWX. Stormchaser. I did not choose Weather, it chose Me. College Football Fanatic.
@Ryan_Stinnet