THE FINAL DAYS OF 2020: We are seeing more clouds than sun today, with the chance for an isolated shower associated with a weak disturbance passing through the state.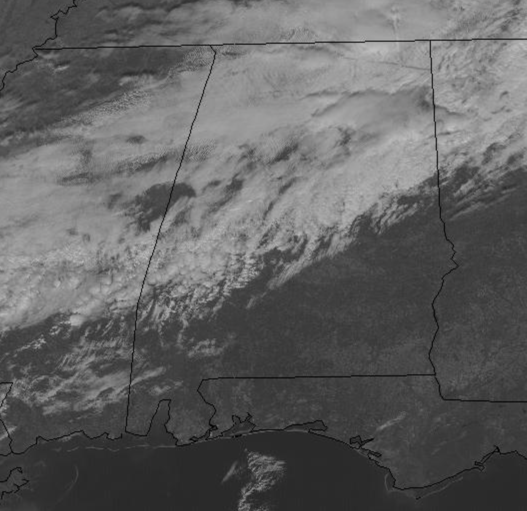 Limited moisture means rainfall, if any, will be light and spotty. Temperatures are in the 50s this afternoon. Tomorrow will be dry with highs in the low 60s. Looking for increasing clouds Wednesday afternoon and Wednesday night ahead of our next storm system which causes some concern for the potential of strong and severe storms. Highs Wednesday will surge well into the 60s and 70s for most locations.
STRONG STORMS TO END 2020: A dynamic storm system will approach Alabama Thursday with the dual threat of severe thunderstorms and heavy rain/flooding Thursday and Thursday night across Alabama. A developing low along the Texas Gulf Coast will lift north across the Mississippi Valley and looks to become negatively tilted, pulling a warm front north and in its wake, a warm air mass will surge north into Alabama. While instability is forecast to be modest across Alabama Thursday, strong wind profiles should offset this limitation. This is a typical cool season severe weather set-up for Alabama with limited instability by strong wind profiles. The SPC already has the southern two-thirds of Alabama (along and south of Interstate 20) highlighted in a threat for severe storms for Thursday and Thursday night.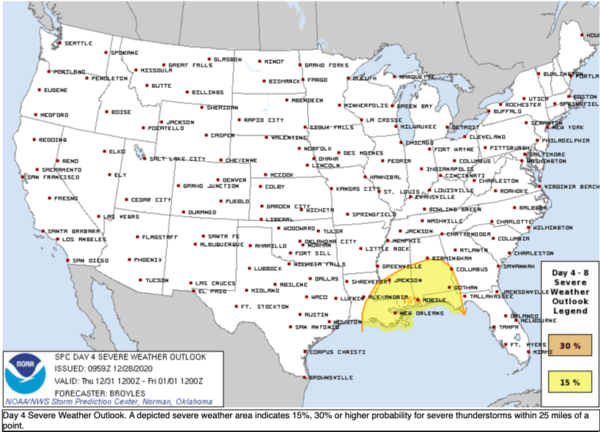 The main severe weather potential will be for some isolated tornadoes and a wind damage threat with thunderstorm clusters that organize. Along with the severe weather threat, a soaking rain event is in store for Alabama with rain amounts 2-3″ common for much of the state, while some amounts of 4 inches are not out of the question.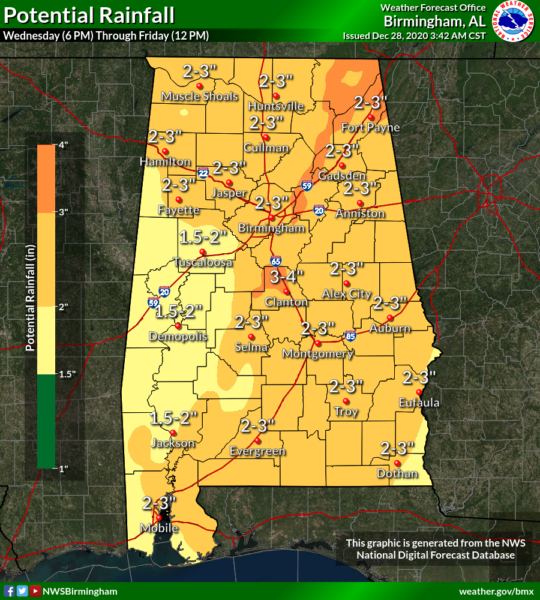 Still too early to be specific about the timing and magnitude of the threat, but you might consider reviewing your severe weather plan, and be sure you will be in a position to hear warnings if they are needed. Keep an eye on forecast updates this week.
BEACH FORECAST CENTER: Get the latest weather and rip current forecasts for the beaches from Fort Morgan to Panama City on our Beach Forecast Center page. There, you can select the forecast of the region that you are interested in visiting.
WORLD TEMPERATURE EXTREMES: Over the last 24 hours, the highest observation outside the U.S. was 109.8F at Mandini, South Africa. The lowest observation was -70.2F at Ojmjakon, Russia.
CONTIGUOUS TEMPERATURE EXTREMES: Over the last 24 hours, the highest observation was 86F at Falcon Lake, TX. The lowest observation was -28F at Peter Sinks, UT.
WEATHER ON THIS DATE IN 1924: Iowa experienced it coldest December morning of record. Morning lows averaged 25 degrees below zero for the 104 weather stations across the state.
Category: Alabama's Weather, ALL POSTS
Montgomery Television Meteorologist and long time Contributor on AlabamaWX. Stormchaser. I did not choose Weather, it chose Me. College Football Fanatic.
@Ryan_Stinnet