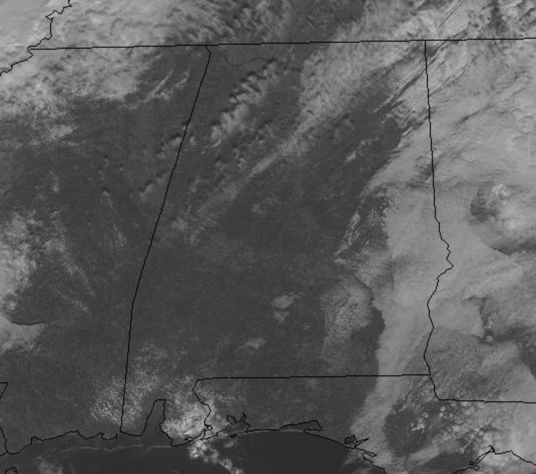 Today is a dry day with plenty of sunshine and highs in the 60s and low 70s, but look for increasing clouds tonight ahead of our next storm system which causes some concern for the potential of strong and severe storms.
STRONG STORMS TO END 2020: A dynamic storm system will bring active weather to Alabama Thursday, Thursday night, and into Friday morning. It is a fairly common system for this time of the year featuring strong wind fields, lots of shear, and weak instability.
PLACEMENT: For now, SPC has a "slight risk" (level 2/5) of severe storm defined in the broad zone from Tuscaloosa to Autaugaville to Greenville to Andalusia, and a "marginal risk" (level 1/5) as far east as Alex City, Tuskegee, and Ozark. Also, we note, SPC has introduced the (level 3/5) "enhanced risk" across portions of Louisiana and Mississippi for tomorrow. This is where the best combination of shear and instability will be found, but keep in mind the risk areas could be expanded in future outlooks.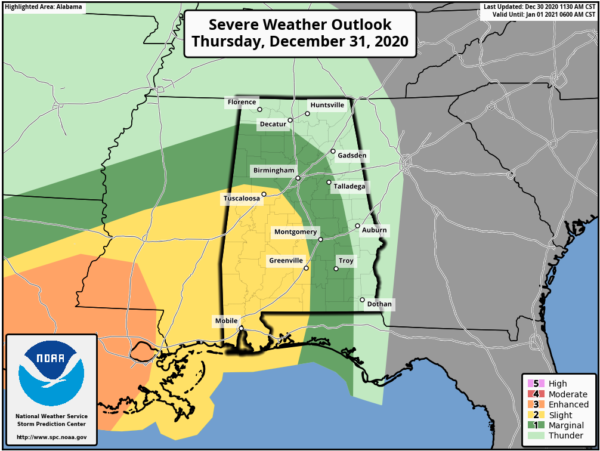 TIMING: The timing continues to slow down and for now it looks like the main window for severe thunderstorms in Alabama will come from roughly 10PM Thursday night through 10AM Friday morning. Periods of rain are expected during the day tomorrow, but it won't rain all day, and any storms that form before 9PM most likely will be under severe limits. Again, this time table is subject to change of the next 24-36 hours.
THREATS: A few isolated tornadoes are possible Thursday night and early Friday, especially in the "slight risk" area. Also, storms will be capable of producing strong straight line winds. Even away from storms it will be windy Thursday night with gradient winds of 15-35 mph, gusting to 40 mph.
RAIN: Rain amounts of 1-2 inches are likely; for now no major flooding issues are expected.
These "high shear, low CAPE" overnight events in the cool season can be tricky in Alabama; sometimes small tornadoes can touch down for a few minutes with no warning, while other times they can produce some larger, more damaging tornadoes.
CALL TO ACTION: Bottom line is that everyone needs to be weather aware Thursday night and early Friday morning. Be prepared and make sure you have all aspects of your severe weather safety plan ready for action. Be sure you have a way of hearing severe weather warnings, and an action plan if you are in a tornado warning polygon, take severe thunderstorm warnings seriously too. Have a NOAA Weather Radio in your home and business, properly programmed with a fresh battery in case of power failure. Be sure WEA (Wireless Emergency Alerts) enabled on your phone… this is not an app, but built into every phone sold in the U.S. Check settings, and notifications, and be sure emergency alerts are on. Have the free ABC 33/40 weather app on your phone as a secondary way of getting warnings. Search the App Store for "ABC 33/40 Weather" if you don't have it already.
In a site built home, identify the safe place. Small room, lowest floor, near the center of the house, away from windows. And, in that safe place, have helmets for everyone in the family (including adults!), portable air horns, and hard sole shoes. You CANNOT stay in a mobile home if you are in a tornado warning polygon. Know the closest shelter, and how to get there quickly.
Sheltering from a tornado is first priority when it comes to the COVID-19 situation. A tornado is an immediate threat to life; get to your safe place or shelter and do the best you can to protect yourself from exposure to the virus.
BEACH FORECAST CENTER: Get the latest weather and rip current forecasts for the beaches from Fort Morgan to Panama City on our Beach Forecast Center page. There, you can select the forecast of the region that you are interested in visiting.
WORLD TEMPERATURE EXTREMES: Over the last 24 hours, the highest observation outside the U.S. was 107.2F at Mandini, South Africa. The lowest observation was -62.9F at Amga, Russia.
CONTIGUOUS TEMPERATURE EXTREMES: Over the last 24 hours, the highest observation was 88F at Zapata and Rio Grande Village, TX. The lowest observation was -23F at Grand Lake, CO.
WEATHER ON THIS DATE IN 1917: A great cold wave set many records in the northeastern U.S. The mercury plunged to 13 degrees below zero at New York City, and to 15 degrees below zero at Boston. Temperature readings dipped below zero at Boston five nights in a row. Berlin NH hit 44 degrees below zero in the "Great World War I Cold Wave," and Saint Johnsbury VT reached 43 degrees below zero.
Category: Alabama's Weather, ALL POSTS
Montgomery Television Meteorologist and long time Contributor on AlabamaWX. Stormchaser. I did not choose Weather, it chose Me. College Football Fanatic.
@Ryan_Stinnet