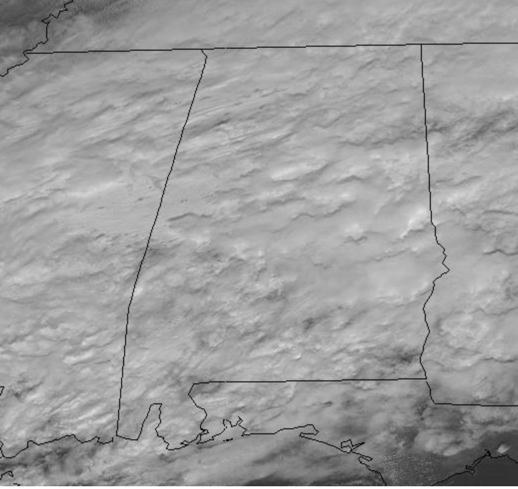 Today and tomorrow will feature periods of rain and cloudy conditions with highs in the 50s and 60s across Alabama. At midday temperatures are in the 40s and 50s, but will continue to warm as we head into the afternoon. There is no risk for severe storms, and probably no thunder as the air is stable. Rainfall totals over the next 36 hours will range from 1/2 inch to around one inch for much of North and Central Alabama, but there will be higher amounts, closer to two inches possible across South Alabama.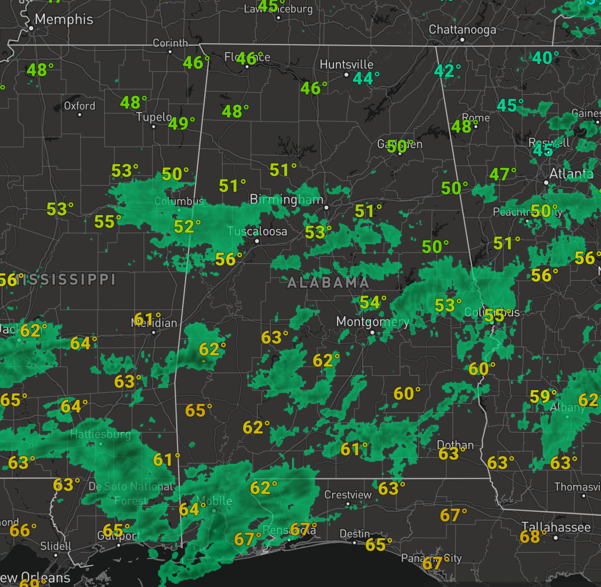 Most of the rain today is relatively light, but we should see heavier pockets of rain tonight and through the first half of tomorrow as an upper wave tracks across Alabama along the stalled front to the south.
WEEKEND WEATHER: Saturday will be a dry day with mainly sunny sky and highs in the mid 50s. On Sunday, a warm front will lift north from the Gulf in response to a developing system to our west, allowing moisture levels to rise and clouds to return with showers increasing through the afternoon hours. Highs Sunday will climb into the 60s.
WET/STORMY MONDAY: Widespread rain and storms are expected as we head through the day on Monday as the next storm system heads east. A warm, unstable air mass will likely be in place as temperatures surge into the 70s and dew points climb into the 60s, which would provide quite a bit of instability ahead of an approaching cold front. Storms will develop west of Alabama and push into the state by the afternoon as the front slides into the state. Confidence is increasing that we may have potential for strong to possibly severe thunderstorms Monday afternoon and evening. Still too early to be really specific, but just be aware that Monday could be an active weather day.
BEACH FORECAST CENTER: Get the latest weather and rip current forecasts for the beaches from Fort Morgan to Panama City on our Beach Forecast Center page. There, you can select the forecast of the region that you are interested in visiting.
WORLD TEMPERATURE EXTREMES: Over the last 24 hours, the highest observation outside the U.S. was 111.6F at Vioolsdrif, South Africa. The lowest observation was -73.1F at Yarol'in, Russia.
CONTIGUOUS TEMPERATURE EXTREMES: Over the last 24 hours, the highest observation was 79F at Laguna Beach and Redondo Beach, CA. The lowest observation was -15F at Presque Isle, ME.
WEATHER ON THIS DATE IN 1985: President Reagan was sworn in for a second term in the coldest Inauguration Ceremony of record with daytime temperatures of 7°F. The cold and wind resulted in wind chill readings as much as 30 degrees below zero.
Category: Alabama's Weather, ALL POSTS
Montgomery Television Meteorologist and long time Contributor on AlabamaWX. Stormchaser. I did not choose Weather, it chose Me. College Football Fanatic.
@Ryan_Stinnet