A potent winter storm will impact much of North and West Alabama tomorrow and tomorrow night with potential for enough ice accumulation for major travel impact and power outages.
WATCHES/WARNINGS: A winter storm warning is in effect for these counties: Marengo, Sumter, Greene, Hale, Tuscaloosa, Pickens, Lamar, Fayette, Walker, Cullman, Winston, Marion, Franklin, Colbert, Lauderdale, Lawrence, Limestone, Madison, Morgan, Marshall, Jackson, and DeKalb. A winter storm watch is in effect for Perry, Bibb, Jefferson, Shelby, and Blount counties. Winter weather advisories are in effect for Choctaw, Clarke, and Washington counties in Southwest Alabama.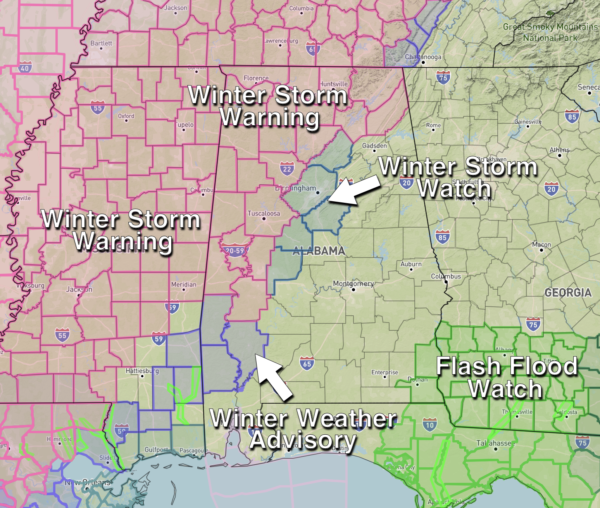 PLACEMENT: The main impact will come in the winter storm warning area, which is most of North and West Alabama. As a "course of least regret", NWS added the Birmingham metro into a winter storm watch earlier today. Precipitation in Jefferson and Shelby counties will be mostly in the form of cold rain with temperatures in the mid 30s, but as they fall Monday night "black ice" will become a problem and could bring a glaze of ice to bridges and some roads into Tuesday morning.
For now a cold rain is forecast with no impact for East Alabama, including places like Anniston and Gadsden. However, some scattered "black ice" issues are possible there Tuesday morning as temperatures drop well below freezing.
A change to snow is a good possibility across the northwest corner of Alabama, where the cold air will be deeper. Places like Florence, Muscle Shoals, and Russellville could see around two inches of snow with this event. Some snow is possible as far southeast as Hamilton and Haleyville. But again, for most of those in the winter storm warning, it will be mostly freezing rain and some sleet.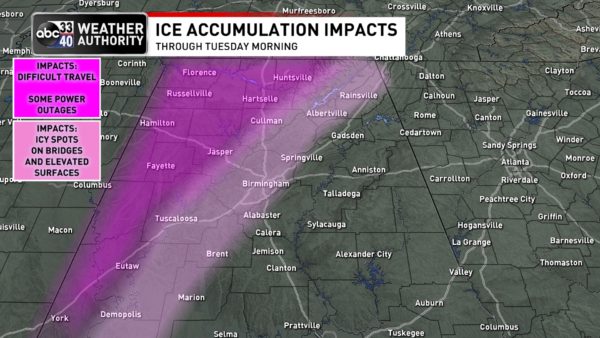 TIMING: The precipitation will come in two phases. The first round will come tonight; freezing rain or drizzle is possible for North and West Alabama now through daybreak tomorrow. This will be fairly light, but it won't take much for bridges to become icy over the next few hours.
The "main show" comes late tomorrow morning through the afternoon hours when freezing rain will become heavier and more widespread across the winter storm warning area. Travel conditions will continue to deteriorate, and ice accumulation will increase on exposed surfaces, including trees and power lines. Precipitation will be over by 7:00 tomorrow evening for most of Alabama.
Roads in parts of the winter storm area could remain icy and dangerous all the way through Wednesday morning, since temperatures on Tuesday could stay below freezing all day with a cloud cover.
IMPACT: The big issue will be freezing rain in the winter storm warning area, but some sleet is possible, if not likely as well in spots. Ice accumulation of .10" to .25" is likely, with isolated amounts to .40". Travel will become difficult, if not impossible in many areas due to ice on bridges and road surfaces. Power outages are likely where heavier freezing rain falls. This is a significant ice storm threat for Northwest Alabama.
Temperatures will drop into the 10-18 degree range late tomorrow night and early Tuesday morning… with wind chills ranging from 0-10. Some parts of North and West Alabama could remain below freezing Tuesday, meaning travel issues will likely persist through midday Wednesday in the winter storm warning area.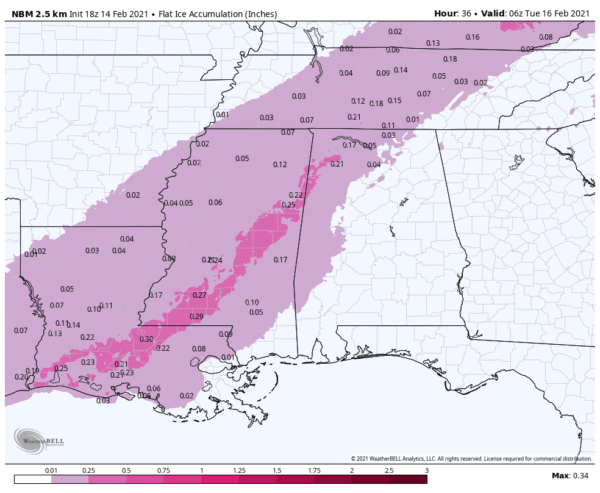 REMEMBER: A difference of a few degrees determines whether you have an ice storm, or a cold rain. This boundary won't be in a straight line like the maps we show you… they are simply a guideline. But understand in some places on the eastern side of the winter storm warning, one side of town will see rain with no impact, but your neighbors could be on ice to the west.
And, more forecast adjustments are possible tonight… if you are working with old weather information, you are working with bad information.
CITY BY CITY
BIRMINGHAM: Scattered light rain is possible tonight… a cold rain is likely tomorrow and early tomorrow night. Temperatures will be in the mid to upper 30s; no icy travel is expected as the rain falls. But tomorrow night (after the rain ends), temperatures will fall through the 20s, and black ice will likely become an issue on bridges and perhaps some road surfaces. Be aware that travel impact is a definite possibility for the Birmingham metro tomorrow night and Tuesday morning. Temperatures will have a hard time climbing above freezing Tuesday, and some ice issues on roads could linger into Tuesday night and Wednesday morning. We rise into the 40s Wednesday and any lingering ice will melt.
TUSCALOOSA: Very close call. For now the situation looks much like Birmingham; mostly a cold rain, with potential for black ice on roads and bridges tomorrow night into Tuesday morning. However, the northwest part of Tuscaloosa County could see some scattered bridge icing late tonight and during the day tomorrow where the air will be colder and the impact will be greater. The NWS made the decision include Tuscaloosa County in the winter storm warning, probably a good call since temperatures just a few degrees below forecast will bring freezing rain and a more significant ice threat to the city of Tuscaloosa.
ANNISTON/GADSDEN: A cold rain is likely tomorrow, ending tomorrow night. Temperatures in East Alabama will be close to 40 as the rain falls, so there is no threat of freezing rain. But, we can't rule out some scattered black ice Tuesday morning where water remains on roads as temperatures drop well below freezing. There are no advisories for this part of Alabama.
FLORENCE/MUSCLE SHOALS: Periods of freezing rain are likely tonight and tomorrow, with a potential change to snow tomorrow afternoon as the cold air deepens. Ice accumulation of around .15″ is forecast, with potential for around 2 inches of snow on top of the ice. Roads and bridges could become icy tonight after 6:00 p.m… and roads will be hazardous tomorrow. Travel will remain very difficult across this part of Alabama all the way through Wednesday morning with ice and snow covered roads. Power outages are also possible.
HUNTSVILLE: Light freezing rain or freezing drizzle is likely tonight, with freezing rain becoming heavier tomorrow. Ice accumulation of around .20″ is likely, with some potential for light snow as the precipitation ends tomorrow evening. Roads and bridges could become icy tonight after 8:00 p.m… and roads will be hazardous tomorrow. Travel will remain very difficult across the Tennessee Valley through Wednesday morning with ice and snow covered roads. Power outages are also possible.
PREPARE: Time is almost up before the winter storm begins.
*Be sure all of your phones, tablets, and other devices are fully charged.
*Travel is highly discouraged where ice accumulates. If you MUST travel, create an emergency supply kit for your car. Include jumper cables, sand, a flashlight, warm clothes, blankets, bottled water and non-perishable snacks. Keep a full tank of gas. Have cat litter or sand to help tires get traction, or road salt to melt ice
*Gather supplies in case you need to stay home for several days without power. Keep in mind each person's specific needs, including medication. Remember the needs of your pets. Have extra batteries for radios and flashlights.
*Turn your refrigerator and freezer to their coldest settings.
*If you lose power and you plug a generator into the house electrical system, turn the main off in the breaker box. Otherwise it can be very dangerous for the crews working to restore power.
*Understand some could be without power for more than 24 hours with very cold, sub-freezing temperatures. Have an alternative source of heat. And, use it safely.
Category: Alabama's Weather, ALL POSTS, Winter Weather
James Spann is one of the most recognized and trusted television meteorologists in the industry. He holds the AMS CCM designation and television seals from the AMS and NWA. He is a past winner of the Broadcast Meteorologist of the Year from both professional organizations.