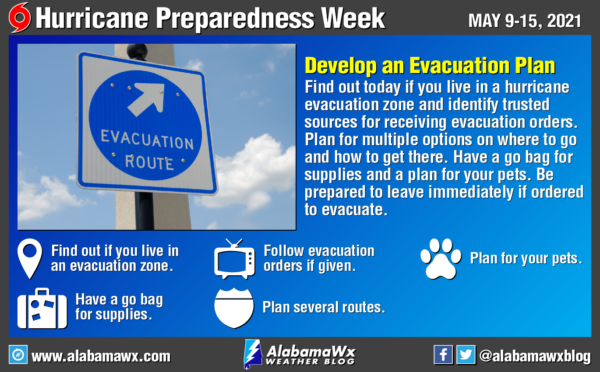 The first thing you need to do is find out if you live in a hurricane evacuation zone. If you do, now is the time to begin planning where you would go and how you would get there. You do not need to travel hundreds of miles, but have multiple options. Your destination could be a friend or relative who doesn't live in an evacuation zone. If you live in a well-built home outside the evacuation zone, your safest place may be to remain home. Be sure to account for your pets in your plan. As hurricane season approaches, listen to local officials on questions related to how you may need to adjust any evacuation plans based on the latest health and safety guidelines from the CDC and your local officials.
The amount of time needed to evacuate an area depends upon a variety of factors that include the size of the vulnerable population, high hazard areas, and transportation routes. Anyone who lives in a designated evacuation zone is encouraged to develop a personal evacuation plan and identify local, alternative family and community resources for safe shelter.
Prior to evacuation, remember to:
• Maintain a full tank of gas
• Bring identification, insurance papers, and other important documents for every family member
• Bring adequate water, snacks, cash, medications, masks, hand sanitizer
• Obey all special traffic signs and law enforcement orders
• Move disabled vehicles from travel lanes
• Only dial 9-1-1 if there is a life-threatening emergency
Evacuees should be prepared for the following:
• Extremely heavy traffic with slow highway speeds; residents in highly vulnerable areas should leave the area sooner rather than later
• Limited access to gas stations, restaurants, and restroom facilities
Evacuation Zones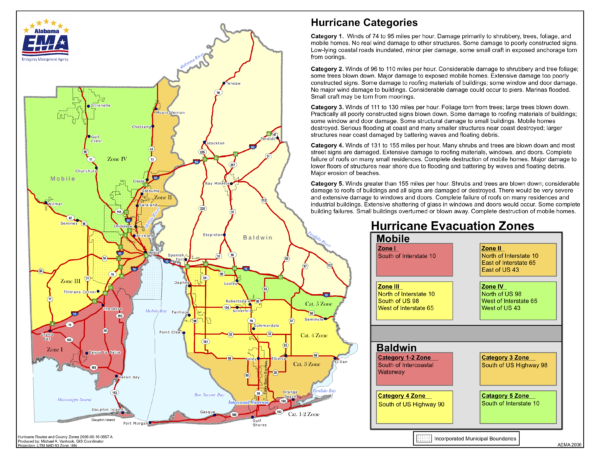 The above graphic shows the hurricane evacuation zones for Baldwin and Mobile counties. These zones are activated according to the forecast strength and arrival times of the first impacts of a hurricane. Sometimes, the evacuation orders are given days in advance, but a sudden change in the forecast path may cause those orders to be given or short notice. That is why you need to be prepared to act.
To provide additional roadway capacity during hurricane evacuations from the Gulf Coast, a portion of I-65 may operate entirely in the northbound direction, meaning both southbound lanes of I-65 would be converted into northbound lanes. These lanes are called contraflow lanes.
I-65 NORTHBOUND – Contraflow begins in Baldwin County just south of Exit 31 (State Road 225). A paved crossover at that location allows motorists traveling in the normal Northbound lanes to transition (crossover) to the contraflow
lanes.
Contraflow ends in Montgomery just north of Exit 167 (U.S. 80). Motorists in the contraflow lanes will crossover into the two left lanes of the normal northbound lanes. Motorists travelling in the normal northbound lanes will merge into the two right lanes and continue north and onward to their destinations.
I-65 SOUTHBOUND – During contraflow, southbound traffic travelling on I-65 through Montgomery will be directed to exit the interstate at Exit 167 at U.S. 80 and then onto U.S. 31 South. From Montgomery southward, all southbound I-65 traffic is detoured to U.S. 31. Eastbound traffic on U.S. 80 cannot enter I-65 at Exit 167 and will be directed to U.S. 31.
Southbound traffic cannot use I-65 between Montgomery and Mobile during contraflow.
Tune into the Highway Advisory Radio System (HARS) for updated information. Look for advisory signs in these areas:
• Mobile area – 1630 AM
• Montgomery area – 1690 AM
All information from: NOAA, FEMA, FLASH, The Red Cross, Alabama EMA.
Category: Alabama's Weather, ALL POSTS, Met 101/Weather History, Severe Weather, Tropical
Scott Martin is an operational meteorologist, professional graphic artist, musician, husband, and father. Not only is Scott a member of the National Weather Association, but he is also the Central Alabama Chapter of the NWA president. Scott is also the co-founder of Racecast Weather, which provides forecasts for many racing series across the USA. He also supplies forecasts for the BassMaster Elite Series events including the BassMaster Classic.