MONDAY 06/21/21 – MORNING EDITION
Forecaster: Scott Martin/Bill Murray 
No video This Morning
Due to a scheduling mixup, there will be no video this morning.  We will be back on our one a day vacation schedule tomorrow.
Storms This Afternoon and Tonight – Some Strong to Severe
With moisture content still rather high across the area from Claudette, today will feature a good chance of scattered to numerous showers and storms in Central Alabama ahead of an approaching cold front.  Skies will be partly to mostly cloudy with highs reaching the mid to upper 80s. It will be breezy at times as well, with winds of 10-15 mph with occasional higher gusts.
Here is the SPC Day One Outlook showing a Marginal RIsk (1/5) for areas along and northwest of I-59: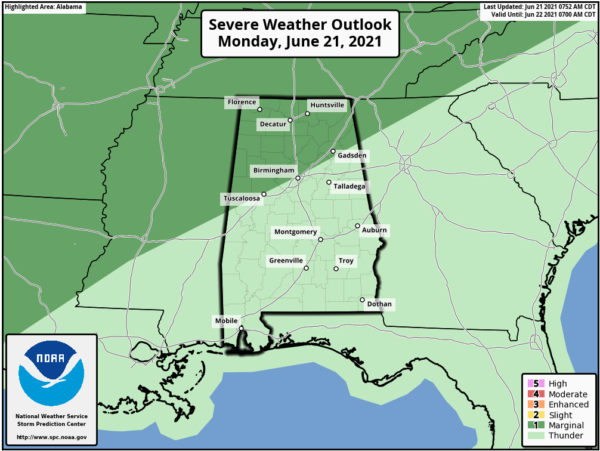 A few storms during the evening and overnight hours may become strong or even severe over areas along and northwest of I-59.  Damaging wind gusts will be possible, along with heavy rain.  Make sure your method for receiving warnings is turned on overnight and can wake you, just in case.
The storms will be in a weakening phase as we approach midnight, and the severe threat will diminish during the early morning hours.
The cold front works its way through the area on Tuesday and we'll start off with rain and storms like during the morning, but drier air quickly moves in behind the front with nearly all of the northern half of Central Alabama dry by midday. The front will continue to move southeastward taking the activity with it. By midnight, much of the activity will be out of the southern half with the exception of a few lingering showers. Highs will be in the mid-70s to the lower 80s.
The front will stall out over the southern parts of the state that will keep scattered shower and thunderstorm chances in the forecast on Wednesday and Thursday for the southern-third of Central Alabama, while much of the rest of the area will be by with the exception of a few isolated showers during the afternoon hours on each day. Wednesday's highs will be in the lower to mid-80s while Thursday's highs will be in the mid to upper 80s.
The front will work back northward and will reintroduce a chance of isolated to scattered showers and thunderstorms to all of Central Alabama on Friday. We may see an increased risk of showers and storms late over the far northern parts of the area as another wave of energy will be attempting to move into the area. Highs will be in the mid to upper 80s.
The Central Alabama Weekend
We'll continue to have unsettled weather off to our north, but the energy will be close enough that scattered showers and storms will be possible north of the I-20 corridor on both Saturday and Sunday, while only a few isolated showers will be possible south of that. Highs will be in the 80s on both days.
Projected Rainfall Amounts Through The Week Ahead
The latest WPC projected rainfall forecast shows potential for roughly 2 to 3 inches of rain through midday Sunday across Central Alabama. Due to the scattered nature of much of the rainfall, totals may be less than 2 inches in spots while some localized spots may exceed 3 inches.
Projected Temperatures This Week & Weekend
Summer is now officially here, but the good news is that temperatures look to stay a little cooler than average this week as highs will range throughout the 80s with the exception of Tuesday. A cold front moves through and will bring those highs down into the mid-70s to the lower 80s.
Tropical Update
Claudette is back this morning, officially a tropical storm again over eastern North Carolina.  Winds are now at 40 mph.  The movement was to the east-northeast at 28 mph. An east-northeastward to northeastward motion with some increase in forward speed is expected over the next couple of days. On the forecast track, the system should move over the coast of North Carolina into the western Atlantic Ocean on Monday, and pass near or just south of Nova Scotia on Tuesday. Some additional strengthening is possible over the western Atlantic Ocean through early Tuesday. Claudette is expected to become a post-tropical cyclone Tuesday afternoon or Tuesday night.
For now, the rest of the Atlantic Basin is free from any tropical cyclones. However, the GFS is trying to spin up a disturbance in the western Caribbean, Yucatan, southwest Gulf of Mexico by the end of the month. That looks plausible and we will be watching. It does correspond with the time that an upward pulse in the Madden Julian Oscillation will be passing through the area, which sometimes can aid tropical development.
On This Day in Weather History
1886… A destructive hurricane hit the Apalachicola – Tallahassee area of Florida on the summer solstice. Extensive damage was done in Florida and throughout the Southeast by this storm. Damage was due mainly to extremely high tides.
1987… A tornado destroyed 57 mobile homes at the Chateam Estates trailer park northwest of Detroit MI killing one person and injuring six others. Total damage was estimated at 1.7 million dollars. Thunderstorms over Lower Michigan also drenched the Saginaw Valley with up to 4.5 inches of rain in less than six hours.
Beach Forecast Center
Get the latest weather and rip current forecasts for the beaches from Dauphin Island, AL, to Panama City Beach, FL, on our Beach Forecast Center page. There, you can select the forecast of the region that you are interested in.
Advertise on the Blog!
We had a record-breaking year in 2020 with over 20 million page views! We are already on a record-shattering pace to break that mark in 2021 as we are already over 15 million page views so far! Don't miss out! We can customize a creative, flexible, and affordable package that will suit your organization's needs. Contact Bill Murray at (205) 687-0782.
E-Forecast
Get the Alabama Wx Weather Blog's Seven-Day Forecast delivered directly to your inbox by email twice daily. It is the most detailed weather forecast available in Central Alabama. Subscribe here… It's free!
Connect With the Blog on Social Media
You can find the AlabamaWx Weather Blog on the major social media networks:
Facebook
Twitter
WeatherBrains
There are several ways to watch or listen to the podcast that is all about the weather. Watch live starting at 8:00 pm CT on Monday nights at live.bigbrainsmedia.com, James Spann's YouTube Channel, or on one of ABC 3340's digital weather channels (17.2, 40.2, 68.3). Listen to the recorded audio podcast at WeatherBrains.com or on your favorite podcast platform (Apple Podcasts, Stitcher, Spotify, etc.), or watch the recorded video on James Spann's YouTube channel.
Category: ALL POSTS
Bill Murray is the President of The Weather Factory. He is the site's official weather historian and a weekend forecaster. He also anchors the site's severe weather coverage. Bill Murray is the proud holder of National Weather Association Digital Seal #0001
@wxhistorian