As forecast, Claudette regained her tropical storm status again this morning while still over eastern North Carolina.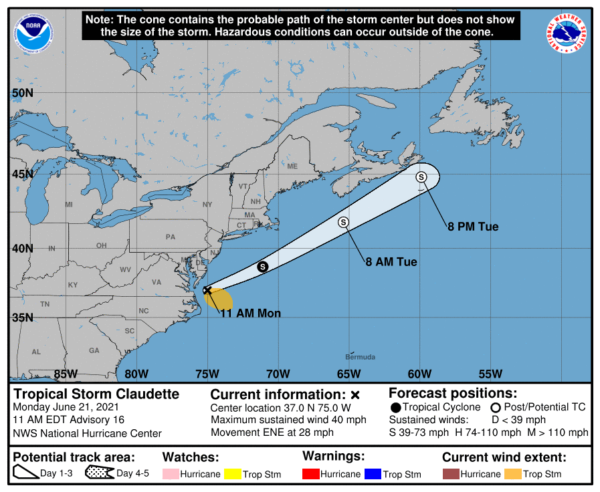 The center is now offshore over the western Atlantic, and the storm is accelerating to the east-northeast. It is traveling at a pretty good clip as we like to say here in the Weather Office, moving at 28 mph.
It may strengthen a bit over the warm waters of the Gulf Stream, but should begin to weaken pretty quickly by tomorrow, becoming post-tropical and dissipating before reaching Newfoundland.
Interestingly, Claudette may have been the first system to have been named after making landfall and to have strengthened back to a tropical storm before moving back over water. Multiple storms have formed once back over the water, and some have been reclassified before reaching the water again. But I think we would be hard-pressed to find one like Claudette that didn't get its name until after landfall and re-strengthened to a tropical storm before moving back out to sea.
One thing to be sure, it's always interesting in the Weather Office!
ELSEWHERE IN THE TROPICS: We are watching a disturbance about 900 miles east of the Lesser Antilles. Satellite imagery indicates that this disturbance is becoming better defined and more organized than it was even just 12 hours ago. Wind shear values are sufficiently favorable for additional development. If this disturbance continues to become better organized, it may spin up into a tropical depression or a tropical storm over the next day or two as it continues moving to the west. But the NHC only puts the probability of this happening at about 20%.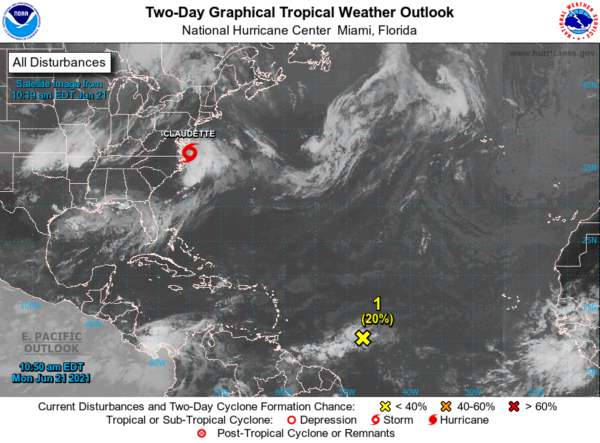 Wind shear values are expected to increase to unfavorable levels by Wednesday so any development would be short-lived. It is unlikely in any case that it could be a tropical storm when it reaches the islands.
There is some model guidance support for additional development of this disturbance when it reaches the western Caribbean early next week. The GFS model spins this up into a tropical cyclone in the western Caribbean and then moves it into the Gulf of Mexico by later next week. We will be watching for that possibility.
Category: Alabama's Weather, ALL POSTS, Tropical
Bill Murray is the President of The Weather Factory. He is the site's official weather historian and a weekend forecaster. He also anchors the site's severe weather coverage. Bill Murray is the proud holder of National Weather Association Digital Seal #0001
@wxhistorian