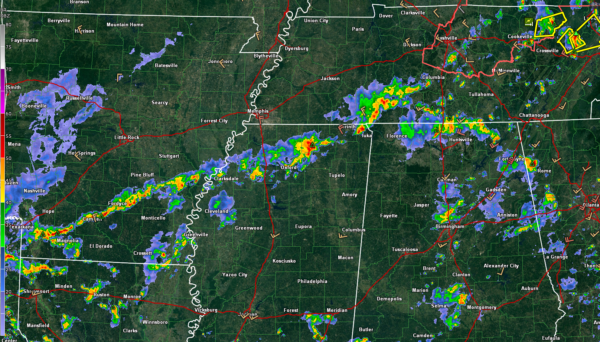 Here is an update on the Alabama weather situation this afternoon.
We are still expecting strong to severe storms across the northwestern part of the area tonight, generally along and northwest of I-59. And there are storms currently ongoing across the state that are not severe and not expected to become severe. Let's dig into the details.
A bank=d of showers and storms has been lifting northeastward for the past 3 hours or so. It currently extends from Florence to Huntsville to north of Gadsden, curving down then to Heflin. This activity appears to be associated with an area of enhanced 850 millibar winds that is lifting northeastward. The 850 millibar pressure level is around 5,000 feet.
There are a few clusters of storms behind this arc. One is over Walker and western Jefferson Counties. A little bit of lightning on the back side of these storms.
Another is north of Selma. That storm probably has some gusty winds and very heavy rain in it.
Other storms are north of Mobile.
Meanwhile, to the northwest, a line of storms is approaching the northwest corner of Alabama. A broken line of storms extends from southern Kentucky to Nashville to Corinth MS to Oxford MS and back into southern Arkansas. There are some severe thunderstorm warnings in eastern Ken=tucky and Tennessee, but so far the storms in western Tennessee and northern Mississippi are sub-severe.
There are severe thunderstorm watches now from Middle Tennessee to eastern Kentucky, West Virginia, and all the way to Vermont. There are even a couple of tornado warnings in Maine.
The airmass ahead of the line of storms in Alabama is moderately unstable and sunshine through partly sunny skies is helping to maintain this instability. These storms will have the potential to produce damaging winds as they move into Northwest Alabama this evening.
Then the main line of storms will push into Northwest Alabama after 11 p.m. and reaching the Birmingham area between 3-4 a.m. The storms should be weakening as they push southeast but we will be monitoring them for the threat of damaging winds.
Showers will move out early tomorrow morning.
There could be a threat of severe weather tomorrow afternoon over southeastern portions of the area,
Category: Alabama's Weather, ALL POSTS, Severe Weather
Bill Murray is the President of The Weather Factory. He is the site's official weather historian and a weekend forecaster. He also anchors the site's severe weather coverage. Bill Murray is the proud holder of National Weather Association Digital Seal #0001
@wxhistorian