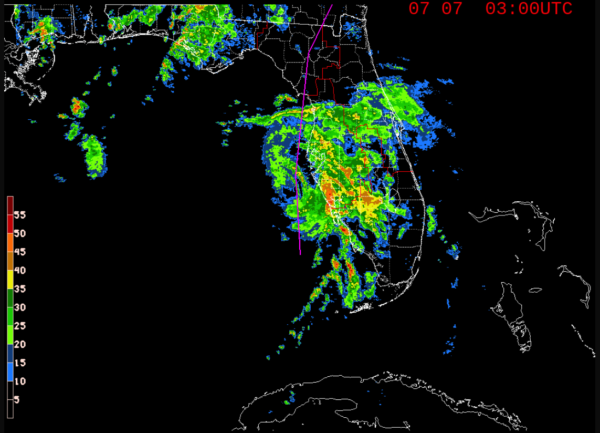 SUMMARY OF 10 PM CDT…0300 UTC…INFORMATION
LOCATION…27.3N 83.2W
ABOUT 65 MI…105 KM SW OF TAMPA FLORIDA
ABOUT 125 MI…200 KM S OF CEDAR KEY FLORIDA
MAXIMUM SUSTAINED WINDS…75 MPH…120 KM/H
PRESENT MOVEMENT…N OR 360 DEGREES AT 14 MPH…22 KM/H
MINIMUM CENTRAL PRESSURE…997 MB…29.44 INCHES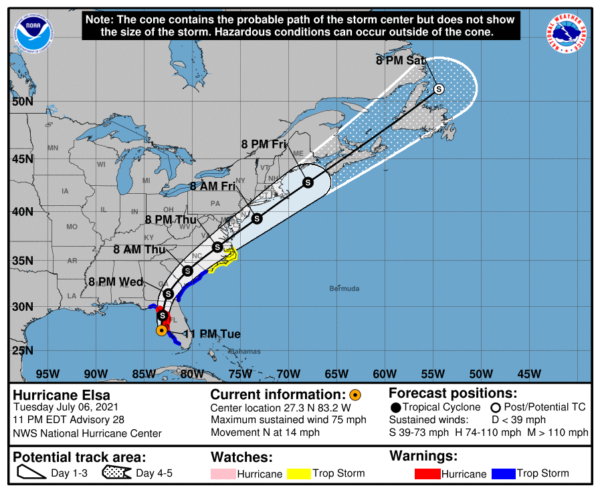 WATCHES AND WARNINGS
A Storm Surge Warning is in effect for…
* West coast of Florida from Bonita Beach to the Aucilla River, including Tampa Bay
A Hurricane Warning is in effect for…
* Egmont Key to the Steinhatchee River, Florida
A Tropical Storm Warning is in effect for…
* West coast of Florida from Chokoloskee to south of Egmont Key
* West coast of Florida north of Steinhatchee River to Ochlockonee River
* Mouth of St. Marys River, Georgia to Little River Inlet, South Carolina
A Storm Surge Watch is in effect for…
* West of the Aucilla River to the Ochlockonee River, Florida
A Tropical Storm Watch is in effect for…
* North of Little River Inlet, South Carolina to Duck, North Carolina
* Pamlico and Albemarle Sounds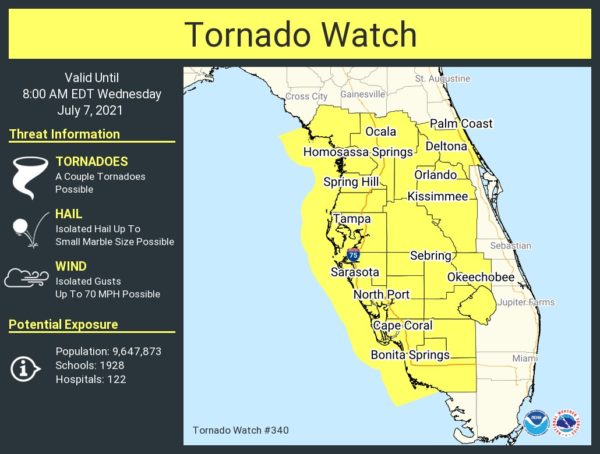 A Tornado Watch is in effect until 8 am EDT for much of the central and southern portions of the Florida Panhandle.
DISCUSSION AND OUTLOOK
After an earlier flurry of convective bursting and even the development of a eye in radar imagery, Elsa appears to have leveled off over the past couple of hours. Between 2100 UTC and 0000 UTC, WSR-88D radars from Tampa and Key West indicated areas of average Doppler velocities of 75-85 kt between 8000-13,000 ft, which were co-located with convective bands consisting of 50 dBZ and higher reflectivity values, which equates to at least 65 kt surface winds. Elsa's center also passed just barely to the east of Buoy 41023 around 2100 UTC, producing a sustained wind of 49 kt at 3-meters elevation, which equals a 10-meter wind speed of 55 kt on the west side of the cyclone. The strongest 850-mb flight-level wind measured by an Air Force reconnaissance aircraft so far has been 74 kt. However, radar data indicate that the aircraft just missed the strongest winds in the convection by only about 5 n mi. The initial intensity is being held at 65 kt just in case convection redevelops around the ragged eye feature later tonight.
Elsa is moving northward, or 360/12 kt. This motion should continue tonight and early Wednesday until landfall occurs across the northwestern Florida peninsula. Thereafter, a gradual turn toward the north-northeast is expected by late Wednesday, followed by some acceleration toward the northeast on Thursday as Elsa rounds the western periphery of a deep-layer subtropical ridge and gets caught up by the southwesterly flow ahead of a mid-level trough. The official track forecast lies between the simple and corrected-consensus tracks models and the previous NHC track forecast.
Elsa's inner-core convection looks pretty ragged right now, but the vertical structure has improved based on the reconnaissance data, which indicate that the low-, middle- and upper-level circulations are nearly vertically stacked now. Elsa's ragged eye feature along with the very warm water beneath the cyclone and the upcoming nocturnal convective maximum period could combine to allow convection to redevelop. However, proximity to dry mid-level air just to the west should prevent any significant strengthening from occurring. After landfall, rapid weakening is expected due to increased frictional effects and Elsa's small size. The pressure gradient, however, is forecast by the GFS and ECMWF models to increase between Elsa and a sprawling surface high pressure system over the western Atlantic, which should act to increase the winds to tropical storm force near the coastal areas from Georgia to North Carolina on Wednesday and Thursday. The new NHC intensity forecast is similar to the previous advisory and follows the consensus intensity models HCCA and IVCN.
KEY MESSAGES
1. Heavy rain will impact Cuba tonight resulting in significant flooding and mudslides. As Elsa moves across the western and northern Florida Peninsula through Wednesday, heavy rainfall may result in considerable flash, urban, and minor to isolated moderate river flooding. Mid to late week, heavy rainfall across southeast Georgia, South Carolina, North Carolina, and southeastern Virginia may result in isolated flash and urban flooding, with considerable flash and urban flooding possible across coastal Georgia and the Lowcountry of South Carolina.
2. There is a danger of life-threatening storm surge along portions of the west coast of Florida tonight and Wednesday, and a Storm Surge Warning is in effect for that area.
3. Hurricane conditions are expected tonight and early Wednesday along a portion of the west coast of Florida, where a Hurricane Warning is in effect. Tropical storm conditions are occurring across portions southwest Florida and will continue to spread northward along the west coast of the state within the warning area through Wednesday morning.
4. Although the center of Elsa is expected to remain inland of the coastline from Georgia through the Carolinas during the next couple of days, tropical storm conditions are expected along much of the coasts of Georgia and South Carolina.
All images, forecasts, and documents are courtesy of their respective publishers.
Category: ALL POSTS, Severe Weather, Tropical
Scott Martin is an operational meteorologist, professional graphic artist, musician, husband, and father. Not only is Scott a member of the National Weather Association, but he is also the Central Alabama Chapter of the NWA president. Scott is also the co-founder of Racecast Weather, which provides forecasts for many racing series across the USA. He also supplies forecasts for the BassMaster Elite Series events including the BassMaster Classic.