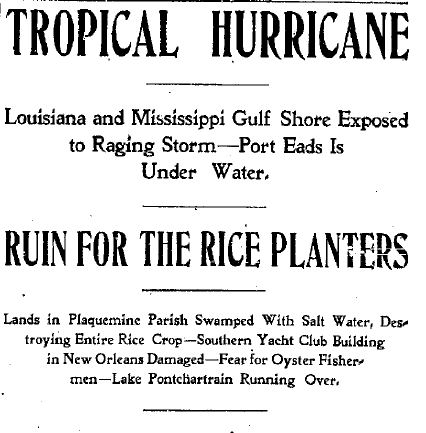 On Tuesday, September 25, 1906, the weather in Mobile seemed benign. The day began mostly cloudy, but some sunshine broke through during the day. But storm warnings had been flying since the 22nd, as the U.S. Weather Bureau was tracking a tropical storm that was moving northwestward through the western Caribbean.
On the 26th, there was some sun in the morning, but clouds began to thicken during the afternoon, the barometer began to fall, and the wind began to rise. At the wharf on Water Street, the water in the bay rose to near the top of the docks. Rain began at noon. The hurricane was intensifying, with top winds of 120 mph, 240 miles south southeast of Mobile.
Memories of the 1900 Galveston disaster were still fresh on the minds of Gulf Coast residents. In Pensacola, frantic residents climbed into the rafters of their homes and other buildings. To the west in Mobile, winds were veering from northeasterly to easterly and then after midnight, to southeasterly. The hurricane was passing south of the Port City, heading for a landfall just west of Mobile Bay.
By midnight, the air was filled with debris. As the winds shifted to southeast, water rushed into the Bay and inundated the wharves. City streets began to flood. On St. Francis Street, the water came within 25 feet of Royal, higher than the 1893 hurricane. Water Street looked more like the Gulf than a city street as waves formed in the tidal surge. The barometer bottomed out at 28.84 inches.
The hurricane was at its height from 7 a.m. until 10 a.m. Damage was heavy in the city, but only one life was lost in Mobile. The situation was more serious to the south. The Fort Morgan Peninsula was overwashed. The oyster fleets at Herron Bay were destroyed. 150 lives were lost along the coast.
The hurricane weakened as it moved into Mississippi. As it did, heavy rains spread northward across Alabama. ON the 28th, 7.50 inches of rain fell at Birmingham. It was a part of what is the wettest September in Magic City history. It also ranks as the 14th wettest month ever in Birmingham.
Follow my weather history tweets on Twitter.com. I am @wxhistorian.
Category: Uncategorized
Bill Murray is the President of The Weather Factory. He is the site's official weather historian and a weekend forecaster. He also anchors the site's severe weather coverage. Bill Murray is the proud holder of National Weather Association Digital Seal #0001
@wxhistorian