Convection around the center of Hurricane Ida is increasing this morning with strong storms we call "hot towers" beginning to appear. Ida is going to moving over deep warm, water for the next 30 hours and will strengthen to a powerful hurricane before reaching southern Louisiana tomorrow afternoon.
In fact, Ida certainly seems to be growing in size with stronger convection this morning.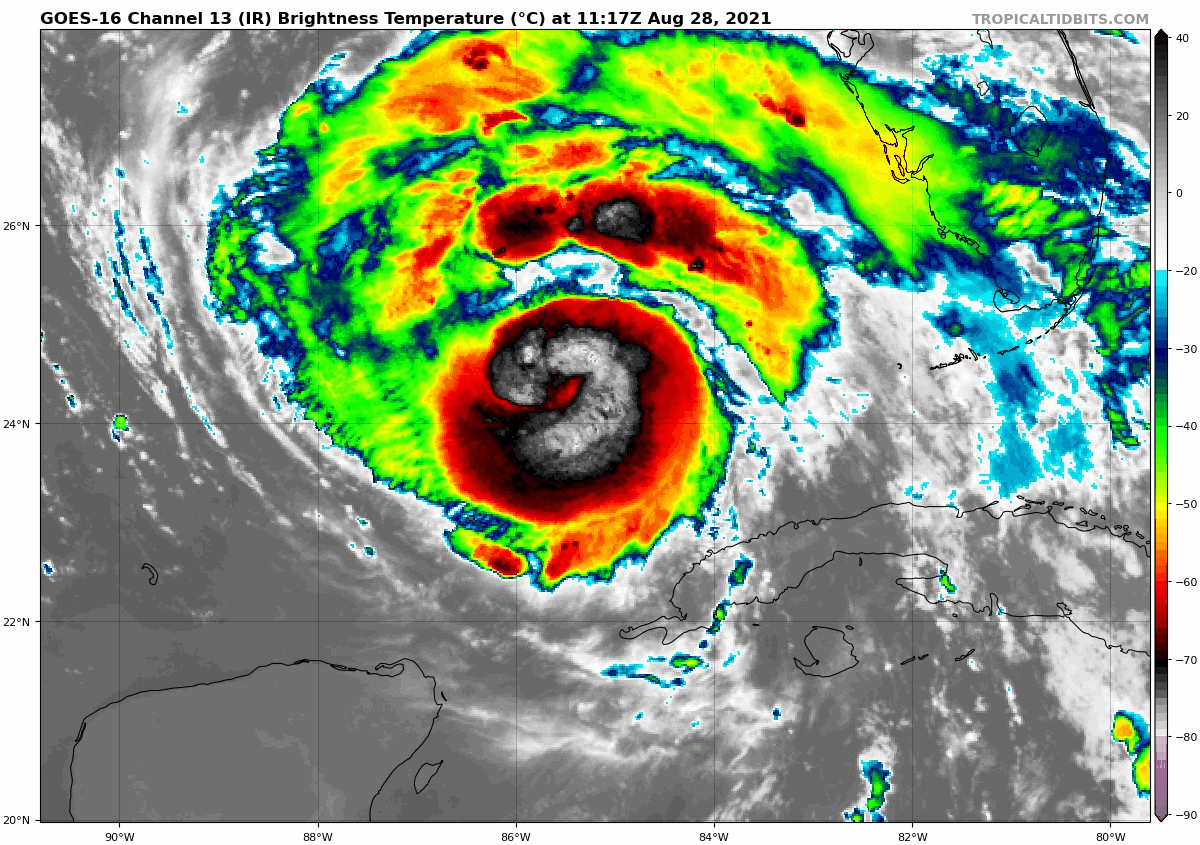 Here is an early morning visible image of the hurricane: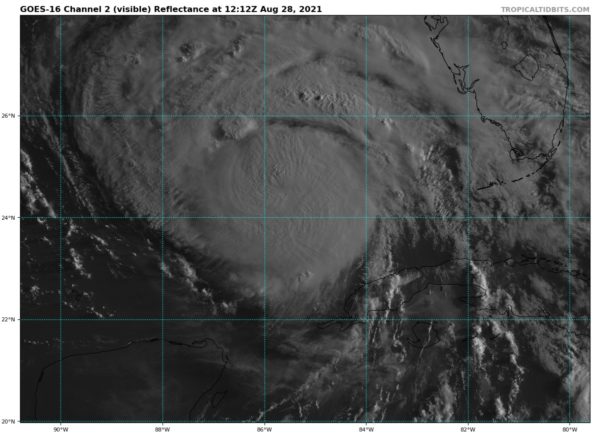 The NHC track is essentially unchanged, just making the northeasterly turn a little more gradually. The red line is the current forecast track. The yellow shows the previous one.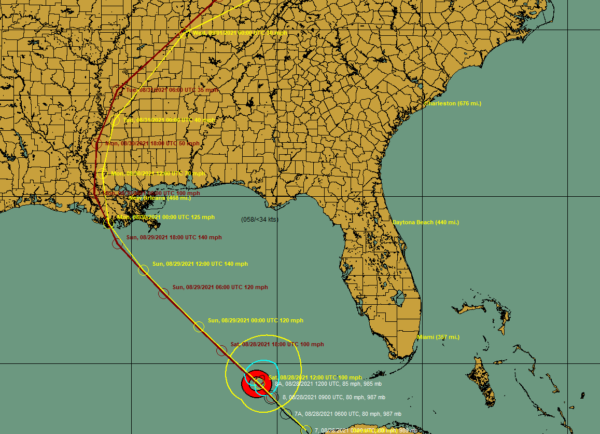 The cone of uncertainty which shows where the center could end up is narrowing. This shows a range of where the center might end up based on average track forecast errors.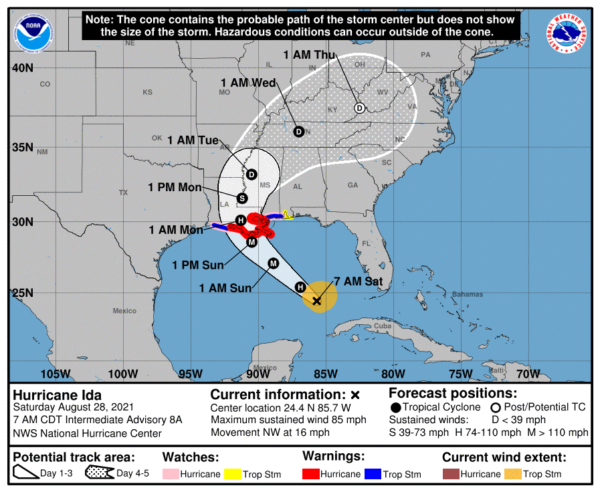 It has narrowed now to include an area from just west of Vermillion Bay to west of the Mouth of the Mississippi River. We are around 30-36 hours from landfall now as the hurricane is expected to make landfall on Sunday afternoon now and tropical storm force winds will reach the coast near the Mouth of the Mississippi River late tonight after midnight and around Grand Isle around 5 a.m., reaching New Orleans by 9 a.m. Strong tropical storm force winds will reach land by noon and hurricane force winds by 2-3 p.m.
All preparations along the coast must be completed today because of the early onset of high winds. A little less time over the water means a little less time to strengthen, which is good news, because Ida is over warm water that is even warmer ahead of the storm, and the upper air environment is becoming more favorable for strengthening. In fact, the oceanic heat content of the water Ida will be passing over is expected to really spike over the next 18 hours.
The NOAA plane in the storm now just found the central pressure still right around 985 mb, but we expect that to start dropping.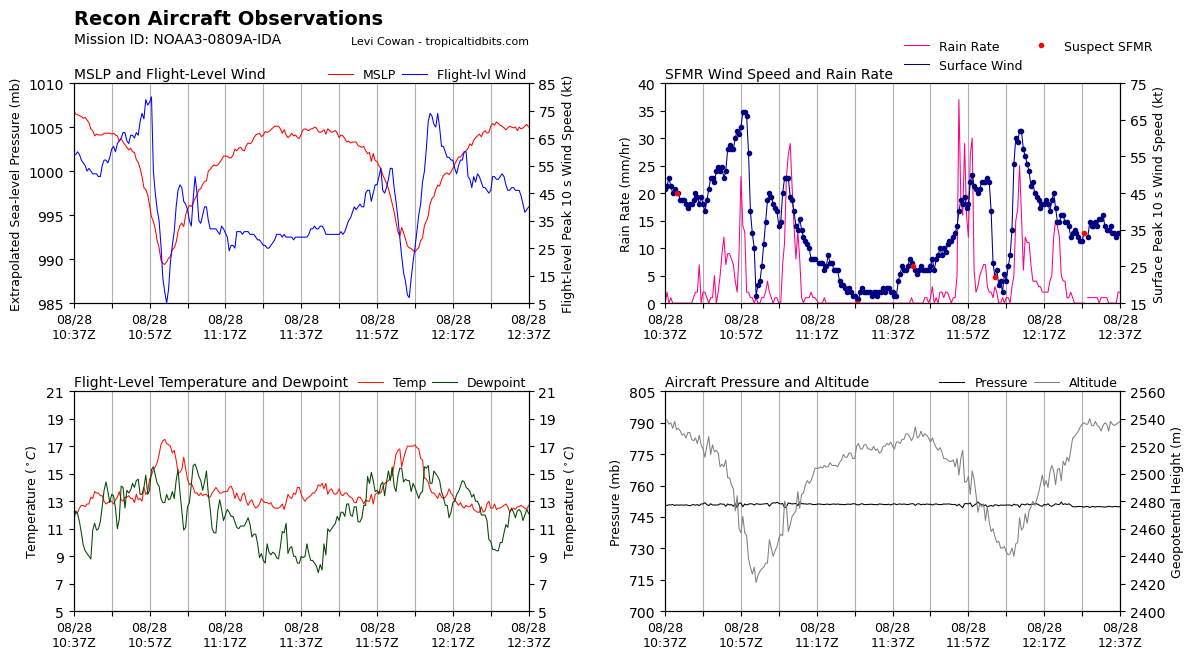 The Air Force plane seems to have found slightly lower pressure and is inbound to the center for another reading.
Ida is forecast to strengthen right up until landfall and should have max winds of 140 mph when it comes ashore Sunday afternoon. The radius of hurricane force winds extends out 30-35 miles out on either side of the center. So hurricane force winds will be left across a 60-65 mile swath on either side of the center. People who live near where the eye tracks inland tomorrow will receive winds of 120-140 mph with gusts to 160. One such place is Houma LA. Another is Morgan City. Dulac LA could be ground zero if the current forecast is correct. This would make Ida the strongest hurricane to impact that area since 1893.
The New Orleans area would get winds gusting to hurricane force based on the current track. But a shift of 60 miles to the right could put them in the 120-140 mph winds. Baton Rouge is going to be hit hard as well, with top winds expected of 80-90 mph with gusts to 115 mph.
We will be sharing additional forecasts on impact for areas that will be directly impacted by Ida, including Louisiana, Mississippi, and into Alabama all day and tonight, as well as the beautiful beaches of Alabama and Northwest Florida. Stay tuned for frequent updates.
Category: Alabama's Weather, ALL POSTS, Tropical
Bill Murray is the President of The Weather Factory. He is the site's official weather historian and a weekend forecaster. He also anchors the site's severe weather coverage. Bill Murray is the proud holder of National Weather Association Digital Seal #0001
@wxhistorian