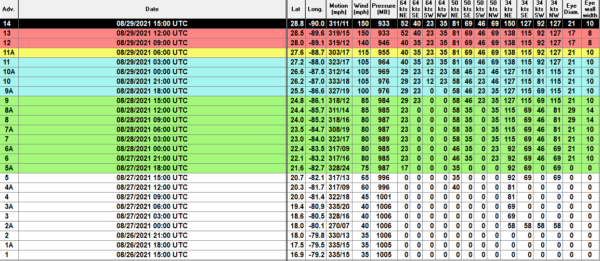 It looks like Ida will make landfall with a central pressure of 933 mb and max winds of 150 mph.
If you remove Camille from the mix, which grazed the Mouth of the Mississippi on its way to a landfall on the Mississippi Coast, Ida may end up with the highest winds recorded in a Louisiana hurricane. And if you discount Katrina's lowest pressure, which was disproportionate to its winds at that point in its lifetime, Ida may notch the lowest landfall pressure as well.
Hurricane Katrina in 2005 had a pressure of 920mb and top winds of 125 when it brushed southern Plaquemines Parish south of Buras. Katrina killed 1,833 people.
THE CURRENT LIST
1 1856 LAST ISLAND HURRICANE 934mb 150mph Legendary hurricane that destroyed resort on Last Island, killing over 200
2 2020 LAURA 938mb 150mph Last year's major hurricane that struck Lake Charles
3 1965 BETSY 946mb 130mph Caused severe flooding in New Orleans
4 1893 CHENIER CAMINANDA 948mb 130mph Louisiana's deadliest hurricane killed over 2,000 people
The rapid intensification of Ida was dramatic.
SAT 7P 984mb
SAT 9P 976mb
SAT 11P 976mb
SUN 1A 969mb
SUN 3A 949mb
SUN 5A 955mb
SUN 7A 946mb
SUN 9A 930mb
SUN 11A 933mb
51 millibars is not near the record rapid intensification set by Wilma in 2005 (I think it was 75 mb in 24 hours or 100 mb in 30 hours), but it is no slouch.
Bill Murray is the President of The Weather Factory. He is the site's official weather historian and a weekend forecaster. He also anchors the site's severe weather coverage. Bill Murray is the proud holder of National Weather Association Digital Seal #0001
@wxhistorian