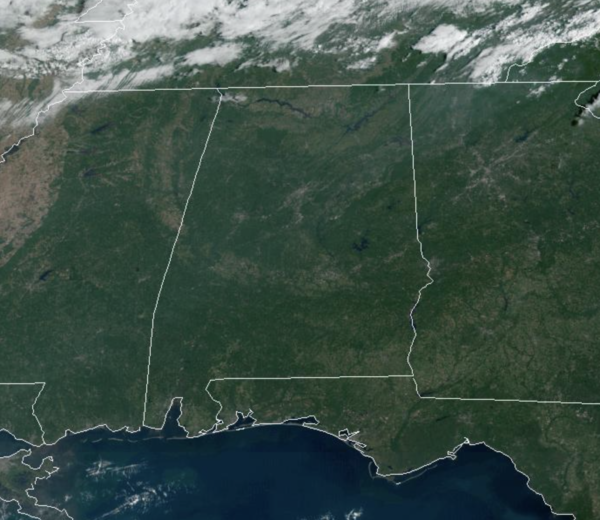 Temperatures remain above average this afternoon with lows 90s common across the area. However, a cold front is moving through the state this afternoon, it could squeeze out a few showers, but it should mostly come through in dry fashion this evening, and that will bring heat relief tomorrow and the weekend. By the way, Fall officially arrives are 8:03 PM CDT when the Autumnal Equinox occurs.
FRIDAY AND THE WEEKEND: Tomorrow will be a sunny day with a high in the low 80s, much cooler and more seasonable for this time of year. Saturday morning will be refreshing with 50s, the high Saturday will be in the mid 80s with a sunny sky. Then, for Sunday, we expect a mix of sun and clouds, and we will mention the chance of a few showers Sunday afternoon and evening as another cold front moves through the state. Moisture will be very limited, and rain amounts will be light and spotty. The high Sunday will be in the upper 80s.
FOOTBALL WEATHER: Delightful weather for high school games Friday night across Alabama; the sky will be clear with temperatures falling into the 60s.
Saturday, Auburn hosts Missouri at Jordan-Hare Stadium (11a CT kickoff)… the sky will be sunny with temperatures rising from near 77 and kickoff, into the low 80s by the second half.
Alabama will host Vanderbilt at Bryant Denny Stadium Saturday evening (6:30p CT kickoff)… the sky will be clear with temperatures falling from 81 degrees at kickoff, into the low 70s by the final whistle.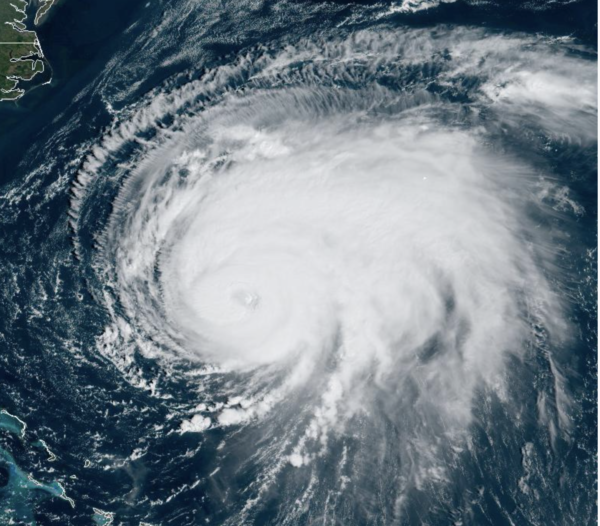 HURRICANE FIONA: Very impressive looking storm on the satellite, and is very dangerous. At 1100 AM EDT, the center of Hurricane Fiona was located near latitude 28.6 North, longitude 70.2 West. Fiona is moving toward the north-northeast near 15 mph. A north-northeastward or northeastward motion with an increase in forward speed is expected through Friday, followed by a somewhat slower northward motion beginning Friday night or Saturday. On the forecast track, the center of Fiona will pass just to the west of Bermuda tonight, approach Nova Scotia on Friday, and move across Nova Scotia and into the Gulf of St. Lawrence on Saturday.
Data from an Air Force Reserve Hurricane Hunter aircraft indicate that the maximum sustained winds are near 130 mph with higher gusts. Fiona is a category 4 hurricane on the Saffir-Simpson Hurricane Wind Scale. Little change in strength is expected today. Some weakening is expected to begin tonight or Friday, but Fiona is forecast be a large and powerful post-tropical cyclone with hurricane-force winds when it moves over Nova Scotia Friday night and Saturday.
Hurricane-force winds extend outward up to 70 miles from the center and tropical-storm-force winds extend outward up to 205 miles. A NOAA Saildrone located about 50 miles east of the center has recently reported sustained winds of 77 mph. The latest minimum central pressure based on data from an Air Force Reserve reconnaissance aircraft is 936 mb (27.64 inches).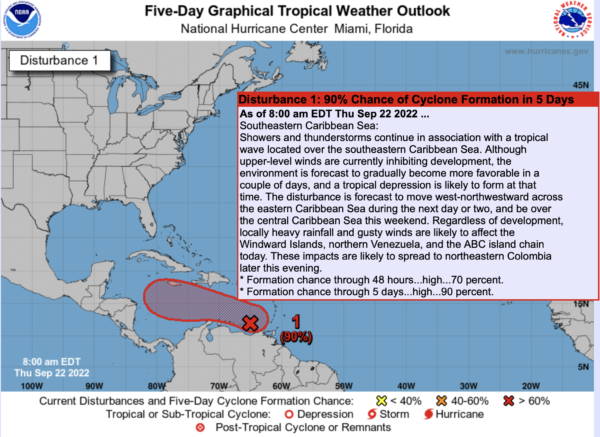 INVEST 98L: Most of our attention remain focused on (Invest 98L) in the southeastern Caribbean Sea. Although upper-level winds are currently inhibiting development, the environment is forecast to gradually become more favorable in a couple of days, and a tropical depression is likely to form at that time. The disturbance is forecast to move west-northwestward toward the central Caribbean Sea, gaining strength and likely becoming a hurricane by early next week, near the Yucatan or Western Cuba. Beyond that, there is a likely chance it will be at hurricane strength as it approaches the southern Gulf of Mexico, but the important message here is that there is NO skill in forecasting the placement or intensity of a tropical cyclone this far out.
If any part of the Gulf Coast is threatened, it will be toward the end of next week (7-9 days from now). Don't be suckered into the rogue Facebook pages with scary deterministic model output; those maps mean nothing at this point. The models show a potential landfall from Florida all the west to Texas, and again, no way of knowing when or where this potential system heads. Once the system develops in the Caribbean and we begin to get data from hurricane hunter aircraft, we begin to have a clearer picture of what might happen. Don't cancel any beach trip, just keep an eye on it. This should become Hermine, but there is another tropical wave coming off the African coast, which could become Hermine first. The next few names are Ian and Julia.
NEXT WEEK: Most of the week looks dry at this point with very pleasant temperatures; highs around 80, with lows in the 50s and 60s.
BEACH FORECAST CENTER: Get the latest weather and rip current forecasts for the beaches from Fort Morgan to Panama City on our Beach Forecast Center page. There, you can select the forecast of the region that you are interested in visiting.
WORLD TEMPERATURE EXTREMES: Over the last 24 hours, the highest observation outside the U.S. was 114.1F at Adrar, Algeria. The lowest observation was -88.6F at Kohnen, Antarctica.
CONTIGUOUS TEMPERATURE EXTREMES: Over the last 24 hours, the highest observation was 103F at Chanute and Winfield, KS. The lowest observation was 24F at Olney, MT.
Category: Alabama's Weather, ALL POSTS
Mobile, Alabama Television Meteorologist and long time Contributor on AlabamaWX. Stormchaser. I did not choose Weather, it chose Me. College Football Fanatic.
@Ryan_Stinnet