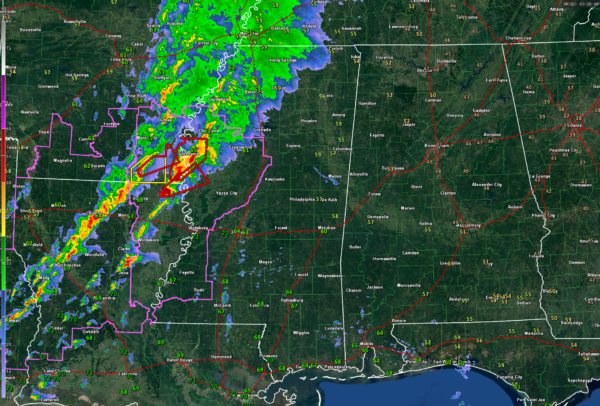 Walking outside around Central Alabama tonight, the air has feel of chill to it. Temperatures are in the 50s over much of Central and Northwest Alabama and are falling out the 60s over West and South Alabama. The chill over the eastern half of the state is thanks to an easterly wedge. Cold air dammed up by the Appalachian Mountains is forced southwestern where is travels across Georgia and bleeds into eastern Alabama. You can see it in the dew points, which are in the 30s across much of Georgia, with 40s seeping into our state.
Tornado watches cover a large area from southern Arkansas, southeastern Texas, much of Louisiana, into western Mississippi.
We dodged a major bullet through much of the day across Texas and Louisiana. There were a few tornadoes reported, but there was not major damage except in southwestern Caddo Parish southwest of Shreveport where several homes were damaged or destroyed.
The storms died down by early evening, and it appeared at face value that the severe threat might be over. But the storms have re-intensified this evening and there were four tornado warnings in Louisiana just a few minutes ago, including one tornado-reported warning near the Arkansas border north of Ruston and Monroe. Tornado damage has been reported at Farmersville in Union County. The timestamp on that report was 8:24 p.m. Five mobile homes were destroyed. There is a tornado warning along the Texas/Louisiana border east of Jasper. This storm should have the chance to intensify as it moves toward Alexandria.
There is a warm front now from near El Dorado AR to near Natchez MS to Bay St. Louis MS. The storm that is a tornado-warned east of Bastrop in NE Louisiana that is crossing the warm front. It is now in the Greenville MS area.
It will weaken, but storms will continue to grow in coverage and intensity as warm moist air surges into the Mississippi Delta over the next few hours. The storms will remain strong there until the hours before sunrise.
The storms will reach Northwest Alabama around 3 a.m. and West Central Alabama around 5 a.m. They should be fairly calm by then, although we can't rule out warnings. By noon, severe weather will ramp up again across West Central and Southwest Alabama, south of Tuscaloosa. There will be a threat of severe weather from Sulligent to Birmingham to Talladega to Lanett. The better threat will extend from Sumter County southeast to Selma, Greenville, and Florala.
There could be a couple of significant tornadoes in the higher risk area which is a 3 out of 5 on the risk scale (enhanced). The Central Alabama tornado threat should diminish by mid-afternoon, but there will be a few strong to severe storms in along and south of I-20 until sunset. The temperature will jump into the mid-60s along that wave of warm air in places like Birmingham during the afternoon, but the mercuy will dropo behind the cold front which should reach Birmingham and Tuscaloosa between 5-8 p.m. Northeast Alabama will never see the warmer air, remaining in the 50s all day. 30s will reach Northwest Alabama by morning Thursday, everyone else will be in the 40s.
Thursday highs will be in the 40s north of I-20, with 50s to the south.
Skies will clear quickly behind the front Wednesday evening with a good supply of sunshine Thursday.
Flash flood watches remain in effect for areas along and north of I-59 in Alabama.
Category: Alabama's Weather, ALL POSTS, Severe Weather
Bill Murray is the President of The Weather Factory. He is the site's official weather historian and a weekend forecaster. He also anchors the site's severe weather coverage. Bill Murray is the proud holder of National Weather Association Digital Seal #0001
@wxhistorian