The coldest air since January is heading for Alabama it appears, just in time for Christmas. Could there be some wintry precipitation? Always a chance when we get cold weather in the Deep South, but it is harder to make it happen than you think! Let's get to work…
SATURDAY SUNSHINE: Saturday was a beautiful sunny day but chilly day across North and Central Alabama. High temperatures ranged from 46F at Valley Head and Crossville to 57F at Eufaula. Birmingham hit 49F, Anniston 48F, and Tuscaloosa 51F. Temperatures overnight fell into the middle 20s North and upper 20s Central.
FOR YOUR SUNDAY: High pressure centered near Memphis is large and in charge this morning, keeping us in a cool, northerly flow near the surface. Despite near-total sunshine, no one will escape the 40s today across North and Central Alabama, with the exception of Troy, which could make 50F. Expect increasing clouds tonight with lows between 30-34F.
INTO THE HOLIDAY WEEK: Just 7 Shopping Days left until Christmas! Remember when that was a thing? Now every day is a shopping day. That increasing cloudiness from tonight will get thicker tomorrow as our next storm system takes shape over southeastern Colorado with a secondary low near Brownsville, Texas that will take a Gulf of Mexico cruise. Widespread rain will spread across eastern Texas and into Louisiana. Wintry precipitation will impact the Central Plains into the Midwest, with snow and a mix of freezing, rain, sleet, and snow from northern Mississippi back into southeastern Kansas. The wintry precip will lift into the Upper Midwest, but the southern low will bring rain to the Gulf States from Louisiana into Alabama. This could obviously cause some travel problems across a wide area across the Central Part of the country. Here in Alabama, the rain will be mostly over South Alabama. Temperatures across our part of the state will range from 37-43F.
TUESDAY: The rain should mostly be gone by morning, but there could be a few light showers over eastern sections. Clouds could break up briefly and all the showers should be gone by nightfall. After highs in the 40s North and lower 50s Central, overnight lows will once again fall only into the middle 30s to lower 40s.
SECOND STORM SYSTEM: Wednesday will feature thickening clouds again, but we should remain dry. Highs will set up between 49 and 55F. Lows Wednesday night will only drop a couple of degrees as winds become more southeasterly.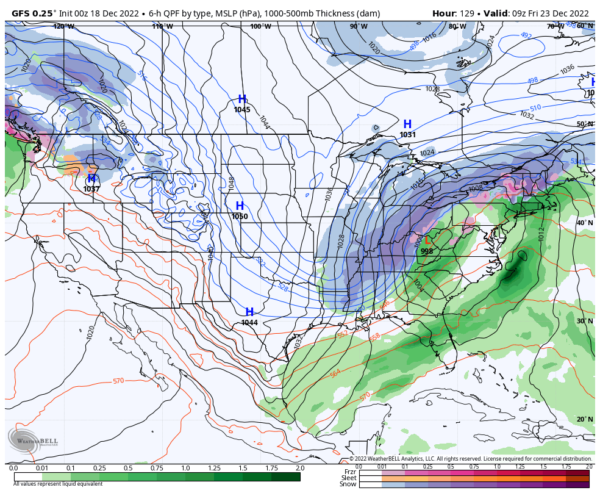 THEN IT GETS INTERESTING: By Thursday morning, low pressure will be near Little Rock, Arkansas. The day will start out cloudy, and precipitation will rapidly become widespread during the day. The showers will hang out over eastern sections into the evening and temperatures will be falling as the cold front knifes rapidly eastward. By then, we will be watching a strong trough that will be approaching from the west. This system will be spreading heavy snows back across Arkansas. Snow looks like it could reach Northwest Alabama after midnight, with heavier snow across the Tennessee Valley during the overnight hours. Lighter snow could extend down to I-59 during the pre-dawn hours and flurries could extend as far south as Prattville during the early morning. It is too early to predict snow accumulations, but any significant one look like they would be over the Tennessee Valley.
TEMPERATURES DROP ALL DAY FRIDAY: Most locations in Alabama should record their high temperatures at midnight on early Friday morning. Readings will be below zero as close as Arkansas and Alabama temperatures will fall into the teens across the northern half of our state. South Alabama readings will be heading into the twenties. We could see subzero wind chills across the North during the day. South Alabama will see clearing, but clouds will hang tough over the northern half of Alabama. Light snow may continue into early Friday morning, but we shouldn't see any additional accumulations.
VERY COLD CHRISTMAS EVE MORNING: This will set the stage for really cold readings by Saturday morning. Lows will be in the single digits across the Tennessee Valley, and perhaps even colder if there is snow cover. Lower teens will cover Central Alabama. Expect a good bit of sunshine, but clouds will return late in the day. There could be a few snow flurries in the North, but they shouldn't be significant. Temperatures will not get out of the 20s anywhere over the northern half of the state, with 30s South. Parts of Northeast Alabama may not get out of the teens. At least the winds will not be as big of an issue.
COLDEST SINCE 2018: If we hit 12F as the National Blend of Models is prognosticating on Saturday morning for Birmingham, it will be the coldest since it was 11F on January 2, 2018.
CHRISTMAS DAY: Will start of cold again, with temperatures between 16-21 degrees to greet the day. Skies will be clearing early, and clouding late. Temperatures will only reach the middle 30s along and north of I-20 with upper 30s over South Central sections. Lows will be in the 20s areawide as the cold abates a little. Friday and Saturday will be very cold with highs in the 30s and lows in the lower 20s, making for a hard freeze.
BEACHCAST: Showers are in the forecast Monday night and much of Tuesday along the beautiful beaches of Alabama and Northwest Florida. There will be a brief respite Wednesday, but they will return by Thursday. Water temperatures are in the lower 60s. Rip current risk will be low through Wednesday
Click here to see the Beach Forecast Center page.
DANCING WITH THE STATS: Bangor ME picked up 5.3 inches of snow on Saturday, which was a new record for the date.
ADVERTISE WITH US: Deliver your message to a highly engaged audience by advertising on the AlabamaWX.com website. We are getting ready for some exciting new extras in 2023. Don't miss out! We can customize a creative, flexible, and affordable package that will suit your organization's needs. Contact me, Bill Murray, at (205) 687-0782, and let's talk.
WEATHERBRAINS: This week, the panel will entertain Greg Carbin and his Meteorological Memories of 2022. It will be the debut of this year's list since it was not done at the National Weather Association Annual Meeting for the first time in many years. Check out the show at www.WeatherBrains.com. You can also subscribe on iTunes. You can watch the show live at live.bigbrainsmedia.com or on James' YouTube Channel You will be able to see the show on the James Spann 24×7 weather channel on cable or directly over the air on the dot 2 feed.
ON THIS DATE IN 1932: 1932 was the thirteenth season for the fledgling National Football League. There were only eight teams, including many you would not recognize today. After the season, the league office scheduled the first playoff game in NFL history, pitting the Chicago Bears against the Portsmouth Spartans. Chicago was in first place, despite having six ties. The game had to be moved indoors into Chicago Stadium because of bitterly cold temperatures and heavy snow in the Windy City. The playing field had to be shortened to eighty yards to fit in the stadium. The edge of the field ran right up to the walls of the stadium floor. It looked more like today's arena football than the NFL to which we are accustomed today. The Bears won 9-0, capturing their third straight NFL Championship. A two yard pass from Bronco Nagurski to Red Grange sealed the victory. The NFL's first official Championship Game would be played the following year. Follow my weather history tweets on Twitter. I am @wxhistorian at Twitter.com.
Category: Alabama's Weather, ALL POSTS, Winter Weather
Bill Murray is the President of The Weather Factory. He is the site's official weather historian and a weekend forecaster. He also anchors the site's severe weather coverage. Bill Murray is the proud holder of National Weather Association Digital Seal #0001
@wxhistorian