It is a term we will be throwing around for the next 48 hours or so as an Arctic cold front knifes across the U.S. and into our living rooms here in Alabama tomorrow night.
FROPA, or Frontal Passage, marks the occurrence of an airmass change.
Our friend and WeatherBrains panelist Troy Kimmel always keep a close eye on such things and sent this report a little while ago:
At Casper WY, the temp fell 10 C degrees in 8 mins from -3C to -13C…or from 26.6F to 8.6F. That's 18 degrees in eight minutes!
KCPR 211505Z 35017KT 10SM BKN038 M17/M19 A2974 RMK AO2 WSHFT 1445 T11671189
KCPR 211453Z 33016G23KT 10SM BKN036 M13/M16 A2974 RMK AO2 PK WND 21033/1401 SNB1357E13 SLP122 P0000 60000 T11331156 55010
KCPR 211445Z 30010G22KT 250V350 10SM SCT036 M03/M07 A2973 RMK AO2 PK WND 21033/1401 SNB1357E13 P0000 T10281072
KCPR 211353Z 21023G34KT 10SM CLR M03/M08 A2970 RMK AO2 PK WND 20036/1256 SLP081 T10281078
Here are conditions now across Wyoming: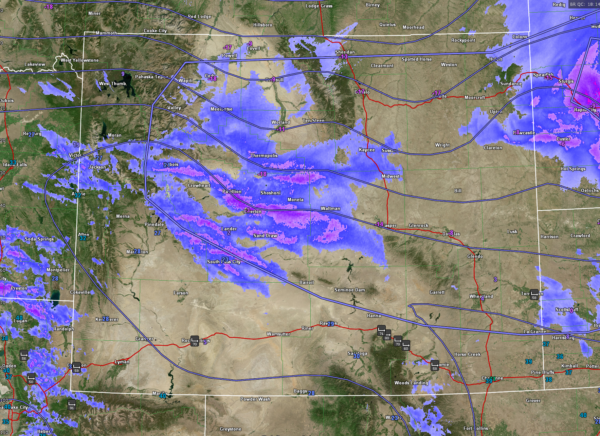 It is down to -14F at Casper. That is a drop of 43 degrees since the high today, which occurred at midnight.
And look at those wind gusts along I-80: Gusting to 80 mph in Carbon County and to 70 mph near Rock Springs.
The front should reach…
…NW Missouri by midnight tonight
…NW Arkansas by 8 a.m. tomorrow
…Memphis by 2 p.m. tomorrow
…NW Alabama by 7 p.m. tomorrow night
…Birmingham and Tuscaloosa by 9 p.m. tomorrow night
While the temperature drop won't be as dramatic here, it will be impressive. The mercury is expected to fall from 48F at 9 p.m. tomorrow night at Birmingham, to 32 by midnight and 19 by 3 a.m. to 14 by 6 a.m. Friday.
That a 41-degree drop from the daytime high of 55F Thursday to 14F Friday morning.
Lows Friday morning will look like this: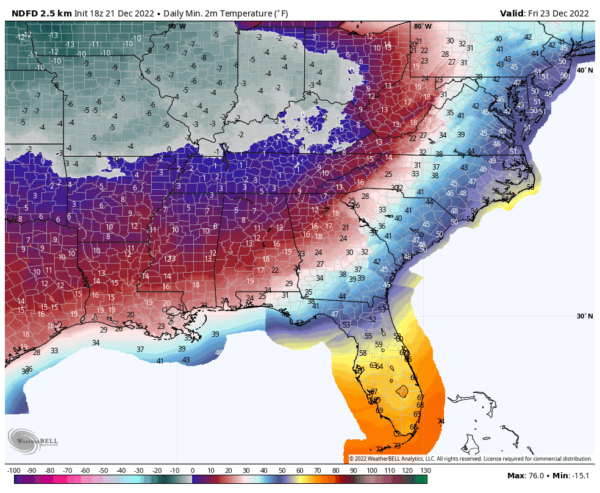 Afternoon highs will barely recover: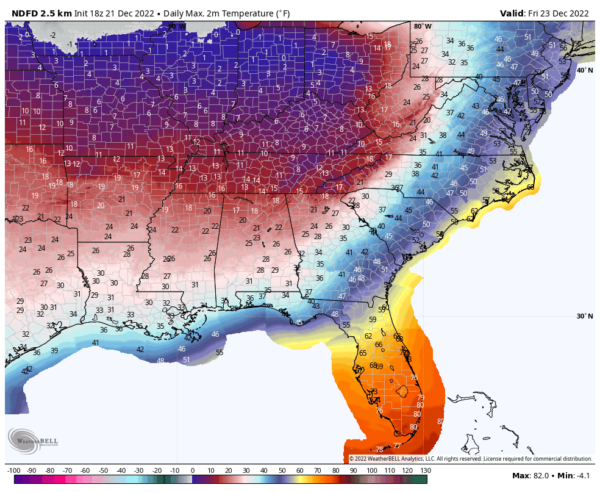 Friday night will be even colder: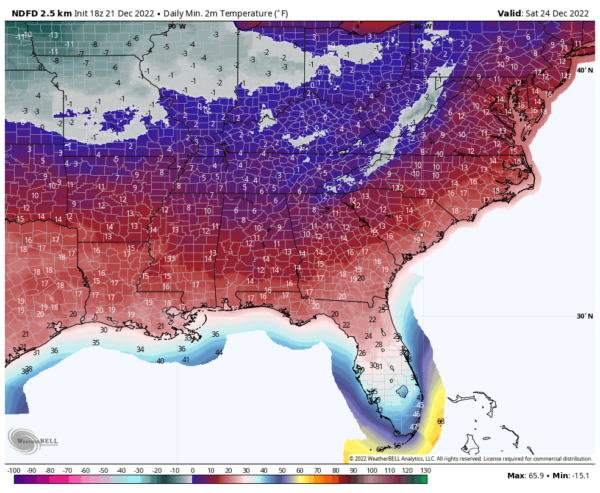 The northern half of the state won't get above freezing Saturday either: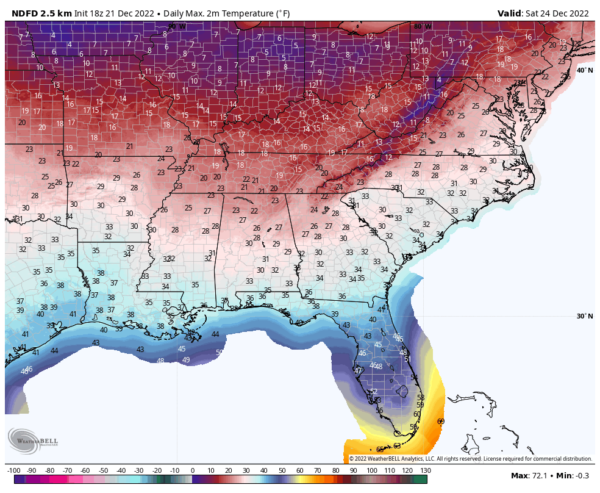 Finally, some folks will get above freezing Sunday. But for much of the Tennessee Valley, it will be Monday before the mercury climbs above 32F.
Throw in the wind making wind chills even colder, and we have a dangerous situation setting up for Alabama.
Category: Alabama's Weather, ALL POSTS, Headlines
Bill Murray is the President of The Weather Factory. He is the site's official weather historian and a weekend forecaster. He also anchors the site's severe weather coverage. Bill Murray is the proud holder of National Weather Association Digital Seal #0001
@wxhistorian