A midweek severe weather threat and another potential arctic outbreak highlight this forecast package. Let's dig into the details on this and everything else we can find that could impact your weather over the next two weeks…
DREARY SATURDAY: Yesterday started off with a little sunshine in some areas, but quickly gave way to a leaden, gray overcast. Temperatures across the area warmed into the lower 50s North to middle 50s Central. Rain moved steadily northward from South Alabama during the afternoon. Low dewpoints allowed temperatures to cool a few degrees quickly when the rain started thanks to evaporative cooling. This set the stage for a rainy, cool evening as temperatures settled back into the 40s. There was a little lightning and thunder over southwestern sections, around Linden and Thomasville where the convection found enough instability to produce thunderstorms. These storms moved across South Central sections during the late evening hours. Rainfall amounts were generally light, less than ¾ of an inch, with some heavier amounts falling along the track of those storms down south.
FOR YOUR SUNDAY: It's kind of a raw morning out there on this Sunday, with lots of clouds, widespread light showers across eastern sections, and temperatures in the 40s for the most part. We aren't done with the rain as another wave forms along the quasi-stationary front over South Alabama. Rain will again overspread areas south of a line from Anniston to Calera to Demopolis today. They will mostly move out of the state by dark, but a few light showers will move across the area tonight. There will be a tiny bit of clearing during the late afternoon over southwestern sections, and skies will stay mostly cloudy overnight with a few breaks in the overcast. Lows overnight will fall into the 30s.
MOVING INTO MONDAY: The upper low will be moving away and ridging will replace it. Skies will slowly clear, but a decent amount of stratocumulus will still be present behind the frontal system. We will call it mostly cloudy to occasionally partly sunny on Monday, with total clearing waiting until Monday night. Monday highs will be in the 50s. Lows Monday night will drop to near freezing.
TALKING ABOUT TUESDAY: A surface low will be over Southeast Texas Tuesday morning. It will move northeast to near Memphis by Tuesday night. The surface high over the Southeast coast will move offshore and moisture will begin returning to Alabama and the Deep South late in the day and overnight. You will notice a breezy southerly wind as well. The only instability will be present over southern sections of Alabama as the low moves northeast and weakens.
SEVERE THREAT TUESDAY NIGHT: We will deal with a severe threat over the southern half of Alabama late Tuesday night into early Wednesday morning as the low lifts to our northwest. Showers and some thunder will be present statewide. Over South Alabama, strong to severe storms will be possible. The main threats will be damaging winds and a couple of tornadoes. Areas along and south of the US-80 Corridor will be the focus area, including places like Selma, Montgomery, Jackson, Monroeville, Greenville, Andalusia, Eufaula, Troy, Dothan, Evergreen, and Mobile. Areas just north of the prime risk area will have a lesser threat, including places like Demopolis and Auburn.
MIDWEEK: The rain will persist into Wednesday morning but the rain should be into Georgia by lunch or at least early afternoon. There will be wraparound cloudiness and drizzle during the afternoon and evening, and there could even be a few snow flurries over Northeast Alabama Wednesday night. Expect breezy conditions Wednesday and windy conditions continuing into Thursday. Despite increasing sunshine, temperatures will struggle to get out of the 40s with that gusty wind making it feel even colder. Thursday night lows will be near freezing.
WEEKEND: That eastern trough will hang tough through Friday, with coolness and clouds still in the forecast. We will be back in the lower 50s Friday. We should be dry Friday and Saturday, with rain returning late Saturday again. Most areas will be back in the middle 50s to near 60F Saturday. Sunday looks wet as a slow-moving system moves across the area.
MOVING TOWARD FEBRUARY: A battle zone will set up between strong subtropical high pressure off the Atlantic Coast, and a deep trough over the midsection of the nation. As many as three distinct waves of low pressure could move along the frontal boundary which will set up just to our northwest. That means some copious rain amounts in that first week of February. Parts of Alabama could see 4-6 inches of rain that week, with some higher amounts over Central sections.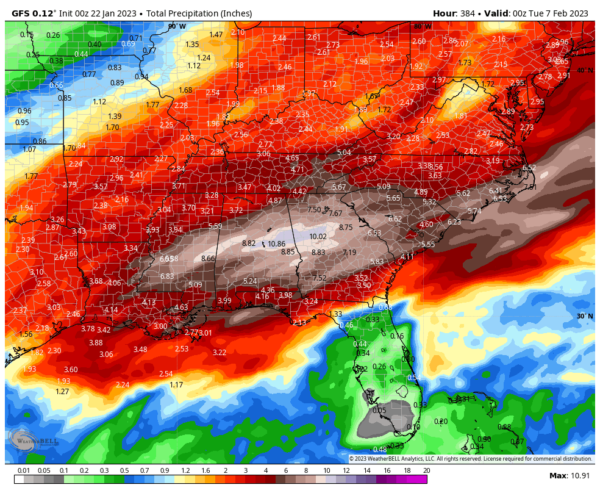 BEACHCAST: Rain Tuesday night and Wednesday along the beautiful beaches of Alabama and Northwest Florida with more rain by late in the weekend. High temperatures will yo-yo between the 60s and 50s in the daytime. Lows will be generally in the 40s except for Tuesday night, with middle 50s in store. Water temperatures are in the upper 50s. There will be a high rip current risk today through midweek.
Click here to see the Beach Forecast Center page.
NATIONALLY: The Sierras of California continue to build on their heavy snowpack. They now have more snowpack than any year since 2005. More heavy snow is expected over the next ten days. Not as much as the last month, but still helping to add to the totals. The Golden State precipitation has helped keep the drought from worsening, but they are not out of the woods yet.
DANCING WITH THE STATS: The NWS in Birmingham added a few miles to the path length of the long-tracked tornado that killed 8 across Alabama on January 12th. The tornado was on the ground for over 82 miles. That is unprecedented for a January tornado in Alabama.
ADVERTISE WITH US: Deliver your message to a highly engaged audience by advertising on the AlabamaWX.com website. We have a lot of big plans for this year. Don't miss out! We can customize a creative, flexible, and affordable package that will suit your organization's needs. Contact me, Bill Murray, at (205) 687-0782 and let's talk.
WEATHERBRAINS: This week, the panel will review the January 12th tornado outbreak that turned so tragic in Alabama. Josh Johnson and Amanda Curran from WSFA in Montgomery will join us along with Kevin Laws from the NWS in Birmingham. Check out the show at www.WeatherBrains.com. You can also subscribe on iTunes. You can watch the show live on our new YouTube channel for the show.You will be able to see the show on the James Spann 24×7 weather channel on cable or directly over the air on the dot 2 feed.
ON THIS DATE IN 1904: An unseasonal F4 tornado leveled the northern part of the town of Moundville in Alabama a little after midnight, killing 37 people and injuring 63. The tornado reportedly glowed with a phosphorescent glow. The northern part of the town was destroyed and only one building was left standing. Bodies were blown as far as one half mile. An engineer on a northbound Great Southern train saw the destruction right after it occurred, and backed his train 12 miles in reverse to the town of Akron, where he sent a telegram for help. Follow my weather history tweets on Twitter. I am @wxhistorian at Twitter.com.
Category: ALL POSTS
Bill Murray is the President of The Weather Factory. He is the site's official weather historian and a weekend forecaster. He also anchors the site's severe weather coverage. Bill Murray is the proud holder of National Weather Association Digital Seal #0001
@wxhistorian