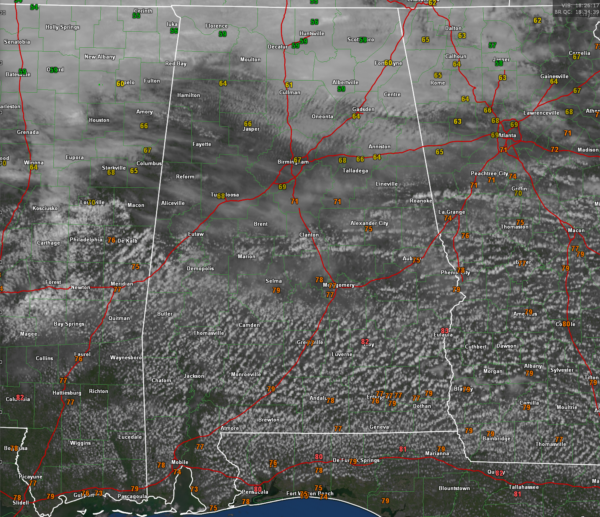 Just a pretty late winter day across Alabama on this final Sunday of February 2023.
There is a wide range in temperatures across the great state of Alabama, with upper 50s in the Tennessee Valley, including 59 at the Huntsville International Airport. Middle 60s are common across North Central Alabama, including 63F at Birmingham's Shuttlesworth International Airport. 70s are the rule over the southern half of the state, including 77F in Montgomery. The capital city tied their record high yesterday with 84 degrees. Their record for today is 83F, set back in 1963. Troy is at 82F already, just one degree shy of their record for the date, set in 1952. We are keeping an eye on Meridian as well, where the record for the date is 82F set just two years ago.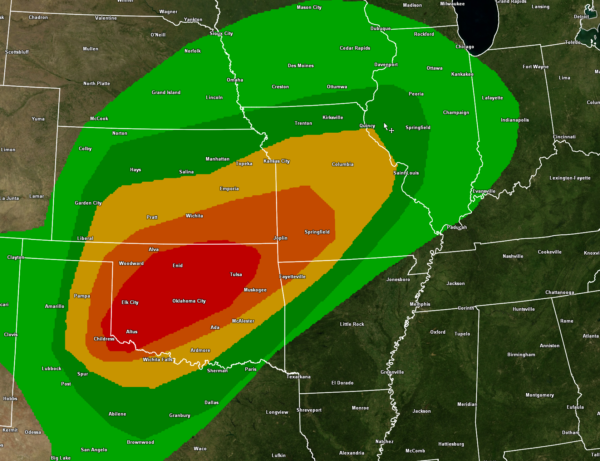 The prolonged warmth across the South is making headlines, but severe weather and winter weather is plaguing other parts of the country. The strong disturbance that brought some amazing snows to southern California and the Southwest is swinging out onto the Plains today. The intense upper level winds will bring a big severe weather threat today to parts of Oklahoma. The SPC warns that there could be discrete supercells by late this afternoon over Southwest Oklahoma that could produce significant tornadoes. The storms will congeal into a powerful derecho tonight, with winds of 80-110 mph.
The squall line will reach Wichita Falls TX and Oklahoma City by 8 p.m., Tula/McAlester by 11 p.m., Springfield MO and Fayetteville by 1 a.m., and St. Louis around sunrise.
This severe weather threat will shift to the Ohio Valley tomorrow. Places like Indianapolis, Dayton, and Springfield IL will be under the gun tomorrow. A few showers will break out over North and Central Alabama tomorrow morning, starting around 8 a.m. The weakening line of showers will limp into Alabama around noon, but it will be a mere shadow of its former self as the dynamic support will have outrun the system. The final showers will exit areas south of I-59 after 6 p.m. tomorrow evening. Highs tomorrow will be in the 70s over the northern half and 80s over southern Alabama.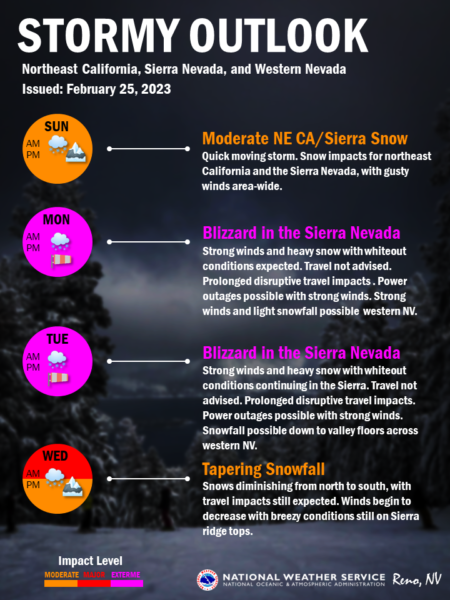 Snow is the story in California. The town of Truckee CA near Donner Pass is under a blizzard warning. The NWS Reno warns that blizzard conditions will occur Monday and Tuesday, with 2-3′ of snow except for 4-6′ above 7,000′. Wind gusts of 55 mph are expected, except for 100 mph gusts along the ridgetops of the Sierra.
Tuesday will be a beautiful day in Alabama with highs in the 70s areawide and a good supply of sunshine.
We will deal with severe weather late Thursday and Friday in Alabama. As expected, the SPC did outlook portions of Alabama for severe weather then:
One last piece of fun news: SpaceX will launch a mission to the International Space Station tonight at 12:45 a.m. CST. Might be a little late for most of you, but if you happen to be up, it will be worth a watch.
Category: Alabama's Weather, ALL POSTS, Headlines, Severe Weather
Bill Murray is the President of The Weather Factory. He is the site's official weather historian and a weekend forecaster. He also anchors the site's severe weather coverage. Bill Murray is the proud holder of National Weather Association Digital Seal #0001
@wxhistorian