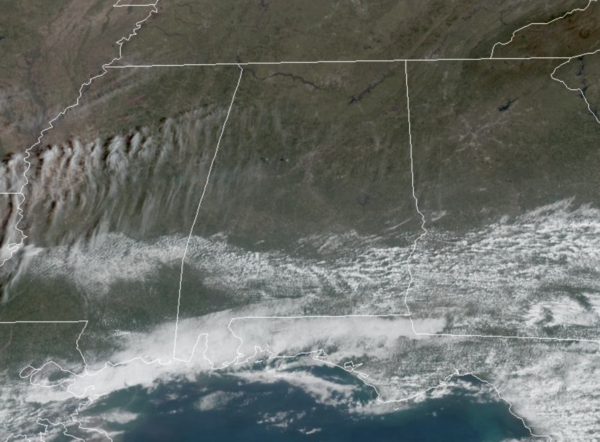 It is a gorgeous spring-like day across all of Alabama with ample sunshine and temperatures in the upper 70s and lower 80s. No rain on the Alabama radars today, and not as windy either, just a quiet, and pleasant day of weather. Enjoy it, because the rest of the week is more active.
RIP CURRENT AWARENESS WEEK: Again, before heading to the beautiful beaches of the Northern Gulf Coast, just be prepared of this water hazard. What is a rip current? A powerful, narrow channel of water flowing away from the beach. Rip currents typically extend from near the shoreline out through the breaker zone where breaking waves form. Rip currents can and do occur on clear, sunny days.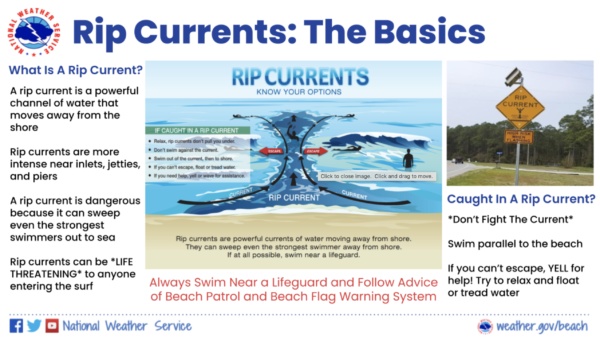 Think of a rip current like this – it is a natural treadmill traveling away from the beach. Rip currents can travel as fast as 8 feet per second – that's faster than an Olympic swimmer! A rip current is dangerous because it can sweep even the strongest swimmers out to sea. For that reason, rip currents are life-threatening to anyone entering the surf.
Rip currents also commonly form around breaks in sandbars and near inlets, jetties, and piers (where they are more intense).
TOMORROW: Scattered showers and storms returns to Alabama tomorrow with warm and breezy conditions as most locations warm into the lower 80s. With warm, unstable air in place some storms could be strong, and the SPC (Storm Prediction Center) maintains a "marginal risk" (level 1/5) of severe thunderstorms for the northern 2/3 of Alabama tomorrow. Scattered storms that form tomorrow afternoon/evening could produce small hail and strong, gusty winds.
THURSDAY: It will be yet another warm and breezy day, with highs likely again heading into the lower 80s. Some showers will be possible at times, and maybe a thunderstorm, but our main concern will come with early Friday morning as a cold front approaches the state. For now, the main severe weather threat remains west of Alabama where the better dynamics will be on Thursday.
FRIDAY: Pre-dawn hours Friday, rain and storms will roll into Alabama, but latest model trends are much slower and it now looks like the main threat window will arrive as early as 3AM in West Alabama, and lasting through 11AM in East Alabama. The SPC has much of the state covered in a severe weather risk during the time frame. The greatest concern with this line will be from damaging winds, but an isolated tornado is certainly possible as well. It will be a very rough start to the day, and everyone will need to be sure they can hear warnings. Be sure and pay attention to severe thunderstorm warnings Friday morning and take them seriously, because winds could gusts over 70 mph.
In addition to damaging thunderstorm winds, pressure gradient winds (not related to thunderstorms) could gust to 40/45 mph at times. This means power outages are likely Friday morning. The system will be quickly exiting the state early Friday, and by the afternoon we will see a clearing sky, cooler temperatures, and breezy conditions, with highs in the 60s, which are closer to average for this time of year.
WEEKEND WEATHER: A gorgeous but much cooler weekend of weather is in store for Alabama with dry, sunny days and clear cold nights. Lows drop into the 30s and 40s, while highs will be in the 50s and 60s.
BEACH FORECAST CENTER: Get the latest weather and rip current forecasts for the beaches from Fort Morgan to Panama City on our Beach Forecast Center page. There, you can select the forecast of the region that you are interested in visiting.
WORLD TEMPERATURE EXTREMES: Over the last 24 hours, the highest observation outside the U.S. was 109.6F at Twee Riviere, South Africa. The lowest observation was -64.1F at Vostok, Antarctica.
CONTIGUOUS TEMPERATURE EXTREMES: Over the last 24 hours, the highest observation was 97F at Falcon Lake, TX. The lowest observation was -21F at Estcourt Station, ME.
Category: Alabama's Weather, ALL POSTS
Mobile, Alabama Television Meteorologist and long time Contributor on AlabamaWX. Stormchaser. I did not choose Weather, it chose Me. College Football Fanatic.
@Ryan_Stinnet