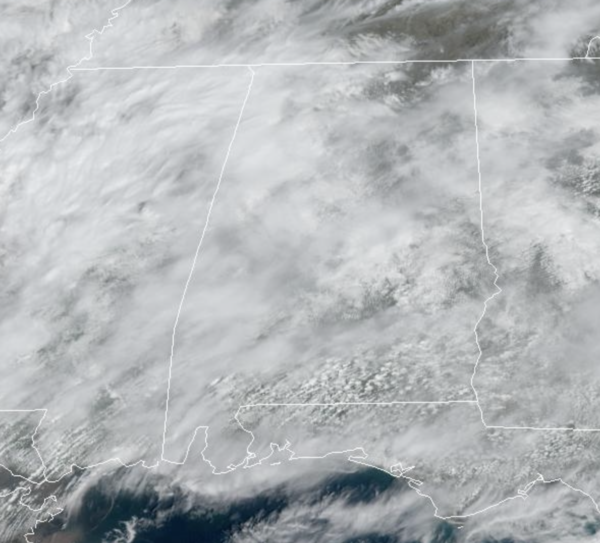 WELCOME TO MARCH: March is coming in like a lion with active weather in the forecast the next three days. For today, moisture levels are rising across Alabama, and clouds are increasing, but a decent part of the day today will be dry with a high around 80 degrees. A few widely scattered showers and thunderstorms will form by mid to late afternoon over the northern half of the state, but a capping inversion (a layer of warm air aloft) will keep the storms widely spaced. Where they do form, they could be strong with potential for some small hail and gusty winds.
Tonight, a more organized batch of rain and storms will move into North Alabama. These storms will have potential to produce some hail and strong winds, and there is also a low end tornado threat. SPC has that part of the state in a "slight risk" (level 2/5) of severe thunderstorms tonight. The storms there tonight will be slow movers and prolific rain producers… a flash flood watch has been issued for the Tennessee Valley.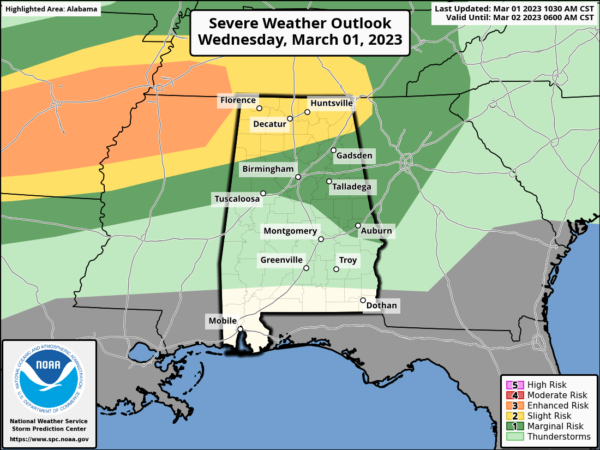 TOMORROW: The day will be mostly cloudy with a good chance of occasional showers and a few thunderstorms. While a strong storm can't be ruled out, we aren't expecting any organized severe weather as the main upper support will be well to the west.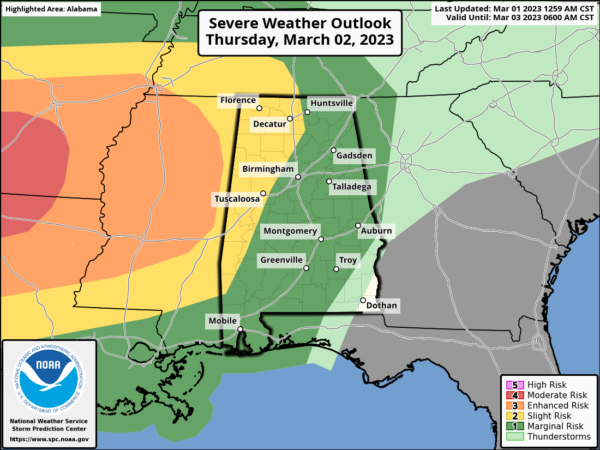 We note there is a level 4/5 "moderate risk" of severe storms tomorrow afternoon/evening for the ArkLaTex region around Shreveport, where a severe weather outbreak, including the threat of strong tornadoes are possible tomorrow. Highs again tomorrow will be in the upper 70s to lower 80s.
FRIDAY: The severe weather to our west looks to coalesce into a line on storms by the time it reaches Alabama Friday morning. It will be a quick hitting system in and out of here during the morning hours. The SPC has most of Alabama in a "slight risk" (level 2/5) during this time frame.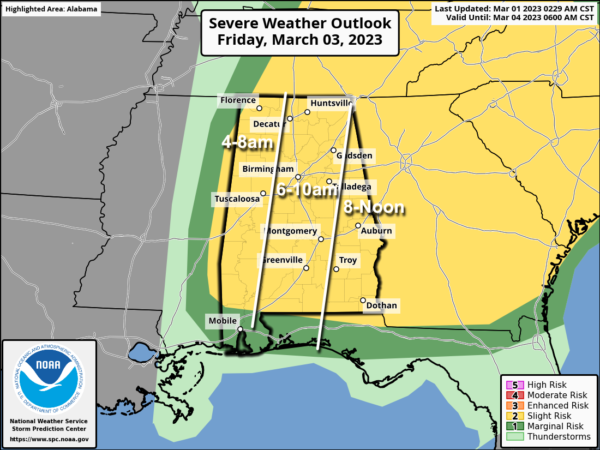 The line of storms will be capable of producing strong, potentially damaging winds. A brief, isolated tornado or two can't be ruled out as well along the line. Be sure and pay attention to severe thunderstorm warnings Friday morning as they are issued.
Away from thunderstorms, gradient winds (not related to thunderstorms) will be very strong Friday, gusting ti 35-45 mph, so expect some power outages. The storms will push into Georgia by the midday hours and our Friday afternoon will feature a clearing sky, breezy winds, and cooler temperatures with highs in the 60s.
WEEKEND WEATHER: A gorgeous but much cooler weekend of weather is in store for Alabama with dry, sunny days and clear cold nights. Lows drop into the 30s and 40s, while highs will be in the 60s Saturday, followed by 70s Sunday.
NEXT WEEK: Monday will be dry and mild… then we will bring in a chance of showers for the northern half of the state Tuesday and Wednesday. For now we aren't expecting any severe thunderstorms next week. Highs much of next week will be in the 60s and 70s.
RIP CURRENT AWARENESS WEEK: How to spot a rip current: Did you know that waves do not need to be huge for rip currents to form? Rip Currents are strongest at low tide but can form at any time.?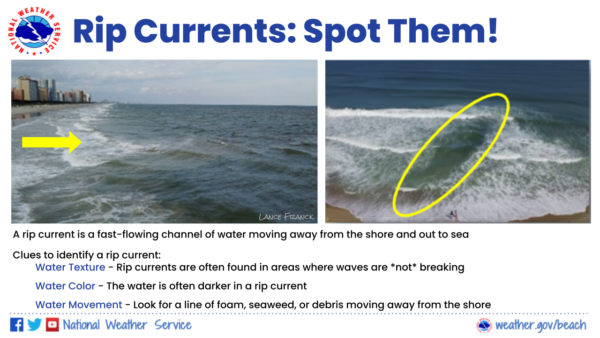 Clues to Identify a Rip Current:
Water Texture – Rip currents are often found in areas where waves are *not* breaking. The flat water located between breaking waves is actually a rip current flowing away from the beach out to sea.
Water Color – The water is often darker in a rip current. White foam is present where waves are breaking and there are no rip currents.
Water Movement – Look for a line of foam, seaweed, or debris moving away from the beach.
Rip currents are often present in channel cuts through sandbars. Rip currents can also occur where there are hard structures (in the vicinity of inlets, jetties, or piers) or even rocks jutting out into the Gulf.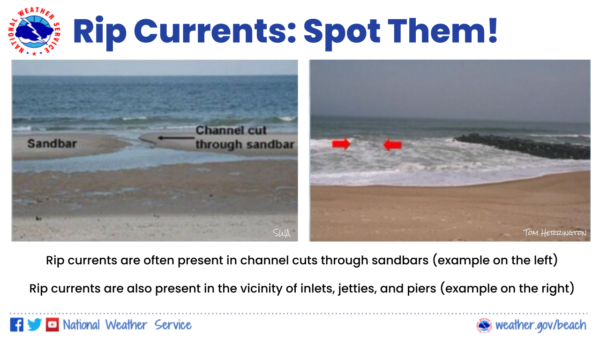 Rip currents are easier to identify from an elevated vantage point such as a lifeguard stand, dune line, or even at the beach access point.
Think of a rip current like this – it is a natural treadmill traveling away from the beach. Rip currents can travel as fast as 8 feet per second – that's faster than an Olympic swimmer! A rip current is dangerous because it can sweep even the strongest swimmers out to sea. For that reason, rip currents are life-threatening to anyone entering the surf.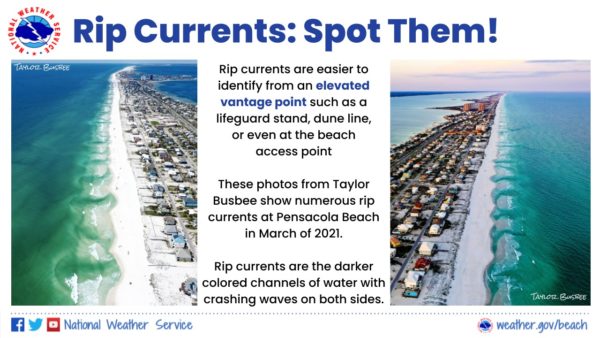 Rip currents also commonly form around breaks in sandbars and near inlets, jetties, and piers (where they are more intense).
BEACH FORECAST CENTER: Get the latest weather and rip current forecasts for the beaches from Fort Morgan to Panama City on our Beach Forecast Center page. There, you can select the forecast of the region that you are interested in visiting.
WORLD TEMPERATURE EXTREMES: Over the last 24 hours, the highest observation outside the U.S. was 108.7F at Augrabies Falls, South Africa. The lowest observation was -69.3F at Vostok, Antarctica.
CONTIGUOUS TEMPERATURE EXTREMES: Over the last 24 hours, the highest observation was 98F at Zapata, TX. The lowest observation was -12F at Foxpark, WY.
Category: Alabama's Weather, ALL POSTS
Mobile, Alabama Television Meteorologist and long time Contributor on AlabamaWX. Stormchaser. I did not choose Weather, it chose Me. College Football Fanatic.
@Ryan_Stinnet