WeatherBrains Episode 910 is now online (June 26th, 2023). If you are crazy about weather, this is THE podcast for you!
Our topic on this episode focuses on the National Weather Service's 2nd Annual National Women's Conference.
Tonight's Guest WeatherBrain is the new MIC for the NWS in Duluth, MN.  She was on the planning committee for this year's Annual National Women's Conference and currently works at NWS El Paso.  Laren Reynolds, welcome!
Also on deck is the Deputy Regional Director and speaker of the Annual National Women's Conference.  She's  is currently the Meteorologist in Charge for the National Weather Service (NWS) Southern Region Regional Operations Center (SR ROC) in Fort Worth, TX.  Jennifer McNatt, welcome.
Next is a former NWS El Paso forecaster and current the Senior Forecaster at NWS Atlanta-Peachtree City.  She's the newly-minted Warning Coordination Meteorologist in Lubbock, TX.  Marissa Pazos, welcome!
WeatherBrains also welcomes as Guest WeatherBrain the current Warning Coordination Meteorologist at NWS Mobile.  She also the NWS Southern Region Federal Women's Special Emphasis Program Manager.  Jessica Chase, welcome to the show!
Our Guest Panelist last appeared on show 822 in October 2021.  He's the current Lead Forecaster at the NWS El Paso office.  Tim Brice, welcome back!
Our email officer Jen is continuing to handle the incoming messages from our listeners. Reach us here: email@weatherbrains.com.
Why do we need a women's conference in NWS?  (11:20)
Women empowering women as role-models in meteorology (23:30)
Importance of increasing female roles in management (25:20)
Breakdown of MIC roles by gender in NWS (32:25)
Process in making women more receptive to meteorology roles (45:00)
Gathering lessons from other federal agencies that do shift work (52:11)
Dealing with sexual harassment in meteorological field (01:22:00)
Record-setting month for severe weather in Mobile NWS forecast area (01:34:00)
The Astronomy Outlook with Tony Rice (01:26:45)
This Week in Tornado History With Jen (01:28:10)
National Weather Round-Up (01:29:10)
E-Mail Segment
and more!
Web Sites from Episode 910: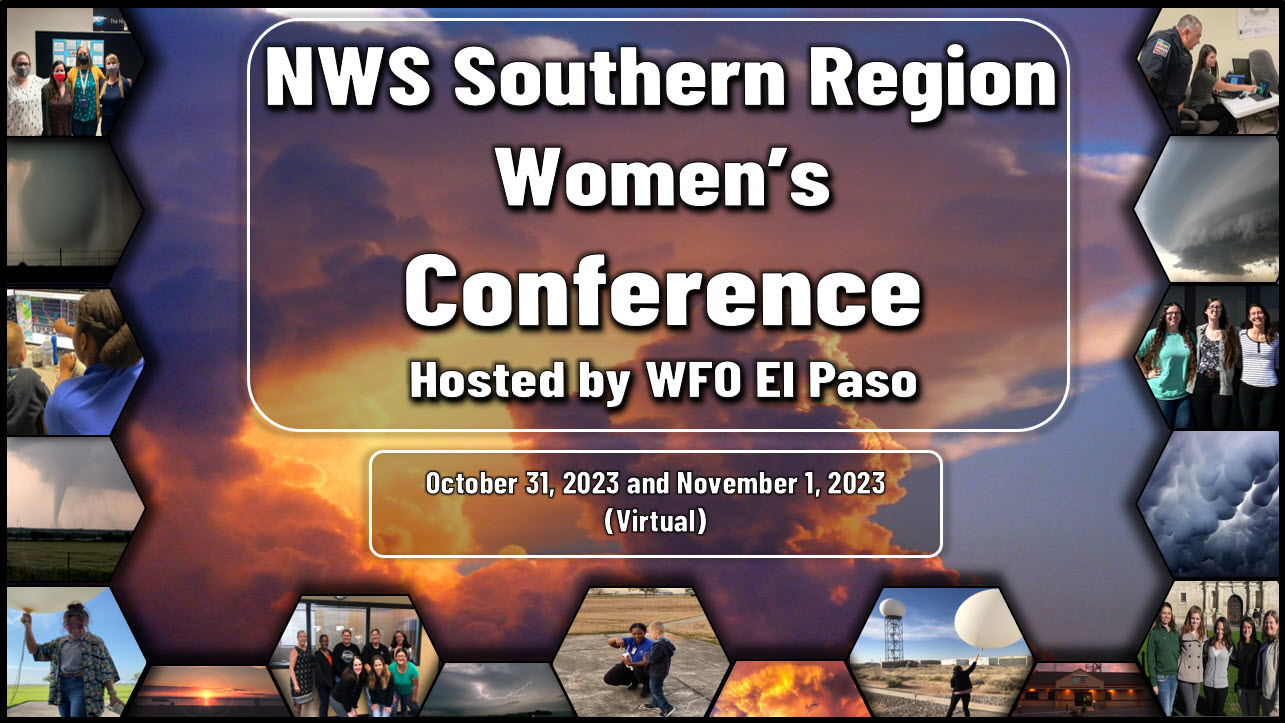 Picks of the Week:
Laren Reynolds – NWS Women's Conference

Jennifer McNatt – Four Women Who Changed the Field of Meteorology

Jessica Chase – Bay County Sheriff's Office Facebook post

Marissa Pazos – Student Opportunities in the National Weather Service

Tim Brice – USF Diversity, Equity and Inclusion program

James Aydelott – Tulsa/Green County OK Derecho video

Jen Narramore – Greenwood, IN tornado twitter post

Rick Smith – AMS Weather Band Webinar on storm chasing

Neil Jacobs – Out
Troy Kimmel – Center Weather Service Unit Information

Kim Klockow-McClain – "The Secret Thoughts of Successful Women: And Men: Why Capable People Suffer from Impostor Syndrome and How to Thrive In Spite of It" by Valerie Young

Bill Murray – Out
James Spann – Laura Helm Facebook post

The WeatherBrains crew includes your host, James Spann, plus other notable geeks like Troy Kimmel, Bill Murray, Rick Smith, James Aydelott, Jen Narramore, Dr. Neil Jacobs, and Dr. Kim Klockow-McClain. They bring together a wealth of weather knowledge and experience for another fascinating podcast about weather.
Category: ALL POSTS, WeatherBrains
Scott Martin is an operational meteorologist, professional graphic artist, musician, husband, and father. Not only is Scott a member of the National Weather Association, but he is also the Central Alabama Chapter of the NWA president. Scott is also the co-founder of Racecast Weather, which provides forecasts for many racing series across the USA. He also supplies forecasts for the BassMaster Elite Series events including the BassMaster Classic.