A picture is worth a thousand words…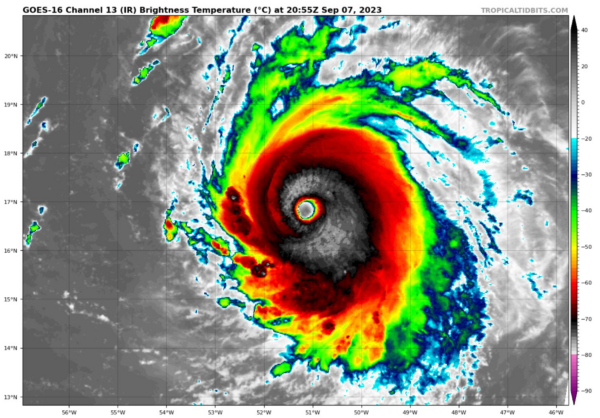 There is an Air Force Hurricane Hunters mission nearly into the storm and we will have some direct measurements of intensity.
The discussion from the National Hurricane Center says it all…
Lee continues to strengthen at an exceptional rate. The hurricane
has quickly developed a clear symmetric eye surrounded by very cold
cloud tops. The intensity estimate of 115 kt is based primarily on
recent UW-CIMSS ADT intensity estimates near that value. The 102 kt
subjective Dvorak intensity estimates from TAFB and SAB at 18Z were
constrained by Dvorak rules, but both analyses noted that the Data-T
was higher. An Air Force Reserve Hurricane Hunter aircraft is
scheduled to investigate Lee starting at 2330 UTC tonight, which
should provide much-needed in-situ data to better evaluate the
hurricane's intensity.
Low shear, very warm SSTs and copious moisture should allow Lee to
continue to rapidly strengthen at least tonight. All 4 regional
hurricane models (HAFS-A, HAFS-B, HWRF, HMON) forecast that Lee
will become a category 5 hurricane at some point in the next day or
so. In addition, the short-term rapid intensification probabilities
from SHIPS and DTOPS are still very high. Internal factors like
eyewall replacement cycles will become a factor soon, and these are
not easily predictable well in advance, but we don't yet see an
indication that Lee's intensification is stopping yet. The official
intensity forecast is quite close to the intensity consensus after
24 h, reflecting just how high several of the model forecasts are.
Confidence remains high in the track for Lee, with almost no change
made to the NHC track forecast. Lee should continue moving
west-northwestward along the southern edge of the subtropical ridge
for the next 5 days. The ridge is forecast to gradually weaken by
early next week, causing Lee to slow down. This track should keep
the core of Lee and its damaging winds north of the Leeward Islands.
There is uncertainty in any northward turn of Lee beginning early
next week, but it is too soon to speculate about specific potential
impacts a week or more out.
The biggest risk from Lee during the next 5 days will be high seas
and dangerous surf. Rip currents are likely to begin affecting
portions of the northern Caribbean on Friday. These conditions will
spread westward through the weekend, reaching most of the U.S. East
Coast by Sunday evening. For more information, please consult
products from your local weather office.
KEY MESSAGES:
1. Lee has become a major hurricane, and further strengthening is
expected, with its core moving north of the northern Leeward
Islands, the Virgin Islands, and Puerto Rico this weekend and early
next week.
2. Dangerous surf and life-threatening rip currents are likely in
the northern Leeward Islands beginning Friday. These conditions will
spread westward, affecting Puerto Rico, Hispaniola, the Turks
and Caicos, and the Bahamas through the weekend.
2. Dangerous surf and rip currents are expected along most of the
U.S. East Coast beginning Sunday. Please consult products from your
local weather office for more information.
The actual forecast from the NHC calls for it to reach Category Five status late tonight…
FORECAST POSITIONS AND MAX WINDS
INIT 07/2100Z 16.9N 51.3W 115 KT 130 MPH
12H 08/0600Z 17.6N 53.0W 140 KT 160 MPH
24H 08/1800Z 18.7N 55.2W 145 KT 165 MPH
36H 09/0600Z 19.7N 57.2W 140 KT 160 MPH
48H 09/1800Z 20.6N 59.0W 135 KT 155 MPH
60H 10/0600Z 21.3N 60.5W 135 KT 155 MPH
72H 10/1800Z 22.0N 61.8W 130 KT 150 MPH
96H 11/1800Z 23.1N 64.3W 130 KT 150 MPH
120H 12/1800Z 24.0N 66.4W 120 KT 140 MPH
Here is the complete text of the advisory…
BULLETIN
Hurricane Lee Advisory Number 10
NWS National Hurricane Center Miami FL AL132023
500 PM AST Thu Sep 07 2023
…LEE NOW A CATEGORY 4 HURRICANE…
…RIP CURRENTS AND HAZARDOUS SURF WILL SPREAD ACROSS THE NORTHERN
CARIBBEAN FRIDAY AND BEGIN AFFECTING THE MAINLAND U.S. BY SUNDAY…
SUMMARY OF 500 PM AST…2100 UTC…INFORMATION
———————————————-
LOCATION…16.9N 51.3W
ABOUT 780 MI…1260 KM E OF THE NORTHERN LEEWARD ISLANDS
MAXIMUM SUSTAINED WINDS…130 MPH…215 KM/H
PRESENT MOVEMENT…WNW OR 295 DEGREES AT 15 MPH…24 KM/H
MINIMUM CENTRAL PRESSURE…953 MB…28.15 INCHES
WATCHES AND WARNINGS
——————–
There are no coastal watches or warnings in effect.
Interests in the northern Leeward Islands should monitor the
progress of Lee.
DISCUSSION AND OUTLOOK
———————-
At 500 PM AST (2100 UTC), the clear eye of Hurricane Lee was located
near latitude 16.9 North, longitude 51.3 West. Lee is moving toward
the west-northwest near 15 mph (24 km/h). The hurricane will
continue moving in this direction for the next several days while
gradually slowing down its forward speed. On the forecast track,
the core of Lee will move north of the northern Leeward Islands
during the next several days.
Maximum sustained winds have rapidly increased to near 130 mph
(215 km/h) with higher gusts. Lee is a category 4 hurricane on the
Saffir-Simpson Hurricane Wind Scale. Additional strengthening is
expected tonight. Fluctuations in intensity are expected after
that, but Lee is forecast to remain a powerful major hurricane
well into next week.
Hurricane-force winds extend outward up to 30 miles (45 km) from the
center and tropical-storm-force winds extend outward up to 140 miles
(220 km).
The estimated minimum central pressure is 953 mb (28.15 inches).
HAZARDS AFFECTING LAND
———————-
Key messages for Lee can be found in the Tropical Cyclone Discussion
under AWIPS header MIATCDAT3 and WMO header WTNT43 KNHC and on the
web at hurricanes.gov/text/MIATCDAT3.shtml
SURF: Swells generated by Lee are expected to reach portions of the
Lesser Antilles on Friday, and reach the British and U.S. Virgin
Islands, Puerto Rico, Hispaniola, the Bahamas, and Bermuda this
weekend. These swells are likely to cause life-threatening surf and
rip current conditions. Dangerous surf and rip currents are expected
to begin along most of the U.S. East Coast beginning Sunday. Please
consult products from your local weather office.
NEXT ADVISORY
————-
Next complete advisory at 1100 PM AST.
Bill Murray is the President of The Weather Factory. He is the site's official weather historian and a weekend forecaster. He also anchors the site's severe weather coverage. Bill Murray is the proud holder of National Weather Association Digital Seal #0001
@wxhistorian