Tropical depression fourteen has been upgraded to Tropical Storm status and has been christened Margot.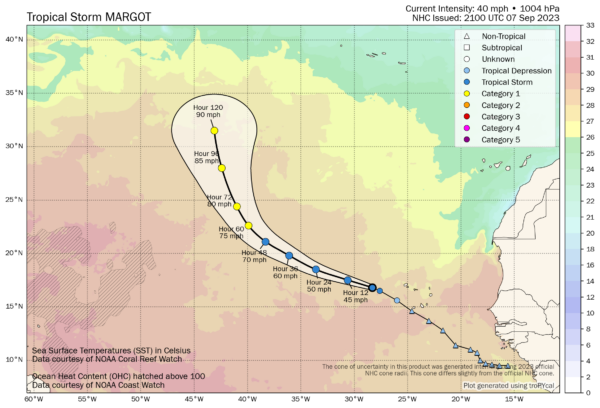 The good news is that it will recurve early to the north…
Here is the discussion from NHC:
Tropical Storm Margot Discussion Number 2
NWS National Hurricane Center Miami FL AL142023
800 PM CVT Thu Sep 07 2023
Visible and infrared satellite imagery have shown increasingly
organized convection, with some convective bursts and curved banding
features around the low-level center. Dvorak classifications from
TAFB and SAB have increased to T2.5/35 kt. Therefore, the initial
intensity is set at 35 kt, making the system a tropical storm.
Tropical Storm Margot is currently moving west-northwestward, and
this motion is forecast to continue over the next couple days. A
decrease in forward speed and a turn to the north is indicated by
the end of the forecast period as a weakness develops in the
subtropical ridge over east-central Atlantic. The track guidance is
in general agreement, and the NHC track forecast once again lies
between the HCCA and TVCA consensus aids.
Sea surface temperatures remain in the vicinity of 28C, but Margot
could encounter moderate wind shear and drier mid-level relative
humidities later in the forecast period. In general, these
conditions are not expected to be too hostile, and gradual
strengthening is indicated. The NHC wind speed forecast brings
Margot to hurricane strength in two to three days. The NHC intensity
forecast lies near the HCCA and IVCN intensity consensus aids.
FORECAST POSITIONS AND MAX WINDS
INIT 07/2100Z 16.8N 28.3W 35 KT 40 MPH
12H 08/0600Z 17.5N 30.6W 40 KT 45 MPH
24H 08/1800Z 18.5N 33.6W 45 KT 50 MPH
36H 09/0600Z 19.8N 36.1W 50 KT 60 MPH
48H 09/1800Z 21.1N 38.3W 60 KT 70 MPH
60H 10/0600Z 22.6N 39.9W 65 KT 75 MPH
72H 10/1800Z 24.4N 41.0W 70 KT 80 MPH
96H 11/1800Z 28.0N 42.4W 75 KT 85 MPH
120H 12/1800Z 31.5N 43.1W 80 KT 90 MPH
Bill Murray is the President of The Weather Factory. He is the site's official weather historian and a weekend forecaster. He also anchors the site's severe weather coverage. Bill Murray is the proud holder of National Weather Association Digital Seal #0001
@wxhistorian