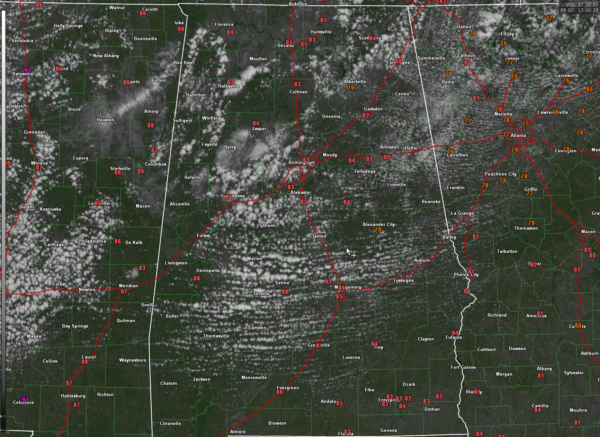 Dryness is becoming a problem across Alabama as recent below normal rainfall is beginning to cause crunchy problems for some lawns and gardens. It looks like the next fourteen days could be mostly dry, with only a slight chance of rain on Friday of this week and another slight chance on Thursday the 12th. Southern Greene County is about the only part of North or Central Alabama that has sufficient ground moisture. Everyone else is bone dry. On the National Drought Monitor, the western half of Alabama is abnormally dry, while parts of Northeast Alabama are in D1 – Moderate Drought. Much of South Alabama is in full drought, between D1 (moderate), D2 (severe), and D3 (extreme). All we are missing is D4 (exceptional). The Alabama Forestry Commission has the entire state in a Fire Alert, meaning no outdoor burning without a permit.
BEAUTIFUL SUNDAY IN PROGRESS: After morning lows in the upper 50s to lower 60s over North and Central Alabama, things are warming quickly into the middle 80s as we approach the 1 p.m. hour. A little low level moisture and possible hint of a disturbance has produced some clouds over the northern third of Alabama, but those should gradually thin as they push southwestward. Highs will be in the middle and upper 80s this afternoon. Regional radars should continue to be quiet. Under fair skies tonight, lows will be in the lower 60s.
THE WEEK AHEAD: No real changes in the forecast. I just spent some time tweaking the temperatures to a little warmer toward the end of the end. Sunday still looks cool for early October, with highs in the middle and upper 60s North and lower 70s Central. Look for some refreshing lows Sunday morning gin the 40s over the northern half of the area. The rain chances for Friday are low and there is a fairly good amount of uncertainty in timing and amount. But no drought busting rains for sure.
Category: Alabama's Weather, ALL POSTS
Bill Murray is the President of The Weather Factory. He is the site's official weather historian and a weekend forecaster. He also anchors the site's severe weather coverage. Bill Murray is the proud holder of National Weather Association Digital Seal #0001
@wxhistorian