As the week unfolds ahead unfolds, we will see a dynamic and evolving scenario. Starting with a clear and cool weekend, North and Central Alabama will experience a brief warming trend before facing a significant storm system early in the week. This system is expected to bring potential thunderstorms and hopefully beneficial rainfall, leading to a shift in temperatures from slightly above to below normal as the week progresses. With variable conditions ranging from gusty winds and low humidity to periods of substantial rain, this week's weather will certainly be interesting.
FOR YOUR SUNDAY
A northwest flow is dominating our weather, bringing dry and cool air into the state. Temperatures this morning are generally in the middle and upper 30s to lower 40s. Expect mostly clear skies today allowing temperatures to peak in the upper 60s to near 70 degrees. Tonight, lows will drop into the 40s, ranging between 42F in places like Jasper to 48F in Birmingham. Winds will become southeastern during the night as
high pressure off the east coast and a strengthening low-pressure system over the Plains will place the state between the two systems.
MONDAY STORM THREAT
The main focus for the upcoming week is the storm system anticipated late Monday night into Tuesday, followed by a cold front on Wednesday. Thunderstorms are possible, with a Marginal Risk for severe weather areas in southern parts of the area, where a small warm sector may develop, bringing potential for a tornado or damaging wind gusts. Monday highs will be in the upper 60s across the Tennessee Valley, with lower and middle 70s across the Central part of the state.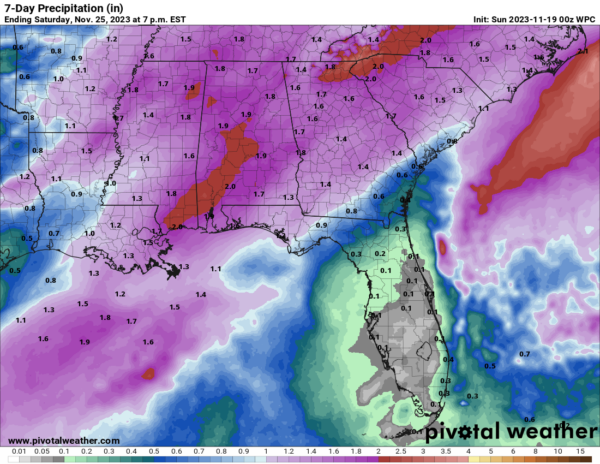 BENEFICIAL RAIINS
Rain is the primary concern for much of North and Central Alabama, with 1 to 2 inches expected area-wide from Monday through Wednesday. This won't end the drought, but it will help.
IS THERE A SEVERE WEATHER THREAT?
The SPC does have a large area to the west of Alabama in a Slight Risk (2/5) for Monday afternoon and Monday night with a Marginal Risk (1/5) into western Alabama late Monday night. It does appear that the best threat will be back over northern Louisiana into the Mississippi Delta Monday afternoon and evening, with a weakening line of storms into our state toward midnight and beyond. There could be a severe weather threat Tuesday during the day if the line of storms remains organized and we get some heating going. But that risk does not look as significant. Hopefully, just beneficial rains.
MOVING TOWARD TURKEY DAY
Post-storm, temperatures will shift from slightly above to below normal. Wednesday should feature some clearing and highs in the 50s to lower 60s. Lows Wednesday should be in the middle and upper 30s and lower 40s. Thursday will featuring clearing skies and cool conditions. A gusty northwest wind will make the highs in the 50s feel even colder. There is a great deal of uncertainty in the numerical weather models but there is a chance a passing disturbance could spin up a low in the Gulf and move it northeast. This could spread some rain into Southeast Alabama with a few showers possibly along its northwest flank Thanksgiving night into early…
BLACK FRIDAY
…the busiest shopping day of the year! Expect intervals of clouds and some sun with highs in the upper 50s and lower 60s.
IRON BOWL SATURDAY
Another low pressure system will be tracking through the Great Lakes by Saturday and it will drag another cold front our way. Showers could move into West Alabama by midafternoon and will spread across the state during the nighttime hours. But it should be nice weather for a little football game in the Loveliest Village on the Plains.
REST OF THE WEEKEND
As we enjoy the last of our turkey leftovers, Sunday should feature clearing and colder conditions. Highs will be in the lower and middle 50s, and that is where highs will stay as we head into Voodooland…out at the end of the forecast period.
MORE RAIN FOR THE END OF THE MONTH
Dep into Voodoo Territory, the European thinks wet for Monday night the 27th into Tuesday, with another good soaking for Alabama and the South. Temperatures stay cool with lower and middle 50s for highs and lows near 40F.
DANCING WITH THE STATS
83F at El Paso yesterday was a record for the date.
TROPICS
Friday evening, we said good bye to PTC 22, which could have ultimately become Vince. Now, it appears that we might be able to put a fork in the 2023 Atlantic Hurricane Season, cause it is done!
BEACHCAST
Beautiful weather today along the beautiful beaches of Alabama and Northwest Florida with a good supply of sunshine and mild temperatures in the middle 70s today. A last dip in the Gulf is going to be a safe bet with a low rip current risk through tomorrow, but that will change by Tuesday and Wednesday when a strengthening southerly wind will increase wave heights and the rip current risk will be high. Showers return Monday and Tuesday looks wet and stormy. Cooler by Wednesday with a gusty northwest wind and highs in the lower 60s. Thanksgiving highs may not get out of the 50s, but 60s will return for Friday and Saturday. Rain returns Thanksgiving night and continues into Friday morning. Rain return Sunday and again Monday night. Click here to see the Beach Forecast Center page.
ADVERTISE WITH US: Deliver your message to a highly engaged audience by advertising on the AlabamaWX.com website. We have a lot of big plans for this year. Don't miss out! We can customize a creative, flexible, and affordable package that will suit your organization's needs. Contact me, Bill Murray, at (205) 687-0782 and let's talk.
WEATHERBRAINS: This week, the panel will entertain _____________. Fill in the blank, cause I am still working on it. Check out the show at www.WeatherBrains.com. You can also subscribe on iTunes. You can watch the show live on our new YouTube channel for the show.You will be able to see the show on the James Spann 24×7 weather channel on cable or directly over the air on the dot 2 feed.
Category: Alabama's Weather, ALL POSTS
Bill Murray is the President of The Weather Factory. He is the site's official weather historian and a weekend forecaster. He also anchors the site's severe weather coverage. Bill Murray is the proud holder of National Weather Association Digital Seal #0001
@wxhistorian