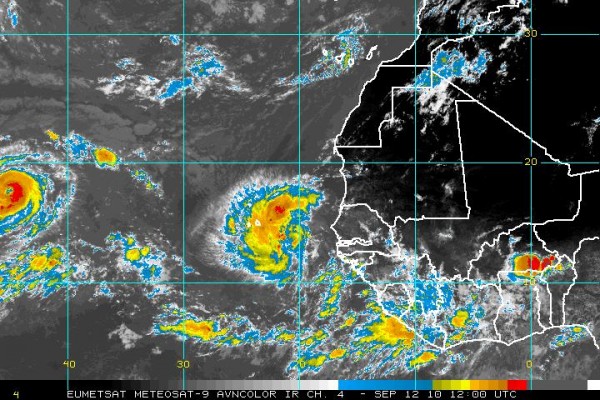 Tropical depression number 12 has formed in the far eastern Atlantic this morning. That's it on the right. It is moving west at 14 mph, but is expected to turn northwest into a weakness in the high pressure ridge over the Atlantic. It should become a tropical storm by this evening and a hurricane by Tuesday morning.
Igor is on the left side of the image. It is now a category two hurricane with top winds of 105 mph and is expected to become a major hurricane later today. The forecast continues to take Igor on a track similar to that of Hurricane Earl, curving it north of the islands then moving it along longitude 70 west and a couple of hundred miles east of Cape Cod.
Igor will be quite the intense hurricane before it is all said and done, likely attaining category four intensity by Tuesday.
The disturbance over the Caribbean still has not developed but the thought is that it will become a depression as it moves toward the western Caribbean. It could then hit the Yucatan as a fairly strong hurricane and move into northeastern Mexico. There is little support from the models for the idea that it could get into the central Gulf of Mexico.
Category: Uncategorized
Bill Murray is the President of The Weather Factory. He is the site's official weather historian and a weekend forecaster. He also anchors the site's severe weather coverage. Bill Murray is the proud holder of National Weather Association Digital Seal #0001
@wxhistorian