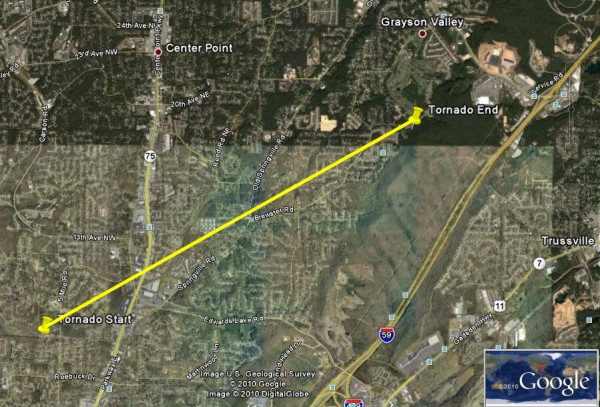 As a strong thunderstorm formed quickly over eastern Birmingham Tuesday night, it developed a radar signature called a notch and began to show signs of rotation. A severe thunderstorm warning and tornado watch was in effect at the time.
We received a report of a house collapse in eastern Birmingham. It turned out to be a tornado that touched down in Huffman and cut a four mile path to near Grayson Valley Country Club. The National Weather Service has rated it as an EF1 tornado.
Just another reminder that when it comes to thunderstorms, expect the unexpected.
A SURVEY TEAM OF NATIONAL WEATHER SERVICE METEOROLOGISTS HAS
COMPLETED THEIR ASSESSMENT OF THE DAMAGE IN JEFFERSON COUNTY.
CORRECTED INFO FOLLOWS
…JEFFERSON COUNTY TORNADO…
EVENT DATE: OCTOBER 26, 2010
EVENT TYPE: EF-1 TORNADO
ESTIMATED PEAK WINDS (MPH): 80-90
INJURIES/FATALITIES: ONE INJURY
EVENT START LOCATION & TIME: 33.6096/-86.7093 9:10 PM
EVENT END LOCATION & TIME: 33.6352/-86.6423 9:17 PM
DAMAGE PATH LENGTH (IN MILES): 4.3
DAMAGE WIDTH (IN YARDS): 200
WARNINGS: SEVERE THUNDERSTORM WARNING #316 WAS IN EFFECT FROM 8:35
PM UNTIL 9:15 PM. SEVERE THUNDERSTORM WARNING #317 WAS IN EFFECT
FROM 9:14 PM UNTIL 10:00 PM.
WATCHES: TORNADO WATCH #730 WAS IN EFFECT FROM 8:05 PM UNTIL 2:00 AM.
Category: Uncategorized
Bill Murray is the President of The Weather Factory. He is the site's official weather historian and a weekend forecaster. He also anchors the site's severe weather coverage. Bill Murray is the proud holder of National Weather Association Digital Seal #0001
@wxhistorian