The above chart shows the trajectories of air between 3 am this morning and 3 pm tomorrow afternoon.  Notice that the air that winds up in BHM tomorrow afternoon started in Northeast Iowa this morning, where temperatures were near 10 degrees.  By early next week, our air will be coming from Minnesota and Iowa again, but by then, temperatures there will be below zero.
Of course, the air modifies, or warms, quite a bit as it picks up heat from the soil, and gets warmed by the sun, on its way here.  But, with the persistent supply of cold air, and two or three cold fronts per week, even the Alabama sun is not strong enough this time of year to offset the flow of cold air into the state. 
The heat balance at a given location is determined mainly by 1) the rate that cold or warm air is moving in, 2) the rate of warming by the sun, and 3) the rate of cooling due to radiation out into space.  These are three of the main components of the thermodynamic energy equation that the computer models use to forecast temperature. 
For example, here is the incoming solar radiation (in watts per square meter) on December 1, at UAH (in one minute resolution).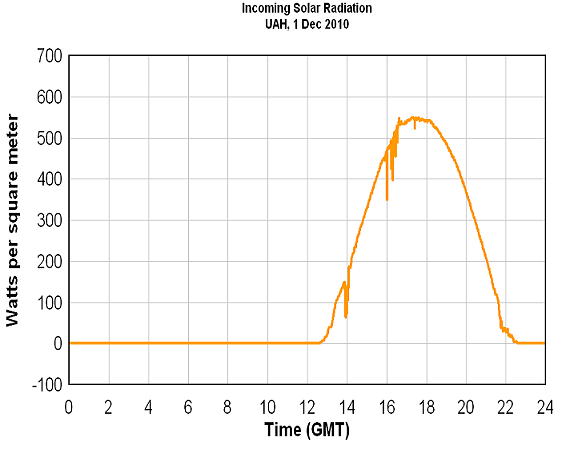 The times are in GMT, so subtract 6 to get the time in CST (this chart goes from 6 pm on Nov 30 to 6 pm on Dec 1).  Note that there is no incoming solar radiation at night (obviously), then the radiation increases during the morning, peaking at about 1700 GMT (11 am CST), then decreases as the sun angle gets lower in the afternoon.  The occasional, short decreases during the day are caused by clouds moving overhead.  On this particular day with full sun, the toal incoming radiation absorbed was 9.5 million joules per square meter.
Despite this warming by the sun (that is reduced on cloudy days), our temperatures in Alabama, overall, keep dropping every 2 or 3 days.   Another cold front will lower temperatures tomorrow, with highs only in the 30s, then the biggest Arctic blast yet will come in Sunday.  Temperatures will fall through the 30s, then may not make it above freezing, at least not for more than 3 or 4 hours, Monday and Tuesday.  Lows will drop into the teens across parts of north and central Alabama by Sunday night and Monday night.  Wind chills Sunday and Monday will be extreme, possibly below 10 at times.  It was in the teens and lower 20s over much of Alabama this morning, and the air coming looks even colder. 
If there are any preparations you have not taken to drain or insulate pipes that may freeze, do so.  It's too cold for most pets to be outside when we drop below 25, especially with any wind (our beagle Jack gets to sleep in the kitchen whenever it's below 35).  Finally, check on the elderly and make sure they have plenty of heat for the very cold week coming up.
Category: Met 101/Weather History