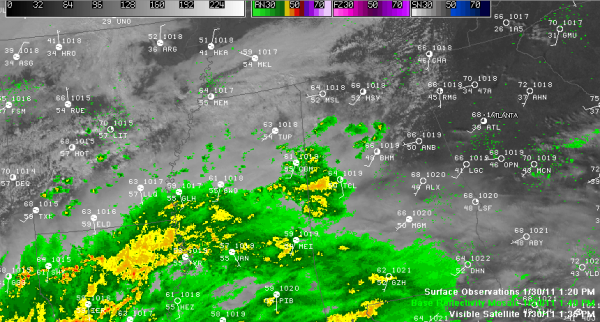 Clouds have taken over the sky across most of Alabama this afternoon. Taking a tour of our Skycam network, you see mostly cloudy skies at all locations. The lone exception is over East Alabama, where some blue sky was peeking out from atop Mount Cheaha, the state's highest point.
Temperatures were uniformly in the middle 60s in the I-20/59 corridor, about five degrees cooler than yesterday at the same time. Showers had entered West Alabama by early afternoon and were spreading northeastward. Just before 1 p.m., moderate rain covered much of Pickens County, with lighter rain down into Sumter County. Advance showers were over parts of Marion, Walker and Cullman Counties. Actually saw a cloud to ground lightning stroke just before 1 p.m. between Nauvoo and Arley along the Walker/Winston County line. Some lightning could be mixed in with the heavier showers this afternoon. Tops of these showers were up around 25-30,000 feet. We even heard a pilot of a Southwest Airlines flight asked to deviate around a buildup over the Tuscaloosa/Jefferson County line around 1:30 p.m.
REMAINDER OF THIS AFTERNOON/TONIGHT: Showers will continue to overspread the area tonight. Extensive showers are showing up on regional radars over the southern half of Mississippi, much of Louisiana and into eastern Texas. Thunder was being reported at Lufkin and Huntsville in the Lone Star State. This activity is in response to an upper level disturbance and weak surface low over Texas. Look for about a third of an inch of rain in most areas across Central Alabama overnight.
FOR YOUR MONDAY: Rain should diminish by morning across the area, but there will be a chance of additional ones during the day. I think we will see some sunshine on the back side of the weakening upper level disturbance, which will push temperatures in the upper 60s again. Can't rule out a couple of 70s again as well. Did you see my note from earlier today that it was well into March before we saw our first 70F day in Birmingham in 2010? How wild is that? Monday night lows will be around 50 degrees.
Category: Alabama's Weather
Bill Murray is the President of The Weather Factory. He is the site's official weather historian and a weekend forecaster. He also anchors the site's severe weather coverage. Bill Murray is the proud holder of National Weather Association Digital Seal #0001
@wxhistorian