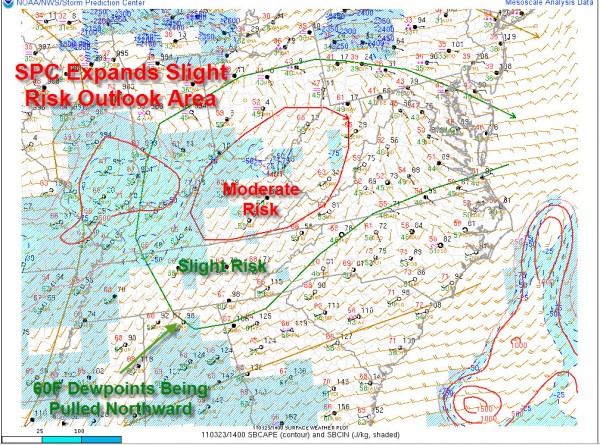 The Storm Prediction Center continues to monitor the severe weather threat over the Ohio and Tennessee River valleys for today.
Their latest convective outlook does clip the northeast corner of Alabama with the slight risk outlook.
Right now, it is breezy and mild across Alabama. Temperatures have warmed into the 70s in the I-20/59 corridor with a decent supply of sunshine. There is a wind advisory for this afternoon for southwesterly winds averaging 20 mph at times and gusting to 30 mph at times.
The top left panel shows the surface features including the low near Chicago and the trailing front. The lower left panel shows the pattern up at 18,000 feet with the broad trough pushing through Missouri and Arkansas. The large panel shows the visible satellite image with surface plots superimposed.
For us, this is not a big system. There is a broad 500 millibar trough pushing into the Ozarks of Missouri and Arkansas. There is a 998 millibar surface low near Chicago. The low near Indianapolis is a bigger problem.
The cooling aloft is impressive and will lead to a good hail threat over eastern Kentucky, Ohio and west Virginia this afternoon. In addition, fairly strong winds aloft will lead to organized storms and a fairly high damaging wind threat down into northeastern Tennessee. The surface low near Indy will produce enough low level shear for some tornadoes over southern Indiana, eastern Kentucky and West Virginia. A tornado watch is going to be issued soon for those areas.
Further south, storms will start firing up over Tennessee by 3 p.m. or so. Some of those will be severe from Nashville over toward Knoxville.
I think we will showers and some storms forming over the Tennessee Valley of North Alabama around 4-5 p.m. this afternoon. A few showers will break out as far south as I-20 between 5 and 7, but they will be spotty and not heavy. Some heavier storms will reach into Tennessee Valley Counties of Alabama around 6 o'clock or so, continuing until around 11 p.m. or so. That will be the short window for severe weather for places from Huntsville over to Scottsboro.
The spotty showers and storms will continue pushing southeastward through the evening hours, and we will see a couple of storms over Central Alabama between 7 p.m. and midnight. One or two of them could be heavy, but severe weather is not expected. Some folks may not see any rain at all tonight.
The showers and storms should end with the passage of a cold front that is expected to reach the I-59 corridor by midnight. Overnight lows will range from 47-52F across the area. Some stratocumulus clouds will wrap back into North Alabama on Thursday. Central areas will see a good supply of sunshine but could see some of those clouds invading during the day. Highs tomorrow will range from 62-68F across the area with a fresh northwesterly breeze.
Category: Alabama's Weather
Bill Murray is the President of The Weather Factory. He is the site's official weather historian and a weekend forecaster. He also anchors the site's severe weather coverage. Bill Murray is the proud holder of National Weather Association Digital Seal #0001
@wxhistorian