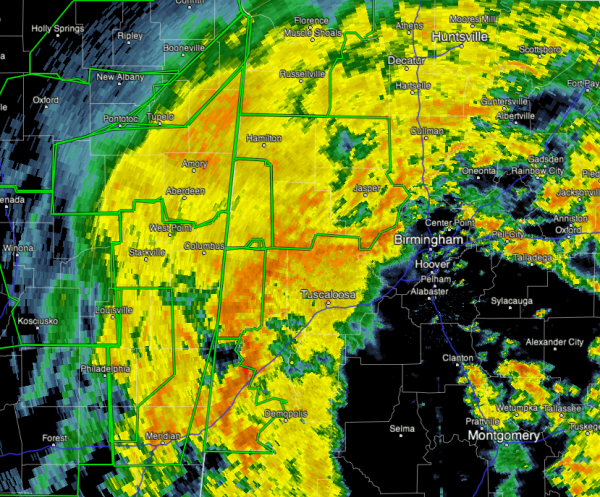 WGUS54 KBMX 051327
FFWBMX
ALC119-051730-
/O.NEW.KBMX.FF.W.0050.110905T1327Z-110905T1730Z/
/00000.0.ER.000000T0000Z.000000T0000Z.000000T0000Z.OO/
BULLETIN – EAS ACTIVATION REQUESTED
FLASH FLOOD WARNING
NATIONAL WEATHER SERVICE BIRMINGHAM AL
827 AM CDT MON SEP 5 2011
THE NATIONAL WEATHER SERVICE IN BIRMINGHAM HAS ISSUED A
* FLASH FLOOD WARNING FOR…
SUMTER COUNTY IN WEST CENTRAL ALABAMA…
* UNTIL 1230 PM CDT
* AT 824 AM CDT…NATIONAL WEATHER SERVICE INDICATED AN AREA OF
VERY HEAVY RAINFALL SPREADING ACROSS THE AREA. THIS RAIN IS
FALLING ON AREAS THAT HAVE ALREADY RECEIVED TWO TO FOUR INCHES
DURING THE PAST 24 HOURS…AND WILL RAPIDLY RUNOFF INTO SMALL CREEKS
AND STREAMS AS WELL AS LOW LYING AREAS PRONE TO FLOODING.
* RUNOFF FROM THIS EXCESSIVE RAINFALL WILL CAUSE FLASH FLOODING TO
OCCUR. SOME LOCATIONS THAT WILL EXPERIENCE FLOODING INCLUDE…
CUBA…LIVINGSTON…YORK…BLUFFPORT…BOYD…COATOPA…DUG HILL…
EMELLE…EPES…GAINESVILLE…KINTERBISH…PANOLA…AND WEST UNION.
PRECAUTIONARY/PREPAREDNESS ACTIONS…
EXCESSIVE RUNOFF FROM HEAVY RAINFALL WILL CAUSE FLOODING OF SMALL
CREEKS AND STREAMS…HIGHWAYS AND UNDERPASSES. ADDITIONALLY…
COUNTRY ROADS AND FARMLANDS ALONG THE BANKS OF CREEKS…STREAMS AND
OTHER LOW LYING AREAS ARE SUBJECT TO FLOODING.
&&
TO REPORT SEVERE WEATHER…
CALL 1-800-856-0758.
LAT…LON 3299 8834 3299 8817 3292 8821 3286 8815
3283 8818 3280 8806 3269 8811 3269 8804
3259 8806 3263 8793 3261 8784 3260 8784
3261 8788 3252 8784 3252 8792 3242 8804
3237 8805 3231 8794 3230 8794 3231 8843
$$
41
Category: Alabama's Weather